Turning Tables: Dinah Announces DJ Lineup With A Twist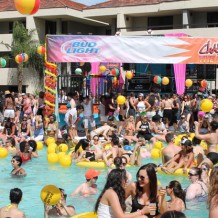 The Dinah Is Shaking Things Up On The Turntables With Trans DJ
by Heather Cassell
Keeping the music pumping and the sounds fresh The Dinah delivers global celebrity DJs Samantha Ronson and Mary Mac along with the best female DJs from across the US to Palm Springs, California.
It's going to be a power packed nitty gritty weekend of music as DJs Samantha Ronson and Mary Mac spin and Elle King takes the stage during the 4-day all-girl extravaganza, March 30 – April 2. This is just the beginning ladies.
"Sam Ronson, Mary Mac, and our host of other high profile DJ's will mark a new direction of the Dinah," says Mariah Hanson, producer of Club Skirts The Dinah, the original Dinah Shore Weekend. "I'm excited to include some of the nation's most notable DJ's this year and look forward to the continued roll out of our lineup."
"This may well be our largest Dinah to date!" adds Mariah.
This year Mariah is doing what she does best bringing her cutting edge vision to the iconic all-girl party by introducing DJ Automaton, a trans man from Los Angele's nightlife behind the deck. DJ Automaton joins the all-girl DJ lineup that includes DJs Amara (Los Angeles), Asha (Los Angeles), Lezlee (Los Angeles), Angie Vee (Los Angeles), Citizen Jane (Miami), GoodBoy (Los Angeles), M.O. (Brooklyn), Val G. (San Francisco), and LeahV (Boston).
"We welcome trans people to the Dinah and celebrate diversity in all its forms," says Mariah. "The Dinah is about celebration, living out loud and fulfilling your dreams."
"I've been a great supporter of the trans community. My years on the board of Equality California, where I worked side by side with Shannon Minter were some of the most meaningful of my career," she continues. "Our trans brothers and sisters are courageous torch bearers of the continued fight for equality for all."
These ladies and solo trans man will keep the upward of 15,000 queer women and their friends who will descend on the desert oasis dancing around the pool and on the dance floors throughout the weekend.
So, who are these spinmeisters?
DJ Amara
Appropriately described as eclectic, vibrant and soulful, DJ AMARA emanates a contagious and truly positive spirit, which brings music lovers of all genres together. As a 10-year veteran DJ for The Dinah, AMARA is most notably recognized for her drummer/DJ duo performance, wowing the closing pool party alongside Uh Huh Her's drummer, Josh Kane. Her uncanny ability to effortlessly transition between hip-hop/r&b, funk/soul/disco, dance, and old school throwbacks leaves no dance floor or pool party empty. AMARA's diverse taste and feel for music has landed cross-country tours with Dew Action Sports, annual appearances at Vancouver Pride and Hawaii's Downetowne girl party, and tours in South America and the Philippines.  Currently, you can find her at the helm of her own company, Kore Entertainment, an all-female collective of DJs and entertainers.
DJ Asha
DJ ASHA is one the most versatile DJs on the scene. She is comfortable spinning a selection of: Party Anthems, Hip Hop, EDM, Old School, Reggae, RnB, and Top 40. Her versatility showcases her ability to read and satisfy the crowd. ASHA is respected globally as a sassy, crowd pleasing and ultimately entertaining DJ and producer. ASHA can be found rockin' crowds in the world's biggest clubs; regularly spinning in London (her hometown), Australia, Croatia, Dubai, Greece, Ibiza (for P.Diddy), Italy, and Russia; plus most recently New York, San Francisco, Las Vegas, Miami and Hollywood. ASHA has hosted the LA Pride festival 5 years in a row. She is also a resident DJ for Olivia Travels.  ASHA is frequently called upon for her music expertise and event marketing skills. She has promoted several successful nights, including Juicy Club LA, KYSS, Liberté, and Club Far East.
DJ Lezlee
For DJ Lezlee it all started with an undying love for music and an infatuation for turntable-ism which led to DJ'ing at backyard parties then to becoming one of Los Angeles' most sought after female DJ's. Taking the next step in perfecting her craft by creating remixes and editing to her list of talents. Since her first nightclub gig back in 2007 she's been blazing the Los Angeles & Las Vegas premiere nightclub scene as well as international shows in Australia, Canada, Tahiti & Mexico. In 2015, Lezlee was featured in COSMO for LATINA'S "on the rise" list. Lezlee has also had the opportunity to work alongside some of her favorite artist such as Grammy award winning F.U.N., EVE, Mayor Hawthorne, Macy Gray, Salt & Pepa to name a few. Also on her resume gigs with H&M at COACHELLA, Dinah Shore Club Skirts, L.A. Pride & S.F. Pride. In the spring of 2015 DJ LEZLEE was the first guest female dj to be featured on L.A.'S RADIO STATION POWER 106.
DJ Angie Vee
Hailing from SoCal's house party vinyl scene, Angie Vee has branded herself as the go-to girl for clubs and corporations around the U.S. Her musical knowledge & incomparable ability to read a crowd is quickly making her one of the hottest tickets around. Angie's dance background makes her not only a great DJ, but also a great performer, while she's sound tracking the night. Angie has rocked Hollywood's hottest nights & has played the hottest parties for Kim Kardashian, Fergie, Eva Longoria, Mario Lopez, and many more. She has traveled around the nation as Nike's Go To DJ and is currently rocking the Vegas scene with her new residency at Tao nightclub under Jason Strauss's Tao group. Angie has graced the pages of People Magazine & even had her very own playlist published. When you aren't catching her on your Netflix as Anjelah Johnson's "Thats How We Do It" comedy special DJ, you can spot her as this year's DJ for the Alma Awards on MSNBC. Her style is Sky Is The Limit!, playing everything from House, Hip Hop, Rock, Electro, Top 40, Old School, Soul, Funk, House & the list goes on.
DJ Automaton
DJ Automaton (Vincent Domini) grew up in Portland, Oregon and is currently based in Los Angeles as a DJ, Musician, and Event Producer. He is known for parties such as The Grind!, Mugshot, Portland's Gaycation, guitarist/vocals for the punk/grunge/metal outfit Brother, drummer in Swan Island, XYX a weekly house, 90's hip hop & R&B party, and CAKE a trans hip hop monthly party in Downtown Los Angeles. He's influenced by a wide range of genres from psychedelic, punk and funk of the 60's and 70's, hip hop of the late 80's/90's, and 80's/90's grunge and goth.
Citizen Jane
If there is just one thing in this world to bring people together, it's the power of music. Not many DJ/Producers can say they've got what it takes to break through the subtle music barriers between several diverse groups, but then again none of those DJs are DJ Citizen Jane. The Cuban-American, Miami-born Pied Piper of the decks has been whistling her own unique tune and now is one of the most in-demand DJs in the country. Her resume reads like a circuit party passport that keeps growing every year and she's reached international status turning out parties in Spain, Argentina, Calgary, Vancouver and Puerto Rico. Citizen Jane is the 2014 and 2015 Pink Flamingo Awards winner for "Favorite DJ" voted solely by the public. She was featured and interviewed on Bump and Logo TV as the "Hottest Female DJ" in Miami. 2016 already has DJ Citizen Jane lined up in various Pride and Circuit Events in and out of the country, but her top favorite is playing The Dinah and setting the dance floor on fire for the thousands of beautiful ladies that come to let loose to her beats.
GoodBoy 
GoodBoy, aka Morgan Hildebrand, a Los Angeles native, lives & spins the California way—with good vibes and electric energy. Although her DJ career began just a few short years ago, her passion for deep house & electronic funk, along with her iconic look and engaging spirit, has shot her to the top quickly. In a very short time, GoodBoy has performed for Pride weekends in Los Angeles, Palm Springs, Austin, Chicago and San Francisco, the first annual Battle of the DJs at The Dinah 2014, and then as an official Dinah DJ in 2015 and now 2016. GoodBoy forged her own vision through founding Milk Milk Lemonade, B.O.Y. Night L.A. (Be Only You), and Thirst WeHo, successful queer parties in Hollywood. As an all-around artist, GoodBoy's work has been featured in GO Mags "100 Women We Love" for her adventurous vlogs with CherryGrrl & Club Skirts, as well as "Rad Queer DJs" with AfterEllen.com.
Morgan credits her success to her strong Dinah roots and is thrilled to return to bring The Dinah family another great show. GoodBoy's beats are sure to keep the party lively and funky, with all-encompassing feelings of positivity. All smiles, all the time—this is one show you don't want to miss!
DJ M.O. 
(Monet Bernard) is a native of Virginia and began her career as a DJ in her third year of college at the University of Virginia. As an avid lover of music, M.O. honed her skills by working anything from basement parties to large university events and eventually started working events in Washington D.C. After two years she moved to New York City and has never looked back.
Since her time in New York, M.O. has made her rounds in the LGBTQ scene, DJing for the likes of Whitney Day, Hot Rabbit, Truckstop, DapperQ, and Club Skirts Dinah Shore Weekend, where she was a participant in the 2015 Battle of the DJs. M.O. has put her musicality and versatility on display at some of the biggest venues in the city including Marquee NYC, The Park, Avenue, Studio XXI, and Gramercy Theater.
DJ Val G.
It's 2001, and Valerie Ganda, soon to be DJ Val G., begins her journey with a pair of turntables, and a few way-back records. By 2008 however, she blazes into the industry as a serious contender and humbly emerges from obscurity into the San Francisco nightlife circuit. Since then, her catalog grows with each drop of the needle, having played everywhere, from house parties to mega clubs, and featured in everything from homegrown televised documentaries to larger than life community events, including the world-renowned SF Pride event championed by 100,000+ supporters and onlookers each year. DJ Val G. now rocks crowds throughout the Metropolitan Bay Area with a unique brand of style and background. Inspired by DJ legends such as Jam Master J and Beat Junkie, Mr Choc, Val G. has played with a range of artists including Tha Dogg Pound's Warren G, lady legends Eve & Lil' Kim, and Bay Area Natives such as E-40 & Too Short; just to name a few.  She currently resides in San Francisco and plays at several local nightclubs as well spinning on-air every weekend on the Bay Area's new station for Hip-Hop and R&B HOT 105.7 & 100.7fm.
LeahV
LeahV aka Leah McFly, is an award-winning, Boston-based DJ/producer who has been actively working in nightlife for over ten years. Recently nominated a sixth consecutive time for a Boston Music Award (and a win in 2011/DJ Artist of the Year), Leah is riding a wave of substantial and steady bookings to the top of the DJ game, finding herself on a list of not only the "Top 10 DJ's in Boston", but also the "Top 100 DJ's in the Country" (Sun Times/2014).
After 16 years of learning the craft, she's still out to perfect each party. Her seamless, genre-blending sets, in addition to her innate ability to read just about any crowd have made her a staple in the Boston scene, and a commodity on a national level, booking events and residencies in New York, Miami, San Francisco, DC, Philadelphia, and beyond. Leah is also well established as a music curator for major brands such as Nike, Converse, Conde Nast, and Hearst Media, bringing the aural aesthetic of each brand to life. Known to many as "The People's DJ", she has managed to blur the lines between the sexes in an intensely male-dominated field, drawing the focus away from gender, and placing it solely on skill…as it should be.
General Day Passes are $60 – $90 per day and General Weekend Passes are $229. VIP Weekend Passes are $600. Passes to The Dinah are available now.
#thedinah #thedinah2016 #dinah2016
To book your trip to The Dinah in Palm Springs, contact Heather Cassell at Girls That Roam Travel at Travel Advisors of Los Gatos at 408-354-6531at .
To contract an original article, purchase reprints or become a media partner, contact .
Comments
comments