'Exs & Ohs' Elle King Headlines The Dinah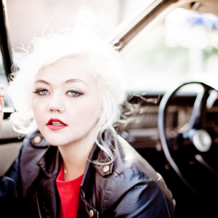 The Two Time Grammy Nominee Is Going to Rock the Girls In Palm Springs This Spring
by Heather Cassell
Who hasn't heard the crooning, swinging rockabilly tune "Exs & Ohs" by two-time Grammy nominated Elle King?
You couldn't miss it and you won't miss her if you are at The Dinah in Palm Springs, March 30 – April 3, 2016.
The lead single "Exs & Ohs" off her debut album "Love Stuff
" that came out this year is topping the charts and being played across alternative, pop/rock, and adult contemporary music.
It's also been Top 10 on the Billboard Digital Songs Chart for the last 10 weeks, #1 on the iTunes Alternative Songs Chart for 13 weeks, #1 on the Billboard Hot Rock Songs chart for 8 weeks and #4 most viral track of 2015 on Spotify.
She just received her first Grammy nominations in not one but two categories "Best Rock Performance" and "Best Rock Song."
The platinum blonde with the free-spirited personality will fit right in with The Dinah crowd with her loads of rad tattoos and perfect rebel attitude to go with it with her raspy a la Janis Joplin voice and sexy sass … I mean, who names their debut album after a sex shop in Florida?
"Elle King is the perfect choice for our event: irreverent, fresh, independent, and outspoken," says Mariah Hanson, founder and producer of The Dinah, the original Dinah Shore Weekend. "We are so excited to showcase her."
"We love showcasing these upcoming mega talents in an exclusively lesbian environment," continues Mariah, who believes that Dinah goers won't "ever forget" Elle's performance as she is sure to be playing arenas by the time she hits Palm Springs for the all-girl getaway in March. "Year after year, our headliners tell us The Dinah is one of their favorite venues to play cause our audience is so amazing."
The Brooklyn-based rock, blues-pop singer is making history. She's only the second woman to hit the #1 spot on Billboard's Alternative Chart in two decades to achieve that feat two years after Lorde's single "Royals" achieved the same feat.
Raised listening to the sounds of AC/DC to Elvis Presley and Dolly Parton, Elle blends blues, country, rock, soul, and honky-tonk into a sound that's uniquely hers.
After years of playing small gigs in New York City when she was only sixteen, the Ohio-raised singer finally landed a major record deal with RCA in 2012. She released the critically acclaimed "The Elle King ep
," which produced the single "Playing For Keeps
" that was picked up as the theme to VH1's "Mob Wives Chicago: Season 1
," and made her broadcast television debut on the "Late Show with David Letterman."
That's just to start. She's been catching everyone's eye from the Entertainment weekly, which described the rebel chick as "Rock's New Badass." The New York Times described her as "a sassy, hard-drinking, love-'em-and-leave-'em hellion with bad tattoos and a broad pedigree across rock, pop and country. She has Adele's determination and Joan Jett's stomp, Brenda Lee's high-voiced bite and some AC/DC shriek." She's been gracing the pages of The Wall Street Journal, Entertainment Weekly, Teen Vogue, People Magazine, Cosmopolitan, USA Today, just to name a few media outlets.
Elle has toured with James Bay and Ed Sheeran, appeared at festivals like Lollapalooza and Bonnaroo, and sold out her first two headlining tours.
The Dinah, March 30 – April 3, 2016 in Palm Springs. General Day Passes are $60 – $90 per day and General Weekend Passes are $229. VIP Weekend Passes are $600. Passes to The Dinah are available now.
To book your trip to The Dinah, contact Heather Cassell at Girls That Roam Travel at Travel Advisors of Los Gatos at 408-354-6531at or .
To contract an original article, purchase reprints or become a media partner, contact .
Comments
comments