Groove Master DJ Mary Mac To Spin Her Spell On The Dinah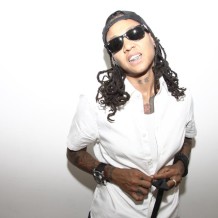 Legendary DJ Mary Mac Is Set To Get The Girls Grooving On The Dinah's Dance Floor In Palm Springs
by Heather Cassell
The dance floor will be slamming when DJ Mary Mac hits the turntables at The Dinah, March 30 – April 2, in Palm Springs.
The legendary DJ and performer joins fellow celebrity DJ Samantha Ronson in the DJ booth along with 10 other DJs inspiring more than 15,000 women to work up a sweat on the dance floor during 4-day all-girl party in the desert.
"DJ Mary Mac is one of my personal favorites when it comes to DJs," says Mariah Hanson, founder and promoter of Club Skirts The Dinah, the original Dinah Shore Weekend. "She's got an infectiously happy personality and her music is upbeat, fun, and playful. She brings an energy to her sets that is reflective of what a force she is in the music industry."
The iconic spinstress recently opened for Madonna's Rebel Heart Tour in Cologne (Koln), Germany in November and is a resident DJ for the Material Girl. That's only her recent spin with notable stars and musicians.
"Her visibility continues to grow and we are thrilled for her as no one deserves it more than DJ Mary Mac," continues Mariah, who is thrilled that DJ Mary Mac is coming to The Dinah. "We love her and look forward to hosting her for years to come."
The much sought-after female producer, song writer, emcee, and DJ from Queens has also performed with Red Café of Def Jam West, Cheri Dennis of Bad Boy Records, Jimmy Cozier of J Records, Da Brat of So So Def, Black Buddafly and Teairra Marì of Def Jam and Robin Thicke of Interscope Records during her nearly quarter century career.
DJ Mary Mac's natural talent, passion and cultural music influences from her Haitian background was recognized early in her career when she started spinning the latest hits and emerging music at upscale nightclubs across the globe in the early 1990s. She garnered the attention of Boss, a Midwester gangsta rapper. Soon after, she was performing alongside Def Jam hip-hop recording artists Run DMC, Redman and Onyx during the 1992 nationwide Phat Jam Tour.
Since then she's followed it up spinning for celebrity musicians Whitney Houston, Queen Latifah, MC Lyte and Queen Pen and has rocked out as the headlining DJ for Madonna's Oscar After Party and Ashton Kutcher's South By Southwest (SXSW) After Party, along with brand promotional release parties and tours.
While the New York-based DJ is powerful in her own right DJ Mary Mac has joined forces with fellow DJs, such as: Clue, Enuff, Funkmaster Flex, Jazzy Joyce, Mad Linx, Mister Cee, Spinderella, and SNS among other notable groove masters to rock the party.

And now, she's coming to The Dinah headlining with fellow global celebrity DJ Samantha Ronson.

General Day Passes are $60 – $90 per day and General Weekend Passes are $229. VIP Weekend Passes are $600. Passes to The Dinah are available now.
#thedinah #thedinah2016 #dinah2016
To book your trip to The Dinah in Palm Springs, contact Heather Cassell at Girls That Roam Travel at Travel Advisors of Los Gatos at 408-354-6531at .
To contract an original article, purchase reprints or become a media partner, contact .
Comments
comments