Celebrity DJ Samantha Ronson Set To Throw Down The Hits At The Dinah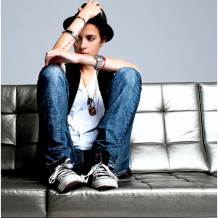 Global Spinstress DJ Samantha Ronson Is Going To Rock The Dance Floor In Palm Springs
by Heather Cassell
The girls at The Dinah will get footloose on the dance floors with global sensation DJ Samantha Ronson spinning the latest dance club anthems from around the world at The Dinah this spring January 4.
The Dinah Producer Mariah Hanson announced the famed celebrity spinstress will be in the DJ booth at The Dinah, March 30 – April 3 in Palm Springs, California.
Brining Samantha to The Dinah is a dream come true for Mariah. Samantha is one of the most respected and best-known DJs in the lesbian community.
"Samantha Ronson is one of the premiere celebrity DJ's, but she's also the real deal," says Mariah. "Our crowd is going to be blown away at her talent, energy and presence."
With her finger on the pulse of today's hottest tracts she has helped push the music scene forward, perpetuating the growing movement of women behind the decks.
For someone who started DJing by chance, she's quickly risen through the ranks in this heavily male-dominated industry, and carries now a professional dossier that certifiably rivals some of her better-known male DJ counterparts.
She's even cut a record becoming the first rock act to be signed to rapper Jay-Z's label, Roc-A-Fella Records in 2003. One of her songs was featured in the cult-classic film "Mean Girls."
This native Londoner packs a punch on the turntables and with a storied family. Her stepdad is Mick Jones, the legendary guitarist of the iconic rock band Foreigner. The Grammy Award-winning producer famously credited with making Amy Winehouse a household name Mark Ronson is her brother. Her sister, Charlotte Ronson, is a famous fashion designer.
Samantha travels the world from her base in Venice DJing at the biggest parties and clubs all around the world … oh and ahem some people you might know: Ellen DeGeneres, Jay-Z, Lionel Richie, Natalie Portman, Nicole Richie, Stevie Wonder, who have solicited Samantha's extraordinary DJ chops.
She's also spun live for MTV's New Year's Eve show from the network's studios in Times Square, as well as at the Super Bowl, Pan American Games, Sundance, Cannes Film Festival, the VMA's and AMA's and the list goes on just as the music continues to play into the night.
Her electrifying live set will leave The Dinah attendees wanting more as she pushes her sound, along with the crowd to the limit.
General Day Passes are $60 – $90 per day and General Weekend Passes are $229. VIP Weekend Passes are $600. Passes to The Dinah are available now.
#thedinah #thedinah2016 #dinah2016
To book your trip to The Dinah in Palm Springs, contact Heather Cassell at Girls That Roam Travel at Travel Advisors of Los Gatos at 408-354-6531at .
To contract an original article, purchase reprints or become a media partner, contact .
Comments
comments