San Francisco Bay Area Is Number Four On Our List Of Places To Visit In 2016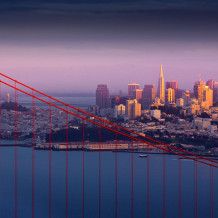 by Heather Cassell
First, welcome to our home town or region we should say. There are multiple reasons to visit the San Francisco Bay Area and California's famed wine country, Napa and Sonoma, this year. What can we say? We usually have it going on from our food, culture, style, technology, vineyards, fog to sunshine in San Francisco, but we REALLY have it going on this year. Let us count the scores: Giants (3 world series in five years), Golden State Warriors (NBA Championship 2015 and a great run breaking records this season), and hosting the upcoming Super Bowl 50 at the brand new Levi Stadium in Santa Clara. (Super G is doing an air fist pump right now).
We've got amazing weather (although we are crossing our fingers that El Nino won't drown out the excitement game day), scenic neighborhoods, great food, casual and open style, and amazing diversity throughout the Bay Area.
Where To Go: Take our breath away San Francisco. We love to travel, but our breath continues to be taken away every time we fly in and see the Golden Gate Bridge, Coit Tower, the Trans-America Pyramid and of course the fog rolling in toward our flat and over San Francisco. Our hearts always belong to San Francisco. There's a lot to love here from art (the San Francisco Museum of Modern Art (SFMOMA) will be set to reopen this May after three years of renovations) to the Balmy Alley Murals and murals throughout the Mission neighborhood. Sci-Fi Girl Roamers can roam around the public park where Yoda greets employees and guests at the George Lucas' Letterman Digital and New Media Arts Center, which is the headquarters of Lucasfilm, in the Presidio. Unfortunately, because it's an operating production facility tours aren't available. However, Disney fans can head over to the Walt Disney Family Museum (ironic as the on the other side of the Presidio before exploring Crissy Field and walking across the Golden Gate Bridge or drive to wine country.
You can't top that we are only an hour away from the world famous Napa and Sonoma Valleys. Hello, wine is in our veins. Both valleys have a lot to offer. Napa Valley is more condensed with Calistoga, St. Helena, Napa, and Yontville all within a half-hour or so of each other depending on the traffic on the single lane Highway 29. Sonoma County is much more spread out with unique corners and pockets off of Highway 101 from Petaluma to Cloverdale and onto narrower country highways stretching from Tomales Bay to Sonoma.
Napa is still a sophisticated adventure, but recent years the recession and a new wave of youthful residents has lightened up the valley to an easy country sophistication making it welcoming for wine travelers of all types. Napa is famed for its wines and food just as much as for its beauty with the vineyards stretching out one after the other surrounding palatial mansions and attractions, such as the Culinary Institute of America (CIA, not to be confused with the intelligence agency) and the Napa Valley Wine Train. Guests will soon be able to add the "Vintners Hall of Fame," the region's first Japanese-style gastropub (izakaya), and CIA's first casual lunch spot (just in case you can't get a reservation at Wine Spectator's Greystone Restaurant or any of its other student run restaurants) to their list of things to do. But Napa isn't only about food and wine anymore. BottleRock, May 27 – 29, has rocked the vineyards for five days in May since 2013. Art lovers have been drawn to the 10-day Festival Napa Valley (formerly Festival del Sole) for more than a decade to experience art in all of its forms. This year, July 15 – 24, the festival is honoring Margrit Mondavi. Celebrities have flocked to the Napa Valley for the annual Napa Valley Film Festival, which will celebrate its five year anniversary in November 9 – 13. This is just a taste of what Napa Valley offers guests.
Stretch out and kick your feet up in the Sonoma Valley. It's got it all from the Pacific Ocean to country charm, so what is your flavor? Secluded beach or small town getaway? Wine tasting room hopping? There's room to explore. This month visitors can enjoy the Wine Road's annual Winter Wineland, which kicks off the Wine Road's four other events throughout the year. By the way, the Wine Road is celebrating its 40th anniversary this year. Not into wine, Sonoma has a growing microbrewery movement. Visitors can get their hops on at the annual Beerfest, June 6. Go on the Marin and Sonoma Cheese Trail (you will be happy to know most of the creameries are women-owned and operated) and take a tour of Cowgirl Creamery on Fridays (psst make a reservation it always sells out) during your journey to and through wine country. Don't want to drive all over the Sonoma Valley on your great cheese hunt? Check out the 10th annual California Artisan Cheese Festival, March 18 – 20. Sonoma is chock full of wine and food festivals throughout the year, so you can't go wrong no matter when you visit.
Who to Travel With: Girls That Roam would love to show you around while you are in San Francisco, just contact us at and we will customize your visit, and our friend Sue Steirer, owner and tour guide of Absolutely Fabulous Tours, will take you on a tour of Napa and Sonoma that you won't forget.
Book your next adventure with Girls That Roam Travel. Call Heather Cassell at Girls That Roam Travel at Travel Advisors of Los Gatos at 408-354-6531 or directly at 415-517-7239 or email at .
To contract an original article, purchase reprints or become a media partner, contact .
Comments
comments