Napa's Festival Del Sole Dedicates 2016 Season To Wine Signora Margrit Mondavi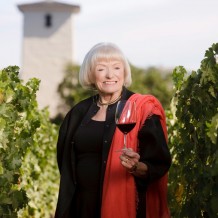 Napa Valley's Cultural Arts Festival That Put California's Wine Country On Art Lover's Map Honors The Signora of Wine, Margrit Mondavi, Whose Family Put Napa Valley On Oenophile's Must Visit Destination
by Heather Cassell
The legendary Margrit Mondavi is cause for celebration which is why the Napa Valley Festival Association is dedicating its Festival del Sole's 2016 season to the wine signora.
Margrit, 89, the widow of wine legend Robert Mondavi, is a longtime arts advocate and philanthropist as well as a board member of the festival's association, according to a news release October 23, 2014 announcing the dedication of the season.
This coming summer the 10-day arts and cultural festival now in its 11th year will be the ultimate node to the Mondavi family. Robert brought the wine industry out of the grips of France and Italy and put California on the map at the legendary Judgment of Paris, an international wine tasting event in 1976. It was the beginning of Robert's influence on the wine industry that inspired books and documentaries, such as Bottle Shock
.
The festival's events and performances will reflect on the family's Italian heritage and their philosophy that "wine, food and art are to be celebrated together," according to the release.
The festival's 2016 performers and vendors haven't been announced yet.
"Margrit's influence on Napa Valley Festival del Sole has been profound," says Festival del Sole Board Chairman Darioush Khaledi. "Her unstinting spirit and dedication to the arts has served as one of our guiding forces and inspired us all. On behalf of her fellow board members, we are immeasurably grateful for Margrit's leadership, example and friendship."
In addition to honoring Margrit and her family by dedicating the 2016 festival to them, festival organizers also established an arts education fund in Margrit's honor.
The fund was unveiled at an award ceremony for grant recipients receiving more than $200,000 at the Lincoln Theater in Yountville in November. In the coming year, the fund will support 30 arts education programs at 16 local public schools along with local arts and culture organizations the Arts Council Napa Valley Education Alliance, the Napa Valley Youth Symphony and the Lincoln Theater's Artist in Residence Music Program.
The money was raised through this year's Fund A Need, which raised $430,000 from 450 guests who attended the sold-out gala, which doubled last year's money raised. Guests were treated to a private performance by Academy Award-winner Kevin Spacey and a surprise appearance by Grammy Award-winning singer Patti Austin, according to the July release.
The festival raised $1.6 million, a new record, overall this past summer through its events, auction with prizes from dinners with celebrities to trips to Cuba with wine pioneers, to enrich the region's cultural vitality and support its arts education from nurturing young talent through the Bouchaine Young Artists Series, to presenting free community concerts, to awarding grants to local schools and arts organizations, according to the festival's website.
Festival del Sole "artfully blends," the world's finest classical, jazz, opera, theater and dance artists with culinary, wine and fitness pursuits with Napa Valley's iconic settings as its backdrop the festival directors describe in the release.
Since the Festival del Sole's beginnings in 2005 it has grown exponentially. This year marked its 10th anniversary and yet another record setting year welcoming more than 10,000 attendees to enjoy 60 free and low-cost concert events at nearly 40 venues throughout the Napa Valley. More than 150 wineries, hotels, resorts, theaters, restaurants, and vintners took part in the festival, festival organizers announced in a July 31 release.
Darioush says the festival's success goes to the Napa Valley community and festival goers who "embraced the idea that the Napa Valley is a place where arts and culture are celebrated as much as food and wine."
"This year's milestone season is a triumph for the entire community," he says.
The Napa Valley Festival del Sole is July 15 – 24, 2016. Tickets go on sale March 2016.
To book your trip to Napa, contact Heather Cassell at Girls That Roam Travel at Travel Advisors of Los Gatos at 408-354-6531at or .
To contract an original article, purchase reprints or become a media partner, contact .
Comments
comments