Madison Paige Delivers Pop With Soul At The Dinah Debut & Hits The Summer Girl Party Circuit
by Nicole Clausing
When the Goddess of Music takes something away, she often gives something back.
The Dinah 2016 marks the end of a career for one longtime lesbian favorite act: Canadian band Hunter Valentine are calling it quits after 12 years together, played one last set at the all-girl getaway's Friday afternoon pool party as a stop on their farewell tour before amicably disbanding and moving on to solo projects.
But two days later, music fans are treated to something special: A chance to witness the very beginning of an exciting new musical career. Singer/songwriter Madison Paige, all of 23 years old and best known so far for her career as a gender-bending model, made her concert debut of the release of her first EP, 444, at Sunday morning's Wet & Wild Pool Party. And I was there to see it.
This weekend Madison is headlining at Girls in Wonderland's signature event at the House of Blues (1490 East Buena Vista Drive, Lake Buena Visa, 407-934-2583, HouseOfBlues.com/Orlando), at 10 p.m. June 4 and at 2 a.m. June 5.
Girls in Wonderland kicked-off yesterday, June 2 and will last all weekend long until June 6 at Disney World in Orlando, Florida.
First Impressions
For someone used to having all eyes on her, Madison makes a surprisingly undramatic entrance. She and her band mates just stroll on stage, pick up their instruments, and launch into "Telepathy" without a word. It takes a moment for me to understand that I am watching the start of the actual performance, not the tinkering of the world's most attractive stagehand.
It's before noon on the last day of The Dinah, and the crowd around the pool is sparse and sluggish. Madison and her band—a bass player, a guitarist, and a temperamental drum machine with a mind of its own—have a big hill to climb if they're going to get this party started.
Fortunately, Madison has some formidable tools in her belt. First, she is a model and good looks never hurt a rock star. Onstage, though, Madison acts like she doesn't realize that she's hot. Her energy is goofy and self-effacing. ("This is scarier than I thought!" she allows at one point, although she smiles almost non-stop.) And when she starts playing air guitar during another band member's solo, she verges on dork territory, and it just makes the crowd love her more. While she may have something to learn about stage presence and confident body language, it's clear that she's a natural at winning over a crowd.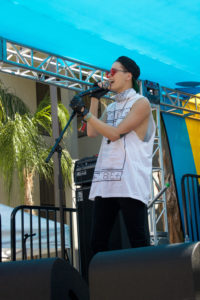 Going Deeper
She also has talent. I arrive for the gig with low expectations, assuming that Madison will be purveying auto-tuned pop fluff the way a model flogs this year's disposable fashions. Not so. The band has a more sophisticated sound than I expect, with many songs churning in a bass-heavy but melodic groove that sounds something like Muse as fronted by Kimbra.
Madison's voice is a surprise, too, higher than I expect from someone so androgynous, and more powerful than seems possible from someone so slight. More surprising than this, though, is the content of the lyrics. Madison writes her own, and she already shows more command of imagery and metaphor than most pop stars ever bother with. In her very first song, "Telepathy," I listen to the lines "Take all my flesh, take every bone/Just leave my breath, I need something to hold," and it strikes me that this is not something you hear every day on the radio. When she gets to "Silhouette," with its couplet, "I know that you want to change shapes/You were born on a canvas that you want to repaint," I realize that Madison may be on her way to being a pop star, but that she is also a songwriter who aspires to write music with real substance.
I'm not the only one impressed. The crowd, thin at first, grows quickly. They have been summoned, I imagine, by a virtual flood of "get here quick" texts. By the time she finishes with "Shovel," which, Madison explains winningly, is "about a huge bitch," the audience is hers. We call for more, but there is only time for six songs. And with only one EP to her name, Madison may not have much more to play yet. But she will. I predict that in a few years, when she has built a catalog for herself and honed her stagecraft a little more, those of us here at the Hilton pool will be telling anyone who will listen that we saw Madison Paige play a daytime set for a couple of hundred people at one year's Club Skirt's Dinah Shore Weekend.
Madison Paige's debut EP, 444, was released in February. She has not announced any tour plans yet, but you can keep checking her website (http://madisonpaigemusic.com) for any upcoming shows.

Book your next all-girl getaway with Girls That Roam Travel. Contact Heather Cassell at Girls That Roam Travel in association with Travel Advisors of Los Gatos at 415-517-7239 or at .
To contract an original article, purchase reprints or become a media partner, contact .
Comments
comments