Model Rocker Madison Paige Debuts Girl Love Ode At The Dinah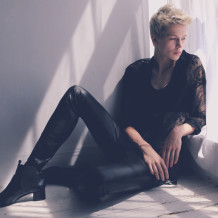 Androgynous Model Madison Paige Explores Her Musical Side And Love Of Adventure
by Heather Cassell
Sunday is a big day for Madison Paige. It's her coming out, so to speak, as a musician when she takes the stage with her band to close out The Dinah in Palm Springs.
"I'm nervous. I can't even play it cool. I can't hide away from my awkward self," says Madison, whom her friends simply call "Mads," about her first performance of her new album, 444, with her band tomorrow, April 3 at 11:30 a.m. at the Wet & Wild Pool Party.
It's not the normal stage fright as you might assume. This performance is deeply personal for her and the Dinah audience.
"I'm going to feel the most naked in front of them," says the 23-year old androgynous model who is transitioning into a musician. "When I sing I don't have to feel like I have to sing to explain myself. This is the community that I wrote this entire album about, the idea of girl on girl love."
"I feel like every single girl there has to have gone through at least something in one of the songs that I'm performing at Dinah," she adds. "This is going to be where I'm actually singing to people who can actually identify themselves extraordinarily with my music."
The album is also Madison's pop debut a diversion from her indie and solo acoustic roots.
Response to her album since it dropped on Sound Cloud February 20 has been positive, even with a listener recording themselves listening to one of her songs while snowboarding down a mountain, she says.
If response to her album is any indication the girls at The Dinah are going to love it.
Girls That Roam caught up with Madison after she released her debut album to chat about performing at The Dinah, becoming a model, and the adventure of travel.
Generations Before The Camera
It might seem that Madison was made for greatness. Coming from a family of Amazons where the cameras followed their every move for three generations it was only natural that she followed in their shoes.
Madison's grandmother on her mother's side was a housewife with the "beautiful bouffant hair" modeling kitchen appliances in Chicago. Her mother was the "European beauty" doing high fashion. Her father's sister was the Hawaiian bikini and Marlboro cigarette model. Now she has been doing androgynous modeling.
"I got into modeling because I'm the third generation in my family to do it," says Madison. "There were always photographers around. It was always something that I always looked up to in my family and blood line."
"I've only met one other person who was three generations and it wasn't on both sides of the family like me," she adds laughing and chatting about the fact that she's the shortest in her family. Her younger sister towers over her 5'10" frame at 6'2", "and they just kind of keep getting taller from there."
Modeling has taken her around the world and not on the usual one or two week whirl wind rush from destination to destination typical of many Americans. Often times she spends weeks and even months in a location on photo shoots for different clients.
Last year, she traveled to Thailand for three months, Tokyo, Japan for two months; London, United Kingdom for two weeks; and Spain for a week all the while moving from Los Angeles to New York.
Enchanted By Thailand
Thailand enchanted Madison, but it was also a deeply enriching experience. She was truly free. When she arrived two days prior to the photo shoots beginning her then-girlfriend of nearly two years ended their relationship. She only had one suitcase with all of her belongings and a guitar with her and limited access to communicate with friends and family. She was on her own.
"When I landed in Thailand I was actually detached from my entire previous life," says Madison. "No longer did I have a girlfriend or where we were staying and the things that we shared. I didn't have any of those things anymore."
"That's all I had, just my clothes my guitars and a ticket to a new place to go," she adds. "It was hard for a while, but it was really freeing."
To ground herself, Madison did what she does at any destination. A foodie, she went on a hunt for the best of what Thailand has to offer, which was Som Tom, a papaya salad made by the locals, which became her staple for the next three months.
Then on her last day in Thailand, she and two of the male models scaled a fence to enter a forbidden section of Chiang Mai, a waterfall reservation where there are seven waterfalls with trails against them, to see the last two unmarked eighth and ninth waterfalls they were told about.
"It was amazing," says Madison recounting the adventure. "We scaled these two waterfalls on adrenaline and bad ideas."
They went anyway and discovered a cave behind one of the waterfalls. They swam underneath a rock unsure of where they were going or where they were going to surface.
"[It was] so free and explorative. We popped up underneath the other side and we were in a cave full of the clearest water I've ever seen. It was insane. There was this huge rock formation that came down like a chandelier. It was like we found uncharted territory," says Madison describing their adventure. "I just remember all three of us all sitting there and laughing because it was the most beautiful place that we found."
The peace of their discovery was soon interrupted by helicopters searching for them. They got into trouble, but hearing Madison talk about it, the experience was all worth it.
"In Thailand the word thai means free, so to just feel freed in a free land like Thailand was amazing," says Madison.
When you ask Madison about after all of her travels what her favorite destination is she says, "Thailand," without hesitation.
The Pain And The Beauty Of The Journey
Getting to the destination is the best part of the adventure, especially in Madison's case. She tends to have the karma of watching the plane she's eventually going to be boarding being worked on for five hours and always gets seated next to the crying baby or angry guy on her journeys around the world, she says. But she comes armed with good music, headphones, and charcoal and paper.
"The actual act of traveling is such a bitch for me, but then once I get there it's worth it," says Madison, recalling one of the most arduous and interesting journeys she's been on that landed her on Krabi Island.
Krabi Island is a remote island with pristine beaches that are a journey to get to unto itself in the nearly 300 islands that make up the Andaman and Nicobar Islands in India's Bay of Bengal.
"It was definitely the most extravagant thing that I had ever seen," says Madison, but back to her normality she is all good with the discomfort. "As long as I'm artistically inspired I can turn any shitty situation into a good song."
The treasure in traveling, aside from experiencing exotic destinations and parts of the world barely touched by humans, for Madison is, "You have an opportunity to live so many different lives."
"Thailand is so crazy and then Japan was so solemn" two completely different cultures in spite of being on the same continent she notes. "Then I went over to Spain and they were so happy and joyous."
"You just get to experience so many different cultures it just kind of sparks in you part of yourself," says Madison.
Reflecting on the importance of travel beyond personal growth, Madison believes it provides a broader perspective of multiple ways of living and being in the world all at once.
"The world is so large and there are so many different ways of living," says Madison, speaking wisely. "It doesn't mean that there is only one way that is right or better than the other, but that it doesn't mean that they don't all exist."
Everyone should try traveling, "It's always worth it," she believes.
"If it's not something that you don't want to do you probably haven't ever tried it," she says, as she plots her summer tour schedule.
Catch Madison Paige at The Dinah's Wet & Wild Pool Party at 11:30 a.m. at the Hilton Palm Springs, 400 East Tahquitz Canyon Way in Palm Springs, California. Tickets are $60 per person.

If you miss her in Palm Springs, check out her website for upcoming performances, visit MadisonPaigeMusic.com.
Book you're your place in history at Bride Pride contact Heather Cassell at Girls That Roam Travel in association with Travel Advisors of Los Gatos at 408-354-6531 or 415-517-7239 or at .
To contract an original article, purchase reprints or become a media partner, contact .
Comments
comments