Hunter Valentine Rocks Out One Last Time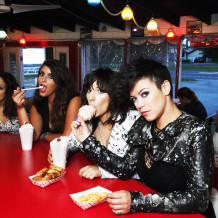 Girls That Roam Chats With Hunter Valentine's Lead Singer Kiyomi McCloskey About "The Pledge," Saying Good-Bye And Performing At The Dinah, Good Eats On The Road, And The Future
by Heather Cassell
It's been a rockin' 11 years for Hunter Valentine.
The all-girl rock band has tripped around the world and opened for Cyndi Lauper, appeared on MTV's "Make or Break: Linda Perry Project" and Showtime's "The Real L Word," and overall gained a loyal following of fans. But now it's time for the band from Toronto to say good-bye … for now, says Hunter Valentine's front woman Kiyomi McCloskey.
As a parting gift to fans, Hunter Valentine released its fifth album, The Pledge, February 14 and kicked off the band's farewell tour the following day.
Girls That Roam caught up with Hunter Valentine while they were rolling through in Austin, Texas.
So Long, Farewell
"You know, it's sort of a bitter sweet thing," says Kiyomi, talking about how Hunter Valentine's fans have been "super excited" about the new album and singing along with them at their performances.
The band put together a set filled with fan favorites and songs from The Pledge, says Kiyomi.
So far the band has traveled through New York, Charlotte, NC; Pennsylvania, Washington, DC; all over Florida and Texas. Their caravan is now heading toward the Southwest, Rocky Mountains, West Coast and Pacific Northwest.
Some fans have shed a few tears at some of the performances, but for the most part it's been a "celebratory vibe," says Kiyomi.
"It's been really fun so far," she adds.
The band will be swinging through Palm Springs for The Dinah hanging out with fans and performing at the "Hot as L Pool Party" at the Hilton Palm Springs (400 East Tahquitz Canyon Way; 760-320-6868; ; Hilton.com/en/hotels/california/Hilton-Palm-Springs-PSPPSHF/index.html) on Friday, April 1.
"The Dinah is always a trip to say the least," says Kiyomi, who feels lucky to be invited to The Dinah.
"I see all these girls from around the world, 'Oh, it's my dream to go to Dinah Shore,' and I'm like here I am invited to come and play almost every year or host every year. You don't want to take things like that for granted."
"It's a crazy experience and you want to take it all in," she continues. "It's a huge opportunity to be able to play for that amount of women all in one spot. I just feel really lucky and excited. We are just really excited to play."
On The Road
The foodies of the group, Kiyomi and drummer Laura Petracca, were scouting out the best eats in Austin while we were chatting. Having been to Austin recently, Girls That Roam chimed in with our own suggestions for food trucks to restaurants along with suggestions for Palm Springs.
However, road food hasn't been the best food the group has had during this tour, says Kiyomi.
A fan-turned-friend-made meal in North Carolina hit the spot and registered the highest in praise.
The best meal so far, "was a home cooked meal," says Kiyomi. "We stopped on a day off at my friend's house and she made some amazing ribs and a full on Southern meal that was awesome."
She did add that the band has enjoyed some "pretty epic tacos," especially in Texas.
Cha-Cha-Changes
"It's all very exciting," says Kiyomi, about her bandmates and her solo adventures in the near future. "With anything that you've been doing for a long time it's always healthy to try other things."
"We are just taking that moment to explore what our other options are as individuals," continues Kiyomi.
When the band returns to Brooklyn, New York, where they are based, Laura, a former chef, will return to her roots in the culinary world.
The others will continue on their own musical journeys. Kiyomi, who is the lead guitarist, songwriter, and singer will work on a solo album that she has yet determined if it will be under her own name or an alter ego, when the band returns to Brooklyn, where they are based, she says. She even hinted at exploring an acting career.
"I'm really excited about it and I'm hoping the fans will cross over from Hunter Valentine and follow this new project of mine for sure," says Kiyomi.
Kiyomi and Lisa Bianco, guitarist and keyboardist, will also continue their songwriting partnership, she adds.
"My biggest passion is writing the music," says Kiyomi. "I love playing and I love recording, but really writing is what does it for me."
Lifelong musicians Lisa and Leanne Bowes, bassist, will explore other opportunities in the music industry.
To catch Hunter Valentine at The Dinah at the Hilton Palm Springs, 400 East Tahquitz Canyon Way in Palm Springs, California. Doors open at noon with a 5:30 p.m. showtime. Limited tickets are available at the door. It's advisable to pre-purchase tickets, $60 per guest, here http://thedinah.com/events/huntervalentine. For more information contact or visit TheDinah.com or @dinahshore.
#thedinah #thedinah2016 #onlyatthedinah
Book your next road adventure contact Heather Cassell at Girls That Roam Travel in association with Travel Advisors of Los Gatos at 408-354-6531 or 415-517-7239 or at .
To contract an original article, purchase reprints or become a media partner, contact .
Comments
comments