Girls That Roam Heads South To Check Out Texas' Quirky And Cool Capital City And The Queering Of The Famed South By Southwest Festival
by Heather Cassell
We had never traveled with our friends as a couple before, so a group of us heading to Austin was a new adventure, as new as heading to Texas for a lesbian wedding, which spurred the journey to the Lone Star State's quirky capital city.
A group of us rented a house through Airbnb for the trip. We didn't want to go just for the wedding, but also to find out why so many people rave about how cool Austin is.
As soon as the seatbelt sign on the plane turned off Super G unbuckled herself and kneeled on her seat, propping herself up against the back. Drink in hand, she didn't turn around again from chatting with our friends until the seatbelt light turned back on. I followed her lead. The party had begun.
Austin is the blue dot amid a sea of red in the Lone Star State. It has a reputation for being offbeat, but in a cool way that begged me to ask, "How did a city that has a similar vibe to Berkeley, Oakland, Santa Cruz, and Portland emerge in Texas?"
It might be the bats, the famed 1.5 million bats that fly out from beneath the Ann W. Richards Congress Avenue Bridge at dusk. That right there makes Austin unique. It's a college town, home to the University of Texas at Austin. Another answer might be that the tech industry has found a comfortable second home outside of Silicon Valley in Austin. The city has long become an enclave for artists and musicians. And Austin boasts of an active outdoor life due to its average of 229 days of sunshine a year. I was surprised to find so many vegan and vegetarian restaurants alongside the Tex-Mex and beef in the heart of Texas.
Austin is a festival town and there are many throughout the year. The city's queer community alone hosts five of them: OUTsider Film and Arts Festival; Queerbomb; Austin Pride; Austin Gay and Lesbian International Film Festival; and the Stargayzer Festival: Austin's Queer Music Festival.
This month the festival is the famed South by Southwest Festival and Interactive, which its 30th edition kicked off on Friday, March 11. The festival that attracts upward of 72,000 attendees from around the globe to check out hundreds of musicians, artists, innovative thought leaders, and new technologies goes on until March 20.
This year SXSW is embracing the queer community as well as other minority communities offering interactive tracks.
SXSW is only one reason to head south.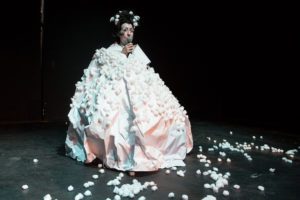 Vibrantly Out Of The Normal
Austin is a rapidly growing, but still affordable, city that is attracting a new wave of vibrant residents.
"One of the biggest draws to Austin is that it's a very diverse city," says Ceci, who mentioned being affectionate in public with her partner without being given a second look and the city's support of the LGBT community. "It just makes me feel really good to be a part of a city that is very accepting all the way from the mayor down to pretty much most everybody I meet.
"Because we are in Texas, a lot of people tend to go, 'Well no, you can't do that here in Texas.' But this is Austin. That's what we like to say, 'We are not in Texas, we are in Austin,'" she adds.
Curran Nault, a 39-year-old queer man who is a founder and the artistic director of OUTsider, a queer multimedia arts festival and conference, agrees.
"I think because it's such a kind of unique state and city and community … that it kind of gets overlooked," says Curran, a former San Franciscan who noted that when people think of the queer community they think of the coast cities like Los Angeles, San Francisco, and New York. "In a lot of ways the queer culture here is just as thriving but it kind of has its own unique flavor."
"It is in Texas so there is that sort of infusion of Texas culture … but also there is still a kind of fun radical edge to the queer community," continues Curran. "You are going to see stuff that you are not going to see anywhere else. There is an excitement around queer events because there is a newness to it so people are actually grateful for it."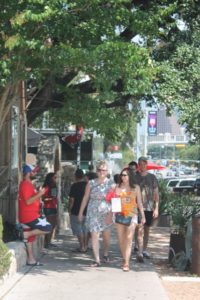 Austin is unique. Our house was at the edge of South Congress Street, one of the hippest shopping areas in Austin. It reminded me very much of the Haight-Ashbury with a Texas twist – rather than Doc Martins, one of the stores had a huge spurred cowboy boot above it, while other stores had vintage dresses. Bars ranged from divvy to hipster and restaurants ranged from vegan to barbecue.
One of Austin's shopping areas that include local artisans is the more than 40-year-old 23rd Street Artist Market (Guadalupe Street; 512-974-4002; ; 23rdstreetartistsmarket.com) near the university, while the 2nd Street District caters more to boutiques and high-end shopping.
On my shopping list was Teysha (1801 South 1st Street; Teysha.is), the handmade shoes from Central and South America. A local couple started the company. The shoes are made using brightly colored patterned textiles crafted by indigenous women in Colombia and Guatemala. Each shoe is fitted personally to each customer's foot, with their measurements taken and stored in a database for future shopping.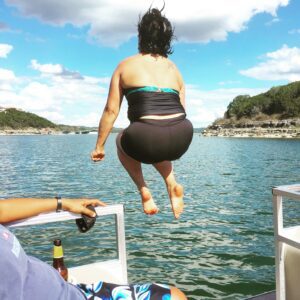 Chilling Out
To relieve us of Austin's heat and humidity, one of our friends, a Texas native who went to the university in Austin, had us covered. She took us to Lake Travis (512-261-5121; ; LakeTravis.com), a 45-minute drive outside the city. It was a great introduction to Austin's outdoor adventures that include miles of hiking and biking within the city around Lady Bird Lake, golf, horseback riding, and sunbathing and chilling out on the grass at Barton Springs (2201 Barton Springs Road; 512-867-3080; AustinTexas.gov/department/Barton-Springs-Pool), a natural spring that gets dammed up as soon as the weather heats up, to the pleasure of Austin residents looking to cool off within the city.
On the lake we loaded up our boat with our goodies from beer to lunch to snacks and zipped out to a cove where we stopped and enjoyed jumping into the water for a few hours. Later in the afternoon we toured around the lake, looking at the houses and enjoying the sunset. We couldn't have asked for a better day.
Next up was a fantastic evening out on the town at the Hangar Lounge (318 Colorado Street; 512-474-4264; TheHangarLounge.com), a rooftop bar in downtown Austin with a DJ spinning the latest hits as we sipped cocktails and looked out at Austin's skyline.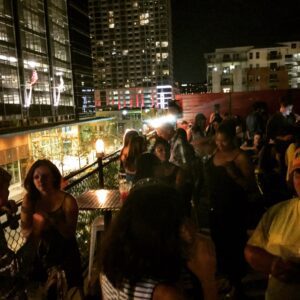 Tex-Mex And More
Austin isn't a walking town, especially in the sweltering heat, but the Rainey Street Historic District makes it super easy to bar hop. It's a gem of a block filled with charming and hip bars, and food trucks and restaurants line both sides of the street. We had a great time lunching at Banger's Sausage House and Beer Garden (79 Rainey Street; 512-386-1656; BangersAustin.com), which has six specialty flavors of sausages and 30 local microbrews on tap.
Super G and our friends had a list of spots to hit in Austin, including Veracruz All Natural Food Truck (1704 East Cesar Chavez Street; 512-981-1760; VeracruzTacos.com), which was named one of the top five tacos in the U.S. by the Food Network. Owned by sisters Reyna and Maritza Vasquez, it was definitely worth the breakfast tacos. If you hit it at the right time, after the morning rush, you will avoid the crowds at this popular food truck stop.
Another great brunch spot where there is always a wait is Bouldin Creek Café (1900 South 1st Street; 512-416-1601; ; BouldinCreekCafe.com). Housed in a cute craft house with a garden, it welcomes guests with cut outs of Ru Paul asking people to check in and be seated and dishes out vegetarian and vegan fare southwestern style. We didn't mean to go vegetarian in such the cowboy state, but we were surprised to find such high quality vegetarian restaurants in Austin. Another hot spot for non-vegetarian breakfast or brunch is the South Congress Cafe (1600 South Congress Avenue; 512-447-3905; SouthCongressCafe.com) where we got an excellent Tex-Mex breakfast.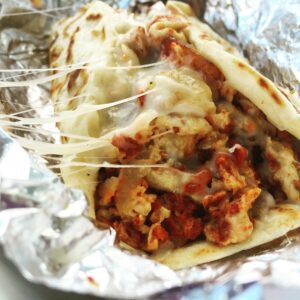 We had our fill of Texas style Mexican cuisine at Matt's Famous El Rancho (2613 South Lamar Boulevard; 512-462-9333; Paul@MattsElRancho.com; MattsElRancho.com) before we turned to the grill for Texas' famous barbeque. We were told over and over again to head to Franklin Barbecue (900 East 11th Street; ; FranklinBarbecue.com) (but the prospect of waiting an hour or more in line wasn't an option for our group. We went for the second most popular barbeque place in Austin, the Salt Lick (18300 FM 1826; 512-858-4959; ; SaltLickBBQ.com) in Driftwood, about a 20-minute drive into the middle of nowhere outside of Austin. We should have melted in line for Franklin's as we were sorely disappointed by the drive to the middle of nowhere for less than satisfying barbeque.
We knew we were ready to come home when we forewent other Tex-Mex options and dove into 888 Pan Asian Restaurant's (2400 East Oltorf Street, #1a; 512-448-4722; Facebook.com/pages/888-Pan-Asian-Restaurant/274953964123) selection of all things Asian cuisine that rivaled the best of San Francisco's Chinatown offerings on our last night in Austin.
Austin gives travelers a good reason to head south. To book your trip to Austin, contact Heather Cassell at Girls That Roam Travel in association with Travel Advisors of Los Gatos at 408-354-6531 or 415-517-7239 or at .
To contract an original article, purchase reprints or become a media partner, contact .
Comments
comments