These Globetrotting Gals Need A Vacation From The Vacation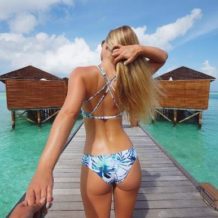 Girl Travel Bloggers Dish About What It Takes To Bring Flawless Compelling Travel Blogs, Vlogs, And Instagram Posts To The Hungry Masses
by Heather Cassell
It's a dream life from the posts on Facebook and Instagram. Galivanting blogging women trapezing around the world and having the time of their lives and looking good while doing it, but the reality is further from the truth captured on the filtered images and carefully crafted captions.
It takes a lot of work to make something look flawless. Kiersten Rich, creator of the Blonde Abroad, Liz Carlson of Young Adventuress, and Leeann Sadler, one half of the Passport Pair know all too well.
The New York Times caught up with Kiersten after she touched down in Southern California after being in Tokyo. That day she was going to design a wanderlust inspired office and then take off again to Iceland for a two week excursion to refresh content.
The "fun and glamourous job" is actually filled with 18-hour work days. The most successful women travel bloggers, like Kiersten's solo woman travel blog has 350,000 monthly readers and she has more than 380,000 Instagram followers, have staff to keep things running smoothly.
Somewhere between having fun and being paid to travel the world the fun stops. The blogger becomes an entrepreneur and the constant sleep deprivation and a never-ending flood of work that comes when the blog becomes a J-O-B.
"It's pretty easy to almost start to hate it," Liz tells the New York Times.
Liz started her blog five years ago as a way to update her friends and family about her experiences teaching English as a Second Language abroad. She hasn't had a "real" vacation in probably four years, she says.
"There's no way that you can produce the quality or amount of content that a big online magazine can without a team," says Kiersten, who has eight staff members, including a social media manager, site director, web developer and video and copy editors. "I still travel by myself when I can; it's just so much easier to have help with me."
Sure, tourism boards and publicists often comp a good portion of the trips by covering activities, lodging, and meals. The benefit for the tourism board is person-to-person content rather than a professionally produced articles and videos.
"People believe more in content created by other people; a blog tells a reliable story," says Jaume Marín, marketing director of the Costa Brava Girona Tourist Board, who has hosted more than 1,200 bloggers.
The bloggers job is to turn around content quickly and often and not just for the destination, but also the content hungry followers and constantly changing algorithms of Facebook, Google, and Instagram.
Familiarization trips are 15-hour days packed with programming and pushing to squeeze out an article and schedule social media posts and other tasks that keep the blog up and running and people coming back for more.
"The more you post, the more you pop up in the 'explore' tab," says Leeann. "If I don't post for five days, the next time I do post is significantly less engagement."
To succeed means to be constantly on.
It's addictive. The dream is to take time off and stay home for a change, yet the call of the road and the superhighway is always pulling the bloggers back.
"I'm hoping to take the rest of the year off; that's my goal — to say no," says Kiersten, but another trip was already booked. "That's how it always goes." 
Book your next adventure with Girls That Roam Travel. Contact Heather Cassell at Girls That Roam Travel at 415-517-7239 or at . 
To contract an original article, purchase reprints or become a media partner, contact .
Comments
comments