Book Celebrates Women Of Napa And Raises Support In The Wake Of The Northern California Wildfires That Devastated Napa And Sonoma Valleys
by Heather Cassell
Napa is strong and so is its women.
A new coffee table book, "Wine Country Women of Napa Valley
," coming to bookstores October 24, celebrates the diverse and empowering community of women that make the Napa Valley.
The book's author Michelle Mandro, who is the founder and president of the Napa-based luxury lifestyle entertainment start-up brand Wine Country Women LLC, is also donated and is raising money through sales of the book to help animals that were victims of the wildfires that ripped through and continue to burn in Napa and Sonoma counties this month, announced in a joint news release October 16.
The 22 fires that broke out late October 8 and raged uncontrolled for 12 days in nine counties, including Napa and Sonoma, became the worse in California history. The fires claimed the lives of 42 people, forced 100,000 people to evacuate, and caused the destruction of 7,700 buildings, many homes, and burned more than 245,000 acres.
Celebrating The Women Among The Vines
The book highlights 65 women artists, chefs, entrepreneurs, and winemakers who range in age from their 20s to their 60s in profiles penned by Michelle and illuminated by the amazing photography of Napa Valley photographer Dona Kopol Bonick. The women are introduced in a forward by millennial wine heiress Amanda Harlan of Harlan Estate, who co-leads a new project from the winery, Promontory, which launched this spring.
Luminaries of the Napa Valley, Leslie Frank of Frank Family Vineyards, Violet Grgich of Grgich Hills Estate, Susan Hoff of Fantesca Estate and Winery, Stephanie Honig of Honig Vineyard and Winery, Genevieve Janssens of Robert Mondavi Winery, Carissa Mondavi, granddaughter of Robert Mondavi; of Contiuum Estate, among others share their stories about their successes, the history of and their passion for the valley, and a glimpse into their lives in California's premiere wine country. The women also dish out some of their favorite recipes, such as Zinfandel Cioppino, Truffle Short Ribs With Pappardelle and Exotic Mushrooms and Meyer Lemon Meringue Pie and their favorite wine and spirits pairings, reports the Mercury News.
The Table of Contents is laid out in categories around courses: appetizers, soups and salads, entrees, and dessert.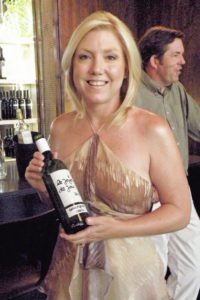 Michelle calls the book "an instant wine dinner book," but she insists that the book doesn't focus solely on women vintners.
"The premise is to educate the reader that there is a diversified group of women of different ages and occupations that live in the Napa Valley," Michelle tells the Napa Valley Register. "It really is a patchwork of women that make up this great area. People unfortunately think everyone works in the wine industry, but we have fabulous people of differing occupations."
However, Michelle's history as the former executive director of the American Institute of Wine and Food, leans heavily on the valley's culinary and wine culture.
"The consumer can not only enjoy reading this book, but they can pull a recipe from each of the sections and, voilà, they have a wine dinner," says Michelle. "So many of our wine regions are driven by great food and wine, so being able to feature a favorite family recipe, and learning what that woman loves to pair it with, will be intriguing to people, I think."
Giving Back To Napa
Michelle and Monica Stevens, co-founder and executive director of Jameson Animal Rescue Ranch, announced a portion of proceeds of the book purchased directly from Wine County Women's website October 16 through November 17 will benefit the ranch, in a joint news release October 16. The ranch helped evacuate and are for animals during and after the Napa and Sonoma fires.
Additionally, Michelle's company donated $2,500 to the ranch.
The business wanted to show its support, not only for the women of Napa with the new book, but also for the animals, says Michelle in the release.
"Our business is focused on many of the extraordinary people of the region," she says. "It is our desire that we do all we can to help them and their families in this time of need."
Many of the women featured in the book were forced to evacuate when the fires roared through Napa and Sonoma. Some of the women have been devastated by the fires losing their homes and vineyards and in some cases even their businesses.
Some of the women have been forced while looking for their own temporary housing to find placement for their own horses and farm animals until they can get resettled, reports the Registry.
Michelle notes that her company doesn't have "much of a philanthropy budget," she says, "I wanted to do something to help." She chose the rescue ranch because it services both Napa and Sonoma counties.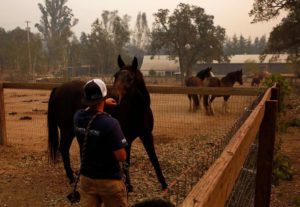 "In these type of crises animals are often over looked, neglected and displaced. I wanted to provide assistance for them," says Michelle.
"I am so grateful for Wine Country Women's generous donation, which is much needed and appreciated to help the animal victims of these tragic fires," says Monica Stevens, co-founder and executive director of the ranch. "With over 20,000 people evacuated from their homes in wine country, with no time to collect any personal items, there are hundreds of displaced domestic animals who need help."
Michelle's next book will focus on the women of Sonoma County, reports the Register.
The book tour of "Wine Country Women of Napa Valley," softly launched at the Culinary Institute of America in Napa earlier this month, but kicks off with events in Beverly Hills October 25 before taking off around the country.
Books are available through Wine Country Women's website, http://winecountrywomen.com.
Book your next wine getaway to California's premiere wine region with Girls That Roam Travel. Contact Heather Cassell at Girls That Roam Travel at 415-517-7239 or at .
To contract an original article, purchase reprints or become a media partner, contact .
Comments
comments