The Great Ice Cream Hunt Hits L.A.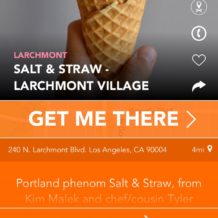 New Destination App Celebrates Summer's Favorite Desert – Ice Cream – With A Scavenger Hunt Through The City's Best Ice Cream Parlors
by Heather Cassell
I will scream. You will scream. We all will scream for ice cream!
Summer has just begun and ice cream, the favorite treat of the season, is on everyone's mind again. So, what better way to kick off the launch of a new travel app than to have a scavenger hunt for ice cream?
The flavorful adventure will land visitors at some of the best parlors in town including Ginger's Divine Creams in Culver City, Ihwamun in Little Tokyo and Salt & Straw in Larchmont Village.
The hunt is on in Los Angeles for ice cream now through 11:59 p.m., June 23.
Winners of the scavenger hunt will get a pair of coveted tickets into the completely sold out Museum of Ice Cream and a $260 gift card to Magpies, good for an entire year's worth of free ice cream.
All they have to do is be the first of three people to check-in to all 16 ice cream shops listed on the Discover L.A. app, available on iOS and Android devices, and activate the Scavenger Hunt icon located at the bottom left corner of the screen. To activate, hunters must also be logged in via Facebook or email. Then press start and you are on your way to check into ice cream heaven.
The app is a sleek pocket guide packed with rich content that is tailored made for locals and visitors looking to explore the best of the City of Angels, according to Discover Los Angeles' Memorial Day Weekend news release. The app is thematically synced to deliver personalized content based on weather, time and distance and culls suggestions from the city's endless entertainment options—including world-class museums, diverse dining options, and captivating events.
"The Discover L.A. app is the first-of-its kind to utilize proprietary A.I. built to enhance the Los Angeles experience. Through smart technology, the app literally knows to serve up soup and indoor dining suggestions on cool days; the closest beaches and ice cream on warm days," says Don Skeoch, chief marketing officer of Discover Los Angeles, the city's official tourism marketing organization.
Key features of the app, aside from its cool scavenger hunt, is that the content is developed exclusively for the app, so it's up-to-date with information that interests you through its cool features:
It highlights top daily events throughout Los Angeles County
Develops itineraries based on weather, time, and distance
Is a film and television location finder
Discovers accommodations by neighborhood
Features transportation options by bike, car, and Metro
Locates the closest free WiFi locations
Has a currency converter
Creates a passport to save favorite locations
"Even if you feel like you know Los Angeles like the back of your hand, this is an opportunity for you to rediscover Los Angeles," Bill Karz, vice president of digital for Discover Los Angeles, tells ABC 7 News.
The immersive app was created by Discover Los Angeles in partnership the L.A. County Arts Commission and launched May 31. The app was funded in part by a transportation improvement project grant from Metro, according to the release. Using the app, travelers can easily traverse the city by clicking "get me there," which will populate transit options by bike, car, and Metro.
The ice cream scavenger hunt is the first of the app's the seasonal scavenger hunts, a key feature to incentivize urban exploration. Future hunts will focus on tacos, or around holiday themes, reports ABC 7 News.
Book your next L.A. adventure with Girls That Roam Travel. Contact Heather Cassell at Girls That Roam Travel at 415-517-7239 or at .
To contract an original article, purchase reprints or become a media partner, contact .
Comments
comments