Dive Into Sprinkles. Be The Banana Split. Get A Sugar High at The Museum of Ice Cream.
by Heather Cassell
Life is a bowl of ice cream with sprinkles on top, at least for the Museum of Ice Cream, which opens in Los Angeles, California April 22.
The museum allows attendees to dive into a pool of sprinkles, swing on banana swings in a faux banana split made of 10,000 "bananas," a jungle made out of melting popsicles, and a grow house for mint among its 10 exhibitions all themed around ice cream.
"The sprinkle pool is filled with 100 million sprinkles," Maryellis Bunn, the founder and the creative director of MoIC, tells ABC 7 News.
Each guest gets two curated ice cream tastings and edible treats provided by artesian ice cream makers.
The museum set up shop in a warehouse in Los Angeles' Design District at 2018 East 7th Place and will be in Los Angeles until May 29.
Much like in New York, where the pop-up museum originated, the first round of tickets quickly sold out when it went on sale April 2.
The ice cream museum has been a smash hit since it popped-up in New York last August. Tickets were hard to get. The show sold out its 30,000 tickets in five days and launched a wait list 200,000 names long.
Another round of tickets go on sale April 27.
Maryellis isn't surprised by the success of the pop-up museum.
"It's not a museum in any traditional sense," Maryellis explains to ABC 7 News. "I want adults to feel like kids. I want kids to come in and feel like children and it's just fun."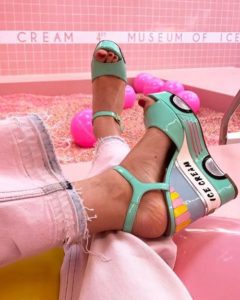 Sweet Surprise
The MoIC is the quarter-life crisis of meaning of California native Maryellis, she tells Forbes Magazine. After a career as the head of forecasting and innovation at Time, Inc. and then as a creative strategist with clients that include Facebook and Instagram, she found herself reevaluating what she was doing with her life.
She asked herself, "What am I really passionate about?" says Maryellis, "Usually that sort of questioning leads to something serious and philosophical, but for me it came down to, 'What do I love?' and what I love is ice cream."
She strategized with her boyfriend and museum co-creator Manish Vora, a 30-something former investment banker, to create the pop-up museum, reports the New York Times.
There is a democratic and universal appeal about ice cream that attracted her beyond her sweet tooth.
"Everyone can relate to ice cream; it connects people, and it's affordable," she says.
Maryellis discovered that there wasn't anything like the Museum of Ice Cream so she went for it.
The exhibit reflects her Orange County, California upbringing through its aesthetics using bright colors and beauty of place, she tells the media. The Beverly Hills Hotel served as a model for her color palette of pinks and greens that are the base colors used throughout the exhibit. The exhibit continues its hospitality as guests are guided throughout the exhibit. Attendees first enter into a very pink room where they pick up a pink phone and listen to a message to throw your grown-up inhibitions aside before they are loaded up with sugar by the Ice Cream Ambassadors in pink uniforms serving up ice cream and treats in each room, reports LAist.
The pop-up museum is in Los Angeles' Art District on the edge of its downtown and Fashion District near the Smorgasbord, a popular Sunday market, and it provides her with more space – four times more – to play with than the location in New York.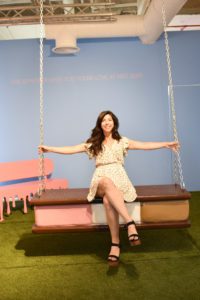 That opened her up to create new exhibits, such as the California Room, while maintaining popular original attractions, like the Sprinkles Pool. It also allowed her to invite a rotation of local creameries – McConnell's, Salt & Straw, Coolhaus, and CREAM, among others – to serve their products as a part of the "Scoop of the Week."
Additionally, Maryellis collaborated with My/Mo Mochi Ice Cream to provide tastings of special mochi ice cream.
If that wasn't enough, scratch and sniff, Maryellis teamed up with engineers from International Flavors & Fragrances to develop ice cream-inspired scents and flavors, reports Forbes.
Her success and obsession with ice cream might even bring her into the hospitality business with an ice cream themed hotel or a permanent home for the MoIC with accommodations, she tells Forbes.
"Everybody is always looking for something to do, especially at a reasonable cost," she tells Forbes. "It's a cool spin on something people love."
The museum is open Wednesday through Monday, 11 a.m. to 10 p.m. Closed Tuesdays. Tickets are available in advance through the pop-up museum's website for $29 per person, $18 per child ages 3 to 12 and seniors over the age of 60; children under the age of 3 enter free. Private tours are also available. For more information, call 888-718-4253, email or visit www.museumoficecream.com.
Plan your trip to Los Angeles with Girls That Roam Travel. Contact Heather Cassell at Girls That Roam Travel at 415-517-7239 or .
Need original travel articles and photography or become a media partner contact .
Comments
comments