Putting The Icing On The Cake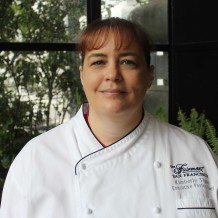 Fairmont San Francisco Executive Pastry Chef Kimberly Tighe Creates Memorable Deserts
by Heather Cassell
Don't accuse Kimberly Tighe of having a sweet tooth. She doesn't have one. You might not believe me and for good reason, she's the executive pastry chef at the Fairmont San Francisco (950 Mason Street; 415-772-5000; Fairmont.com/San-Francisco) on top of Nob Hill in San Francisco, California.
A taste for sugar or art there's no question that Kimberly has a knack for creating deserts that are beautiful, edible and memorable.
Just check out the two-story Ginger Bread House at the Fairmont or stop in and order desert at the hotel's restaurants and you will agree.
A Sweet Life
Decorating cakes and cookies was simply a hobby for Kimberly, 43, until fluffing up cats and dogs for clients as a pet groomer wasn't enough for her. An avid pet lover (she's the proud owner of a dog and two cats) she fell into her first job in high school and continued until she started wanting something more when she was nearing her 30th birthday.
"I'm a full-on animal lover," says Kimberly, who during her first year at the Fairmont added a ginger bread dog house to the Ginger Bread House.
She whipped up her courage and enrolled at Le Cordon Bleu College of Culinary Arts in Scottsdale, Arizona. She explored soups and sauces and even dabbled in catering for a bit, but she found her home in the pastry kitchen and in hotels. It was a practical as well as a creative decision.
"Honestly, what made me make the switch was that the bakery wasn't too hot," she says laughing. "The pastry kitchen is always nice and air conditioned."
It wasn't just her desire for comfort. It was also a desire to explore her artistic side too.
"I just felt that the pastry side of it was more artistic," says Kimberly. "On the other end of that it's the last thing that people see when they sit down and have their meal."
"I felt like it was the biggest opportunity to just sort of create something to 'Wow,' people or give them a certain type of memory," she continues talking about being about to leave the best impression at the end of the dining experience no matter what happened during the meal.
"Then you get a desert that knocks your socks off and you still walk out with a good experience," Kimberly says.
It is the reason why she loves working at the Fairmont San Francisco.
"The commitment that the hotel here makes to the guests, it doesn't matter how much work or how much money we put into it if it makes people happy we are going to do it," says Kimberly about the Fairmont San Francisco's policy for delivering hospitality that is above and beyond any other experience that makes the hotel iconic. "That's a very rare thing to find and that's exactly the reasons why I got into this business. I wanted to provide that level of service to people and that's why I stayed in hotels."
"So, this place is a little bit unique in the fact that they really bend over backwards and they want to make their guests' experiences spectacular," says Kimberly.
It was the right decision to swap dogs and cats for cakes (wedding cakes are her favorite). That was 15 years and four hotels ago that took her roundtrip from California to Arizona to Florida to Louisiana to Texas and back home to California.
She's worked for some of the world's premier hoteliers Ritz Carlton and Hyatt Regency before landing at the Fairmont San Francisco two years ago. The Fairmont San Francisco was sold to Seoul, South Korea-based Mirae Global Investments for $450 million November 24. The Fairmont Hotel & Resorts will continue managing the property according to a long term agreement, reports the San Francisco Business Times.
"I had a really good experience working at different areas and being exposed to different types of foods, especially in New Orleans," says Kimberly, "but at the end of the day I'm a California girl, so I wanted to come back home."
"I just love being back here and being back in California," she adds.
Sweet Inspirations
Kimberly gets inspired by her circle of pastry chef friends and by tearing apart and deconstructing other pastry chef's deserts that intrigue her when she's out dining.
"I have a lot of really good people that I've worked with over the years, so we call each other [or we exchange emails] and bounce ideas off each other all of the time," she says, but she also likes "to see things and then figure out how I can do it differently or how I can do it better."
However, the pastry kitchen hasn't always been sugary sweet. There's been some spice too. Kimberly has often found herself being the only female chef in the kitchen.
"For every 10 males who become executive chef there's maybe one woman," says Kimberly, who has only worked with two other female pastry chefs through the years. "There's far too few."
"It's challenging because there is still very much a stigma about women," says Kimberly, who has been referred to as the "kitchen mom" several times in the past by male chefs as well as battling the strong woman mystique and being single and childless.
"When I come to work every day I'm coming here to do my job. I'm not here to be anybody's mom," she adds. "I don't know if that stigma will go away in my lifetime. I hope it will. That's probably the biggest challenge is that mentality."
Kimberly was so relieved when another female chef joined the team during the last few months at her last job, she says.
"That was sort of like, 'Oh, finally somebody to talk to,'" says Kimberly.
However, she understands that a chef's life isn't easy, especially if women want to have a family. It's not always a family-friendly business behind the scenes, which leaves many driven female chefs single and childless, she says.
"A chef's lifestyle in general is just not for everybody because you are working holidays and you are working weekends, so you don't get to go to birthday parties," Kimberly points out. "People who are very, very family oriented don't do well in this business."
Finding Home
Yet, she feels that she's finally found her place to call home at the Fairmont San Francisco.
Talking to other chefs she's come to realize that the hotel is legendary in more ways than one and that is in the way it nurtures its staff to succeed.
She hasn't experienced the same uncomfortable feelings that she's felt working at other hotels, Kimberly says.
"I've felt that they are actually here for me and they want me to be successful," says Kimberly, noting that other staff has remarked to her the uniqueness of the Fairmont San Francisco within the city and within its own walls.
"This is one of those places where it seems to be very different and that's very encouraging," says Kimberly.
To book your trip to San Francisco, contact Heather Cassell at Girls That Roam Travel at Travel Advisors of Los Gatos at 408-354-6531at .
To contract an original article, purchase reprints or become a media partner, contact .
Comments
comments