A Holiday Treat: Gingerbread House Returns To The Fairmont San Francisco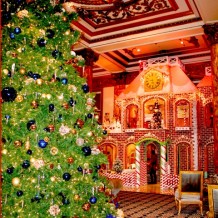 The Fairmont San Francisco Is Decked Out For the Holidays Starting With The Ninth Unveiling Of The Victorian Gingerbread House, Holiday Tea, And Parties Through the New Year
by Heather Cassell
It is the best time of the year. A chill is in the air and snow is on the ground and the Christmas tree and Chanukah tree and menorah hunting have begun as the holiday decorations are being put out. December is the month of celebration and gathering with friends and acquaintances and looking forward to the New Year.
One of the holiday traditions in San Francisco is the unveiling of the giant Gingerbread House at the Fairmont (950 Mason Street; 866-540-4491; sanfrancisco@fairmont.com; Fairmont.com/San-Francisco) on top of Nob Hill in San Francisco.
Today, Saturday, November 28, the giant Gingerbread House will be unveiled to guests and the public in the Grand lobby at the entrance to the Lauren Court Restaurant and Bar at the Fairmont, 11 a.m. – 3 p.m.
Up to an estimated 2,000 visitors are anticipated to attend the ceremonies and be treated to a complimentary holiday refreshments and heart-warming music while Santa Claus, a Balloon Elf and a Christmas Fairy pose for photos. Kids will also write letters to Saint Nick in the lobby's "North Pole Nook" all season long (Fairmont guarantees speedy delivery to the North Pole).
Friends of Fido will delight in the pet-friendly hotel's Gingerbread Doghouse, located right next to the North Pole Nook.
A Tradition In The Making
Thousands of people come to the Fairmont to enjoy the Gingerbread House and the 23-foot Christmas tree in the grand lobby every year, says Kimberly Tighe, executive pastry chef at the Fairmont in San Francisco.
"It was sort of like a little tabletop type piece that just kind of got bigger and bigger," says Kimberly, 43, who stepped into the position heading up the hotel's bakery in 2013. "When the first full-size house started it was mostly just kind of covering the entrance to the restaurant. It wasn't a full-size house, just a façade, and then it's just grown a little bit each year."
The Gingerbread House has made an Alice in Wonderland transformation from a small table top house in 1908 to the façade at the entrance of the Laurel Court that began in 2006 to the two-story structure that is larger than some San Francisco apartments today.
"So many people have made this a tradition," says Kimberley. "They are just waiting for us to outdo ourselves year after year."
Every year new things are added to the design. Last year, Kimberly added a clock tower, extended it out to include a village with the popular train that circles around the workshop, and a dog house with bone shaped gingerbread roofing. Perhaps the piece de resistance was Kimberley's nod to San Francisco's famed Painted Ladies Victorian homes. She took royal icing and piped filigree on the windows to mimic the detail of the houses along Alamo Square.
When the building begins at the beginning of November guests get excited, says Kimberly recalling some of the things guests have told her, "I come here every year. I'm so excited that you started this. I can't wait to come back and see when it's done. I can't wait to see what's different from last year."
During the past eight years, one family has taken a photo with the executive pastry chef who has worked on the Gingerbread House and their son since he was born, she says.
"We have a picture of him every single year at Christmas with the chefs that worked on the house and we want to put it in our book," the family told her last year. This year their son will be nine years old.
The Gingerbread House gives Kimberley and the entire Fairmont kitchen staff a chance to get out from behind the oven and stove to interact with guests.
"It's our opportunity to be out there working on it, unveiling it, and actually see what we've created and how much people appreciate it, how much they love it," says Kimberley who enjoys meeting the guests.
Sweet Building
This is Kimberley's second year heading up the construction of the two-story Victorian Gingerbread House, which is built with a wooden frame and 8,000 gingerbread bricks, more than 2,000 pounds of royal icing, and an estimated 1,000 pounds of candy.
Yes, the house is edible, but Kimberley and Executive Chef Andrew Court led the team of six, including themselves, that put in up to 400 hours baker's power and begin planning its construction in August, try to make it nearly impossible for Hansel and Gretel-like mischief-makers to pick off the sweet treats.
Throughout the holiday season, guest staying overnight at the Fairmont will be able to enter the Gingerbread House, enjoy the annual Gingerbread Holiday Tea, Christmas Eve Dinner and Christmas Brunch, and New Year's Eve.
This year, donations made a the Gingerbread House will benefit the Do It For Love Foundation, inspires joy, hope, and celebratory memories through bringing people living with life-threatening illnesses, children with severe challenges, and wounded veterans to live concerts, according to the organization's website.
Gingerbread House
November 28 – January 1, 2016
Get into the spirit of the holidays with the unveiling of the giant Gingerbread House at the Fairmont in San Francisco Saturday, November 28, 11 a.m. – 3 p.m. Guests and the public will be treated to complementary refreshments and entertainment for free.
The Gingerbread House and the stunning Christmas tree in the grand lobby will be on display November 28 through January 1, 2016.
Gingerbread Holiday Tea
November 28 – January 1, 2016
The Fairmont San Francisco's Laurel Court will also present its annual Gingerbread Holiday Tea throughout the holidays. Kids can enjoy a Christmas Fairy and Balloon Elf, receive a Nutcracker Ornament and a gingerbread cookie to decorate while the whole family listens to a live piano performance during the weekend tea service. The parents and adult family members can enjoy a glass of sparkling wine or sparkling cider included in the tea time along with their dining choices.
Tea is served daily starting today through December 30, 1:30 – 3:30 p.m., except on Christmas Eve and Day. Tea is $89 per person and $59 for children under the age of 12 (weekdays) and $99 per person and $69 for children under the age of 12 (weekends).
Laurel Court Christmas Eve Dinner Buffet
December 24
Guests will enjoy a menu of prime Angus Striploin at the carving station, organic pumpkin ravioli, Brussels sprouts, and other delectable gastronomic delights starting at 6 – 10 p.m. on Christmas Eve. Dinner is $99 per person, $49 for children under the age of 12.
Crown Room Christmas Brunch
December 25
Last year, Kimberley treated guests to a Willy Wonka-themed desert table at the brunch. What will she come up with this year? You just have to get your seat at brunch Christmas morning to enjoy a feast of artisan breads and pastries and the Thanksgiving Breakfast Strata, which are only a couple of delectable treats cooked up for the buffet, to dine on as you look out over San Francisco. 10 a.m. – 3 p.m. Brunch is $139 per person, $79 for children under the age of 12.
Laurel Court Christmas Brunch
December 25
Guests will be treated to a traditional buffet with bacon and sausage, omelets, pastries and more. 11 a.m. – 2 p.m. Brunch is $59 per person, $29 for children under the age of 12.
Laurel Court Five-Course Christmas Dinner
December 25
Guest will enjoy dinner dining on a black truffle infused bisque, turkey, along with other courses as they look out at the Gingerbread House and Christmas tree. Dinner will be wrapped up with a gingerbread and milk chocolate torte with cinnamon ice cream and maple toffee sauce. 5 – 9 p.m. Dinner is $129 per person, $69 for children under the age of 12.
Tonga Room Christmas Prix Fixe Dinner
December 25
Guests will be treated to a paradise inspired menu including mussels, salmon, shrimp and a passion fruit mouse. 6 – 11 p.m. Dinner is $89 per person, $49 for children under the age of 12.
Two-hour parking validation is included with all brunches and dinners, but subject to availability.
Fairmont San Francisco New Year's Eve Gala
December 30 – January 1, 2016
Enjoy a black tie evening ringing in 2016 at the Fairmont San Francisco. Guests will enjoy a delectable evening starting with Lobster Ceviche, Sonoma Lamb Lollypops, Warm Truffle Oxtail and entrees with duck, char, or roast beef, and an assortment of decadent deserts. 6 p.m. – midnight. $489 per person. Parking validation included for the duration of the event.
For more information about the holidays at the Fairmont, visit Fairmont.com/San-Francisco/Promotions/Holidays.
To book your trip to San Francisco for the holidays, contact Heather Cassell at Girls That Roam Travel at Travel Advisors of Los Gatos at 408-354-6531at or .
To contract an original article, purchase reprints or become a media partner, contact .
Comments
comments