Paralyzed Hiker Stacey Kozel Isn't Letting Her Physical Limitations Keep Her From Great Views
by Heather Cassell
Editor's Note: Earlier this month a reader informed Girls That Roam that Stacey Kozel falsified her story about completing her hike on the Pacific Crest Trail.
Paralyzed hiker Stacey Kozel completed her solo journey on the Pacific Crest Trail, that runs from the U.S.-Mexico border to the Canadian border last month.
"It's hard to believe I'm actually standing here at the U.S.A.-Canadian border," Stacey says in a video from the trail posted on Facebook after finishing the 2,650 miles at the Canadian border. "Feels good!"
Stacey started her journey March 28 and completed her trek September 10.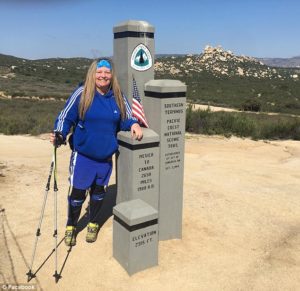 It was the second major hiking feat for her after completing her solo hike along the Appalachian Trail, which runs from Maine to Georgia, last year.
Stacey now has her eyes on the Buckeye Trail, a 1,444-mile long trail through her home state, Ohio, she tells WKYC News after returning home from the West Coast.
"I feel like life is kind of like hiking," she tells WKYC News. "The harder the climb, the better the view once you reach the top."
The 42-year old woman from Medina, Ohio doesn't want to live life with regrets, she says.
"I don't want to live life with regrets, you know? I want to be able to know that I lived every day," Kozel told San Diego NBC-affiliate KNSD when she set out on the Pacific Crest Trail in March.
Stacey was diagnosed with Lupus, a chronic autoimmune disease that can damage any part of the body, when she was 19-years old. An episode in 2014 left her paralyzed from the waist down. The once sporty woman who was bound to a wheelchair at home wasn't going to give into her disease or her body's limitations.
"I've always wanted to hike, but just I felt like I was trapped in my wheelchair," Stacey tells Today. "I was just dying to get outside."
She had a choice and she knew it.
"I could sit at home in my wheelchair or I could get out here and figure out how to, ya know, keep living," she tells WKYC News.
Stacey underwent intense physical therapy that helped her to discover workarounds to her body's limitations and she acquired C-braces, computerized leg supports that run on two-days charge.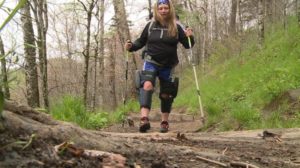 "I've kind of learned how to figure out what muscles are working and kind of lean into something. You kind of adjust and figure it out, I guess," Stacey says about using the braces that help her stiff knees bend allowing her to walk upright.
She then compensates for the lack of strength in her abdomen and legs using her arms, shoulders, and neck muscles to move herself along as she leans into each step balancing herself with the hiking trekking poles.
"I'm able to balance better. And the more I'm out on these trails, I continue to learn how to balance," Stacey tells KGW-TV. "These trekking poles help me a lot with my balance so I can really lean into something, like the tougher terrain. I really depend on the trekking poles and my arm and shoulder strength. But mostly everything's coming from my arms."
This is how she accomplished crossing the 2,200-mile Appalachian Trail in seven months in 2016. A feat unto itself as only 1 in 4 people complete the challenge, according to the Appalachian Trail Conservancy, reports Today.
The trails are challenging for any hiker, but Stacey stays optimistic. She takes her time giving herself permission to rest when she needs to and believes when she's challenged that there is a reason.
During her hike along the Appalachian Trail her right leg brace was completely locked. She walked like that for 200 miles before she had to fly home to get the brace fixed. Once it was fixed, she returned to the trail.
There are days where she wishes her legs worked normally like other peoples'. She wishes that they would just, "kick in and help out."
"I try not to live there too long if I do go there," she says about any negative thoughts that enter her mind. "I just, I think that it happens for a reason. And my faith is pretty important to me so I always look for the reasons why and you know, maybe this is part of my plan and I'm supposed to be out here meeting awesome people on the trail."
Slowly she makes her way along the trails she's taken on walking up to 20 miles a day on average.
She's also learned how to observe the animals around her for weather alerts and dangers, she says.
"I've learned to listen to the wild ponies and the cows for weather," Stacey tells Today. "It was funny, all the wild ponies started running underneath the tree. I remember thinking, 'Where are you all going?'"
Within 20 minutes, it began pouring rain.
"I'm going to listen to animals now," she says.
Rain is her braces' enemy.
"My braces aren't waterproof yet; I have to hide from the rain," she says. "One day it's going to be waterproof, but for now, the braces are too expensive to get wet."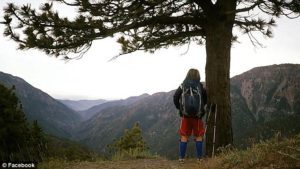 She enjoys walking along the trails and meeting other hikers and people, she says about why she keeps hiking. Her story has inspired people garnering a following.
She hopes that others can live the lives they want to live and face the challenges that will attempt to stop them.
"It's not going to be pretty and it's not going to be fast, but I'll get there," Stacey tells Today about her own challenges, but she remembers the days when she was in the hospital.
"The toughest day on the trail is still better than the best day in the hospital," she tells ABC News. "I [tried] to keep remembering that on the tough days."
Then there's the people. Just as much as she's inspiring other people, people inspire her.
"The people out here, all the people, it's really what's keeping me motivated," she says. "This hike has become bigger than me and when I'm out there, I really want to do it for all of them."
Book your next outdoor adventure with Girls That Roam Travel. Contact Heather Cassell at Girls That Roam Travel at 415-517-7239 or at .
To contract an original article, purchase reprints or become a media partner, contact .
Comments
comments