Paralyzed Hiker Stacey Kozel Goes Silent After Serious Questions Are Raised About Her Actually Hiking The Pacific Crest Trail Earlier This Year
by Heather Cassell
It was a story that was too good to be true.
Hikers piecing together paralyzed hiker Stacey Kozel's story about completing the Pacific Crest Trail called her bluff after her story aired on ABC World News with David Muir September 18.
It's been a particularly challenging year to complete the renowned Pacific Crest Trail event for able-bodied trekkers, hikers told multiple media outlets. The challenge took six people's lives and another person is missing and presumed dead, alone this year, reported Deadspin, a sports website.
That fact alone raised hikers and "trail angels," people who live or have businesses close to or on the trail who help the numerous hikers who attempt the challenge, suspicions about Stacey's story.
Stacey insists that she completed hiking the Pacific Crest Trail alone. She said she started her journey March 28 at the United States-Mexico border and hiked the trail that spans 2,650-miles to the U.S.-Canadian border where she ended her trek at the end of August. She originally claimed she completed her journey September 10, but backtracked telling media outlets she completed the trail at the end of August.
Comments made by other hikers critical of her story "have hurt me so much personally," she wrote in a September 22 statement on Medium responding to the questions about her hike following ABC's story.
Tall tales?
Incensed by Stacey's story that she completed the trail, Donna L-Rod Saufley, a Pacific Crest Trail hiker and "trail angel," and other hikers, particularly, members of the Pacific Crest Trail class of 2017, began questioning each other in their Facebook group, Pacific Crest Trail Class of 2017. They then began looking for evidence of Stacey's mighty feat.
"From a PCT hiker's perspective, there is nothing about her story that has a ring of truth to it," Donna told Deadspin.
Donna has hosted hikers of the trail with her husband for more than 20 years at their hostel, called Hiker Heaven, in Agua Dulce, California, launched the discussion about Stacey September 20.
Their familiarity with the trail, particularly this year with the heavy rains, runoff from the snowpack that created raging rivers in the late spring into the summer, and the late summer fires in the Pacific Northwest made the trail a daunting challenge raised questions about the credibility of Stacey's story.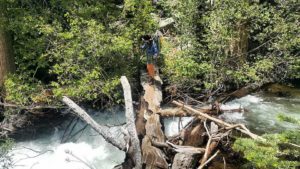 Deanna Nelson, who hiked part of the trail in the Sierra Nevada mountains in July, told KGW News, that she wondered if someone with braces could have made it through that region due to the treacherous conditions.
"You go into the Sierras and it's 200 miles without a road. I had to cross rivers up to my knees two to three times a day, maybe five to six times up to my waist," said Deanna. "There's no bridges. Two girls died that summer in those rivers."
Stacey told KGW that she sought places where a passage was safer, she used the plastic and metal braces rather than her battery-operated braces, because they weren't waterproof.
Yet, even so, it would have been a daunting challenge, even if using the plastic and metal braces.
"She would spend so much of her energy to do that," Rick Grope, owner of Western Reserve Prosthetics, which sponsored Stacey's hikes by providing her with the braces she used free of charge. The battery-operated pair that helps move the knees easier costs $150,000 alone, Rick told the news outlet. "I don't know why she wouldn't try it with the old ones."
Stacey maintained that she never received any sponsorship for her hikes, she wrote in the statement.
The hikers questioned: when she started and completed the trail, the time it took her to make the trek, the challenges of rain, overflowing raging rivers caused by snow runoff in the late spring into the summer and summer fires that increased the challenge of the trek; she didn't follow standard safety protocol, she claimed to take unusual risks, and there is no physical record or sighting of her ever being on the trail.
"The trail grapevine is incredibly robust, so even if she didn't stay at Hiker Heaven, surely I would have heard about her," Donna, who also spent time on the trail this year and saw and met many hikers, told ABC World News.
"I finished the trail at the northern terminus around the same time that Stacey claims to have been there. No mention of her at all from anyone," she said.
Upon closer inspection of Stacey's photos compared with others taken by hikers at or around the same time she claimed to have been at a location began to point to discrepancies in her photos. The most damaging to Stacey's story is of her standing at the northern terminus point of the Pacific Crest Trail at the Canadian-United States border in Manning Park, British Columbia. The fuzzy dates Stacey said she completed the trail in late August to early September placed her in the thick of smoke, however, the photograph Stacey used was clear. Additionally, the monument's pedestal was broken and wasn't repaired until mid-September after Stacey claims she completed the trail, hikers told Deadspin. Another unidentified hiker told the media outlet that she confronted Stacey and received an apology about swiping her photos and claiming them as her own.
The facts missed by seasoned journalists, but unfamiliar hikers, including myself who based my reporting from major news outlets' stories counting on their resources and credibility to fact check along with reviewing Stacey's Facebook page and website, duped the world, but not hikers.
What I can't explain is why the stories questioning Stacey's story about completing the trail didn't surface in a Google news search during the writing and fact checking of the story for Girls That Roam at the beginning of October. They only appeared in my search results after I was alerted to the fact Stacey was being accused of falsifying her story.
Stacey never responded to Girls That Roam's Friend request on Facebook before the scandal. Attempts to locate her contact information to speak with her resulted in a dead end after she went on a blackout on the internet.
Stacey also never responded to the hikers who contacted her following Monday nights story asking her to provide proof of her time on the trail, according to media reports.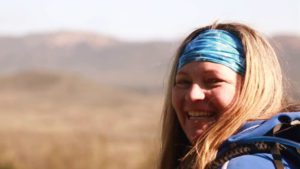 Being Called Out
Upset by and concerned about Stacey's story that was falling apart with their sleuthing, Donna along with other hikers spoke with media outlets, such as ABC World News, that told Stacey's story.
When ABC and other media outlets questioned Stacey following the accusations, she only insisted that she hiked the trail, but she never provided evidence of her time spent on the trail.
For every question reporters asked, Stacey had an explanation, from hiking through the nights to keep warm due to the cold weather in Washington to moving as fast as she could to avoid the fires in Canada.
The Pacific Crest Trail Association doesn't keep records of who completes the trail or not.
"There is no requirement for anyone to report their hikes to us. … We don't validate or verify hikes in any way," Scott Wilkinson, the association's director of communications and marketing, told ABC.
"Not one shred of evidence has been put forth that validate Stacey actually being on the trail, by Stacey or anyone else," Donna told ABC.
Stacey remains defiant. She ended her statement with a simple: "I hiked the Pacific Crest Trail."
Stacey has taken down her Facebook page along with her other social media channels and websites following the airing of her story on ABC and the questions raised by the hiking community. She removed herself from the internet to stop the onslaught of nasty messages she was receiving, she told the media outlets.
Even the three people who came to Stacey's defense on Facebook appear to be made up. One was removed and the other two have generic photos of the Appalachian and Pacific Crest trails and no friends, reported Deadspin.
The hiking community is incensed by Stacey's story, Donna told KGW. They are angry because if Stacey "didn't complete the hike, it negates the journey many other hikers accomplished," she said.
"She used our community in such a way to be so disrespectful to the people who have actually done it — the disabled people who have actually done it — people with serious issues that persevere to do this thing," she said. "These people are heroes. It just upsets me so much to the credit of these people that she would so callously present herself as one of them."
The Pacific Crest Trail hikers' questions have caused hikers of the Appalachian Trail to question Stacey's story about completing that trail in 2016.
Editor's Note: I do everything that I can to prevent reporting stories that are a misrepresentation of the truth, unfortunately, this story took advantage of the media's desire to report positive stories about extraordinary accomplishments, particularly made by women. Girls That Roam's goal is to empower and encourage women to travel whether its adventure or pure relaxation, in that aim, I picked up the story. I decided to keep the original story on the site and write a followup story to correct it once it was brought to my attention by a reader. Unfortunately, I was unable to address this fake story sooner than now due to covering the fires in Napa and Sonoma for the Bay Area Reporter and tending to clients. I sincerely apologize to Girls That Roam's readers for the misrepresenting story and the delay to correct it.
Book your next great adventure with Girls That Roam Travel. Contact Heather Cassell at Girls That Roam Travel at 415-517-7239 or at .
To contract an original article, purchase reprints or become a media partner, contact .
Comments
comments