Otherworldly Iceland Is Eight On Our List Of Countries To Journey To In 2016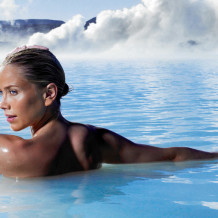 by Heather Cassell
The ultimate location for spa lovers, Iceland should be on your bucket list. Who isn't seduced by the images of women enjoying the famed Blue Lagoon? I know I sure am. It's probably one of Iceland's top attractions, but don't discount this mystical land of ice's other natural wonders whales, geysers, Skaftafell Ice Cave in Vatnajokull National Park, Aurora Borealis and simply the country's striking otherworldly scenery.
Back in civilization or Iceland's urban heart, its capital Reykjavik, is cooking up a hot new culinary scene dubbed the New Nordic Cuisine with cool new restaurants and the microbrews are catching on too. Since the prohibition on alcohol was finally wiped completely from the Nordic law books in 1989, Icelanders haven't wasted much time building up their adult beverage production. Most recently and perhaps most obvious, craft beer has come to Iceland. A perfect fit with all that pure water surrounding the chilly island nation.
Women rule the Nordic nightlife. Iceland's capital has been rocking since its native daughter Bjork hit the international airwaves with the Sugar Cubes back in the late 1980s. Today, Reykjavik's hottest nightclub, Dolly and its sister club Jolene in Copenhagen, is owned by celebrity Dora Takefusa, reports Travel Channel.
Who to Travel With: Founders and owners Eva Maria and Birna Hronn along with co-owner and creative Hannes Pall of Pink Iceland provide package and personalized tours of Iceland along with wedding planning and events.
Book your next adventure with Girls That Roam Travel. Call Heather Cassell at Girls That Roam Travel at Travel Advisors of Los Gatos at 408-354-6531 or directly at 415-517-7239 or email at .
To contract an original article, purchase reprints or become a media partner, contact .
Comments
comments