Outside the Renaissance Santo Domingo Jaragua Hotel & Casino (George Washington Ave. 367, Apto. Postal 769-2, Santo Domingo 769-2, Dominican Republic; +1-809-221-2222; Marriott.com/hotels/travel/sdqgw-Renaissance-Santo-Domingo-Jaragua-Hotel-and-Casino/), the weather is about 90° Fahrenheit and humid. The forecast on this day—and on just about any given day in this steamy hot mess of a city—probably reads something like: "Cloudy, with a chance of chaos."
Inside the hotel, though, all is cool, calm, and collected, 68° of air-conditioned comfort. Outside, communication is conducted in rushed, shouted tones that a year of Mexican-inflected Spanish classes have left me completely unequipped for. Inside, the staff all speak great English. Outside cars careen and the heat wilts; inside, staff glide by on casters in crisp uniforms.
Is this a "real" or "authentic" Dominican Republic experience? Arguably no; within these walls it doesn't feel like I'm in a developing country. It feels like I'm at an oasis. But as I munch an excellent burger with plantains in my chilled room, surrounded by angular Scandinavian furniture, I realize that this place might just keep me cool and rested enough to get through exploring the Dominican Republic's less-touristed corners.
I'm fortunate enough to be staying at the hotel the same month it reopens after a year-long $40 million renovation in June. Staying in what is effectively a brand-new hotel means a few hiccups are inevitable—the waitress at breakfast my first morning seems as unsure about where I should sit as I am or elsewhere, and an elevator goes out of service on the second day.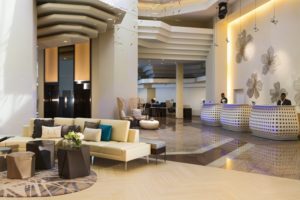 But for every staff member who is not quite up to speed yet, is seems there are two who go above and beyond. It may not be literally true that the concierge would give you the shirt off his back—but he did take the belt off his waist and lend it to one member of my group who had forgotten accessories that matched his dress shoes. I never asked for any articles of clothing from Edilly, the hyper-competent desk clerk, but it did seem like every day I had some odd request for her, usually banking-related. If I didn't need a big Dominican bill broken into small notes for tipping, I was asking to trade paper money for change for my personal coin collection. She accommodated all with a smile and perfect English—and also greeted me by name every time she saw me in the lobby.
Many aspects of the hotel keep it at a level just short of the luxury category. Rooms are large but not cavernous; there is a casino but it isn't exactly Monte Carlo; there is a spa and many amenities are offered, but there is none of the 1200-thread count, Champagne shower, personal caviar butler opulence that would put the Renaissance Santo Domingo Jaragua Hotel & Casino in the elite category. The hotel's location isn't particularly fabulous, either. It's on a busy road miles from the nearest beach suitable for swimming. It's fairly close to major Santo Domingo attractions like the 500-year-old buildings of the Zona Colonial, but there's just no way to describe the place as a beach hotel. (Of course, there's one other category in which the hotel falls below luxury-level: price. Rates start at not much more than USD $100 per night, making the very comfortable hotel an amazing value for the money.)
It's also important to note that the property is not all-inclusive. Many Dominican resorts are, but those tend to be clustered on the island's white-sand north shore. You'll pay extra for spa treatments and meals here, but it's worth it—particularly when it comes to dining.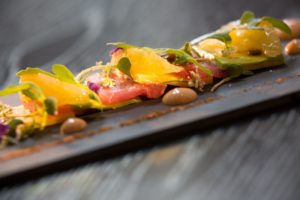 Hints as to how good the food is at the hotel come at breakfast. This meal is served buffet-style, and much of it is like what you might find at hotel breakfast bars anywhere. Two things elevate it beyond ordinary, however. One is the fantastic Dominican coffee, so good and fresh that not even industrial hotel coffee makers can ruin it. The other is the selection of baked goods. The hotel, it turns out, has its own bakery that turns out savory breads, as well as richer treats like brioche and chocolate croissants.
I eat three dinners at the hotel, each of which surprises me with the creativity and quality of offerings. My first night I eat at the main establishment, the Luna Tapas Bar & Restaurant. There I find small plates bursting with both European and Caribbean flavors. Tequeños (breaded cheese sticks) are served with rum sauce. Slices of duck are presented with quinoa and sugar cane spears. Fried plantains are drizzled with a classic tomato coulis. It's fusion at its best.
The following night, we are treated to a tasting menu prepared by Executive Chef Marco Sanchez. This meal is served in a different venue, a small banquet hall that could be used for a catered business lunch or a smaller wedding reception. The cuisine is quite different from the tapas experience, almost entirely fish-based. Dried, smoked herring isn't everyone's cup of tea but just about everyone loves the tuna carpaccio served with mango slices and incredibly tender octopus atop an herbed yucca cake.
On the last night, I attend a farewell banquet for the group I'm traveling with. I meet Chef Sanchez at the party, and in talking to him, the hotel's food picture becomes more clear: Marco was born in Venezuela, and has lived and worked in New York City, Europe, and Costa Rica, so he comes by his international influences honestly.
The banquet takes place poolside, and wandering among the over-the-top food stations (roast suckling pig, a ceviche table, whole grilled fish) I feel like I'm in a party scene from Miami Vice. Everyone just seems so much cooler sipping rum by torchlight next to a swimming pool—even me. This may not be a luxury hotel, but I'm feeling pretty privileged all the same.
The bottom line: If you're looking for all-inclusive pampering or a week spent sipping umbrella drinks on the beach steps from your room, this may not be the property for you. If you want to experience the culture of Santo Domingo and are willing to find your own way to the beach, the Renaissance Santo Domingo Jaragua Hotel & Casino will fit the bill perfectly.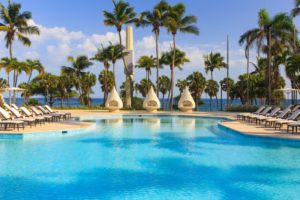 THE FLUFF
Renaissance Santo Domingo Jaragua Hotel & Casino, George Washington Ave. 367, Apto. Postal 769-2, Santo Domingo 769-2, Dominican Republic. +1-809-221-2222. Marriott.com/hotels/travel/sdqgw-Renaissance-Santo-Domingo-Jaragua-Hotel-and-Casino.
RATING: 5
(5 best – 0 worst: color code: 5 = midnight blue; 4 = black; 3 = Aqua; 2 = orange; 1 = gold; and 0 = green)
TYPE OF LODGING: Urban hotel
CHECK OUT: From $139
(lowest price for a single night in a standard room during peak-season)

SWEET DREAMS: Dream of a cool glass of water on a hot day; wake up in air-conditioned comfort and realize you're living the dream.
WORTH THE SLEEP?: zzzz = This was divine!
VIBE: The calm at the eye of a tropical storm.
SCENE: Four evenings a week, complimentary cocktails are served in the lobby. This naturally gets boisterous. Most other times, the lobby is relatively staid for the Caribbean. Business travelers tap out emails in the sleekly furnished lobby and vacationers sip cocktails at the bar, overseen by discrete and sharply uniformed staff. There's nary a steel band or limbo contest to be found.
LOCATION: The hotel is located on the land-locked side of the Malecón, a seaside promenade rimming much of the city of Santo Domingo. It's about a mile—a hot, humid, moped-plagued mile–from the Zona Colonial (Old Town). The walk is safe enough, but consider a taxi. Though you can see the ocean from many rooms, the shore along the Malecón is narrow and rocky, so don't expect a classic Caribbean beach experience.
ROOM: In contrast to the overstimulating, pulsating, crowded city outside, the 300 rooms are cool and uncluttered. Furniture is sleek and modern in mostly muted tones with some popping accent pillows and throws. The white walls are minimally decorated with almost no hanging art. Charming stencils of perching tropical birds keep the look from being too stark. Bonus: The Dominican Republic uses the same voltage and electrical outlet shape that we have in the United States, so Americans don't need to carry chargers or adaptors.
BATHROOM: Large and airy with good water pressure and quality soaps and shampoos. Bottled water is provided for drinking and tooth brushing. Strictly necessary? Possibly not—I brushed my teeth with tap water at least once and got away with it, but use it if you think of it.
AMENITIES: Perks and services are geared more toward business travelers and wedding parties than families with children, although babysitting is available through the hotel. There are conference/banquet rooms accommodating up to 1,200 people, and a full business center. Wedding packages complete with a planner are available. There's a fitness center and outdoor pool as well as tennis courts. Safe deposit boxes are located at the front desk and rooms have safes. No pets are allowed, and the hotel has a total non-smoking policy. Rooms, meeting facilities, and lobby areas have free Wi-Fi. Self-parking is free for guests. Valet parking costs USD $6 daily. Laundry and dry-cleaning are available on-site. The hotel also has its own casino, in a separate building next to the main hotel tower.
To book your vacation in the Dominican Republic, contact Heather Cassell at Girls That Roam Travel at Travel Advisors of Los Gatos at 408-354-6531at or .
To contract an original article, purchase reprints or become a media partner, contact .
Comments
comments