Girls That Roam Team Bios
Heather Cassell, Publisher and Editor-in-Chief
A freelance journalist, Heather Cassell began her roaming adventures in Mexico when she was four years old. Her father packed up the family and hit the California and Mexican roadways for three glorious months where she soaked in the culture, language, and got a taste for traveling. Unfortunately, Heather lost the Spanish she picked up when her family returned to Santa Cruz and San Francisco Bay Areas where she was born and raised, but she didn't lose her interest in learning about other cultures or her taste for roaming the globe.
Passionate about women's and lesbian, gay, bisexual, and transgender issues around the world, Heather has traveled to Israel and Central America as well as around the U.S. covering women and queer women's issues for more than 20 years.
Her globetrotting is just beginning. Like Geena, a.k.a. Super G, her partner in globetrotting and life, she hopes to travel to Greece and live in Italy someday, but there are still many places Heather has yet to see from the United Kingdom, Europe, India, Indonesia, Africa, South America, and more. Heather hopes to continue learning about how women and LGBT people live around the globe.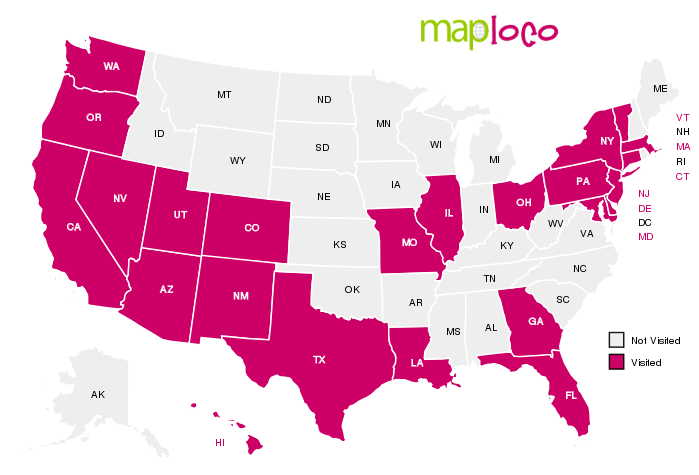 Create Your Own Visited States Map
When Heather isn't wandering off learning and writing about women's and LGBT issues, she covers a variety of beats and is the "Out in the World," international LGBT news columnist, for the Bay Area Reporter and the Lesbian News. She's also a contributor to BARtab, Edge Media,  GayCities.com, OutAloha, OutCity,  PQ Monthly, TheSeattleLesbian and other publications. In addition to writing for a living, to support her love of everything bound and unbound she's the marketing and sponsorship director at EDEN Pride Events and fiveTEN Oakland Events, editor of EDEN Magazine, as well as a principal at EDEN PR Firm,. and a travel counselor in training at Travel Advisors of Los Gatos. Contact Heather at: heather [at] girlsthatroam [dot] com.
Geena Dabadghav, Chief Technology Officer / Photographer / Videographer / Food and Wine Writer
Jamaican born, Geena Dabadghav, "Super G," has traveled all over the world from India, where her family originated and she lived briefly, to more than 15 countries. Super G has explored Africa, Asia, Europe, North and Central America. After traveling around Ethiopia, Italy, Japan, Honduras, Mexico, Canada, and many other countries, Super G, now resides in the United States, but she isn't done roaming the earth crossing borders and traversing continents. An admirer of Middle Eastern food and a lover of Italy, she still wants to see Greece and live in Italy someday.
When Super G isn't eating, drinking, partying, and sporting her way around the world, she can be found fixing computers, setting up networks, web conferences, and in general doing anything technical as the IT Director of MCA PR and owner of Help Yourself Tech Support. Contact Super G at: geena [at] girlsthatroam [dot] com.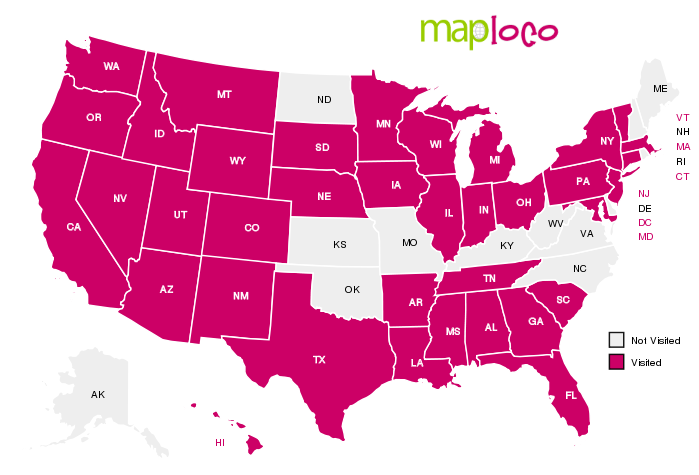 Create Your Own Visited States Map
Emily Nordby, Accountant
Idaho born, Emily Nordby spent most of her life outside of Seattle until she moved further south to San Francisco six years ago to explore the "hell out of this city." Emily's ultimate goal is to see a majority of the globe. She started off with the United Kingdom and France. She was snowed in during a trip to Monaco of all places. Emily has also traveled outside of Mexico, Canada and many of the 50 states of the U.S. "What I like most about traveling is getting out of my comfort zone, seeing where people in other countries actually go, not just the touristy areas, and eating authentic food," says Emily. She would love to return to the "City of Romance," Paris, with a partner after visiting with her mother. She also has her sight set on Greece, Morocco and Thailand. A tax professional, Emily is an account manager at RSF Social Finance. She earned her Accounting degree at St. Martin's University, Wash. and obtained her masters in Taxation from Golden Gate University in San Francisco, Calif. A passionate pro-football fan – Go Seahawks and Niner's! (sorry Geena) – she also loves cooking, wine, dive bars, board games, taking random classes and of course traveling. She currently lives in San Francisco's Bernal Heights neighborhood with her partner and their two dogs.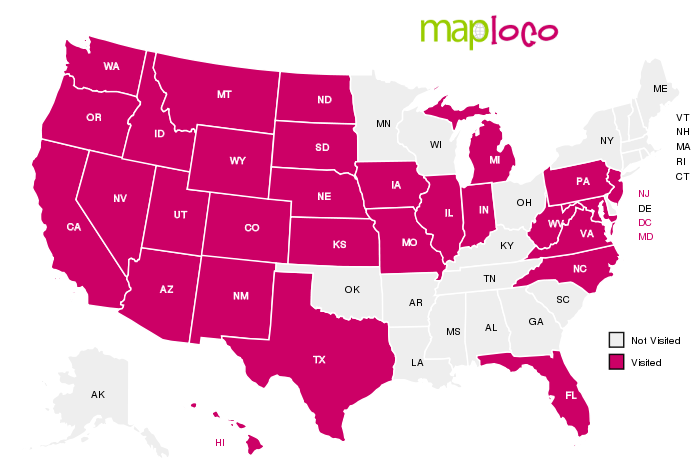 Create Your Own Visited States Map

Karin Jaffie, Graphic Design Goddess
Karin Jaffie lives a very graphic life. By day she makes things pretty, and puts words and pictures in their proper place. Sometimes she builds things by hand and can take your 1″ digital logo and turn it in to an analog 8′ backlit dimensional sign. By night she is the keeper of two distinct and popular San Francisco drag purrrsonalities, Kit and Kitty Tapata. Born in CA, raised in TX, and schooled in UT, Karin has traveled mostly with the US. Outside our borders she's done brief jaunts to Mexico and Canada, as well as spending a month in Italy. So far her favorite place in the world is Hawaii: pick an island, any island.
Learn more about her work at http://karinjaffie.com . Contact Karin at @ktapata.
Nicole De Meneses, Animator and Illustrator
Nicole De Meneses is a freelance animator and illustrator. The youngest of her triplet sisters by 20-minutes, she lives in Pleasanton, Calif. with her squirrel-size dog Silvia and ewok looking dog Belle. She walks them daily, but fears they will not fare well in the event of a zombie apocalypse.
She would like to travel to Paris one day to visit Jim Morrison's grave and Figueras, Spain to see the bejeweled beating heart, designed by Salvador Dali. The heart is displayed in the Dali's Jewels Museum and is made of rubies, gold and other semi-precious stones. The mechanical beating pump gives the illusion that the heart beats. It is a surrealist treasure. Nicole is an avid fan of mixed martial and would also like to travel to Brazil one day and study alongside the masters of the sport. Soaking in the knowledge and noble history that Brazilian Jiu-Jitsu has to offer.
Coming from a long line of teachers and circus performers, it's natural that she would fall somewhere in the middle as a gifted starving artist. Nicole's life might have been drastically different if she could juggle or make a halfway decent balloon animal and follow in her uncle Tweet Tweet the clown miming it up at Fisherman's Warf and local Farmers Markets. But animation and drawing called to her. Determined to change the world one drawing at a time and draw a few lovely ladies in the process, Nicole keeps herself busy by surrounding herself with creative entrepreneurs, filmmakers and artist that dream big and reach for the stars.
As an animator and illustrator, Nicole has worked on free to play social networking games and mobile games for companies like Kabam, Addicting Games, Gary Games, Pie Hammer Games and RapDevPro. The titles include Hero Force, The Godfather Five Families, Fall Down 2, Monsterarmy and Farm Land. Nicole has also done illustration work for Ulysses Press and the titles include, The Kama Sutra Bath Book: Sudsy Fun in the Tub for Grown-Ups.
To learn more about Nicole, visit www.feedthedemon.net  and www.redbubble.com/people/fangirl30. Contact Nicole at .
Denise Adams, Travel Tracker Extraordinaire
Denise Adams has been on the move since she was six months old when her mother, then an army nurse, was stationed in Germany. As she grew up traveling, she soon discovered that meeting new people and experiencing new ways of life was the key to understanding and acceptance of all people. Denise truly believes that travel has the ability to enrich people's lives and increase peace and social justice worldwide.
Denise expertly analyzed and put together Girls That Roam's first-ever Women's Travel Survey 2013.  The graduate student in Parks, Recreation and Tourism Management at Clemson University is currently working on developing the 2014-2015 Women's Travel Survey. Her specialty is researching LGBT Tourism and understanding the LGBT consumer.  When she graduates Denise hopes to pursue her passions of LGBT advocacy and helping others enjoy life through travel. She attended Appalachian State University in Boone, North Carolina on a Field Hockey scholarship where she earned her Bachelor's degree in Commercial Recreation and Tourism Management after graduating high school in Honolulu, Hawaii.
In her free time, Denise enjoys cooking, medium length walks on the beach, coaching youth athletics, and trying new things. As for her future travel plans, there are no specific destinations she wants to visit, as long as she can explore the world, and live life as the adventure it is. Contact Denise at .
CONTRIBUTORS
Nicole Clausing, Travel Writer
Nicole Clausing first flew at the age of two months, an evacuation from her Kentucky birthplace to Western Massachusetts, where she was raised. Since then, she has lived in seven states and visited more than 30 countries. Nicole has a particular passion for train travel, having crossed both the continents of Australia and Asia in their entirety by rail. Her biggest travel adventure was three months spent backpacking in China after college. Lately, though, she's been rediscovering her own country, having recently explored Salt Lake City, Cleveland, and Orlando. Still on the travel bucket list are Istanbul, Morocco, Costa Rica, and the five U.S. states she has not been to yet.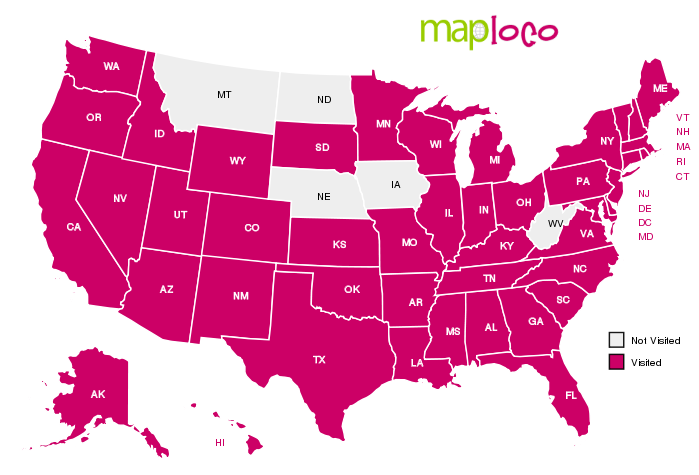 Create Your Own Visited States Map
As much as Nicole enjoys roaming the globe, she's always happy to come back to her home base of Oakland, Calif., where she lives with her wife, Pipi, and her cat, Gertrude.
Her work has appeared in publications such as Curve Magazine, the San Francisco Chronicle, The Christian Science Monitor, and in the Travelers' Tales collection Best Women's Travel Writing 2007. You can also read Nicole's adventures across Australia in The Wide Brown Land for Us.
Learn more about Nicole, visit http://nclausing.blogspot.com or contact her on Twitter at @nicoleclausing.
Sarah Toce, Travel Writer
Award-winning journalist Sarah Toce has interviewed and profiled many of the world's most influential players ranging from high-level politicians to A-list celebrities, health experts, and key civil rights advocates. Her diversified portfolio runs the gamut between local, national and international news coverage and features.
Sarah's has traveled the world going everywhere from Hawaii to Sweden to San Francisco to the White House. She prefers island time over city time, but will tolerate the concrete in small doses. When she is not writing Sarah's got her eye on her next great adventure.
Sarah is the founder and editor-in-chief of Seattle's only lesbian-fronted magazine – The Seattle Lesbian. In its first year alone, The Seattle Lesbian reached a threshold of one million readers on a global scale. The online magazine is regularly featured in mainstream and lesbian, gay, bisexual and transgender (LGBT) media platforms for its inclusiveness and dedication to bridge the divide between all communities regardless of sexuality, gender, stereotyping, and abridged discrimination.
In 2012, Sarah contributed to the book, Gay Press, Gay Power: The Growth of LGBT Community Newspapers in America. Recently, she reported on the Windy City Times' AIDS @ 30 series, which won the prestigious Peter Lisagor Award from the Chicago Headline Club, and was nominated for a national Gay and Lesbian Alliance Against Defamation (GLAAD) Award, in the same category with The New York Times and The Boston Globe. Sarah is a member of the Online News Association (ONA).
Sarah lives and works in Seattle with her wife, photographer Steph Brusig.
Learn more about Sarah, visit The Seattle Lesbian or contact her at .
Susan Bodack, Travel Writer
Susan Bodack is the social media marketing manager at luxury designer swimwear e-tailer InStyleSwimwear.com, where she writes for the swimwear company's Beauty and the Beach blog. After studying abroad in Spain, Susan has had a love and passion for travel and plans getaways as often as time and money allow. She's had the pleasure of exploring both U.S. cities as well as those throughout Spain, Portugal, Italy, Canada, Mexico and the Caribbean. Destinations still on her travel bucket list are Bali, Fiji, Greece, Brazil, Costa Rica and France.
Above all, Susan finds traveling both freeing and enriching, and she always seeks out adventure during her travels. From working in the designer swimwear industry, Susan has developed a real passion for exotic beaches and beach cultures around the world. She loves observing the varying global swim fashions and is always planning her next beach getaway.
Liyana Jamil, Travel Writer
Liyana Jamil has journeyed to more than 43 countries (and counting!) during her 30-something years on this planet. She caught the travel bug early in her life during her college years. Her travels are more than a touristy week here and there, during her adventures she's immersed herself in various cultures having lived abroad from her native Malaysia, where she was born and raised, living in Amsterdam, Chicago, Mumbai, Paris, and Singapore to date.
One of the best moments of her travels has been witnessing the Northern Lights in Norway as well as the most extreme (weather wise) from her usual tropical home.
Liyana also has a great love for fashion and enjoys scouring local shops and designers the world over for unique products. She is a firm believer that travel does not need to impede a person's abilities to showcase the best of themselves just because they are limited within the confines of a suitcase. Fisherman's pants are not a travel fashion statement, in her opinion. She truly abhors fisherman pants.
Given her love for travel she now works for an airline focusing on strategic development. Through this she gets to spend her days daydreaming about the different locations the company flies to as well as being surrounded by like minded people who provide amazing tips on places to see and tricks on getting around.
She marries her love of travel and fashion on her website GlamourousTraveller.com, where she focuses on topics like packing recommendations, travel outfit options, as well as reviews on her travels and hotel stays. You can also find her on Facebook, Instagram, Twitter, or email .
Pipi Ray Diamond, Photographer
A professional photographer, Pipi was born in upstate New York and raised in the Los Angeles urban jungle. As a child her parents took her on their travels including a road-trip across the United States stopping at seemingly every national park as well as international jaunts to Egypt, Israel, England, France, Jamaica and Kenya.
As an adult, Pipi has explored Barcelona, Havana, Mexico's Baja coastline, Italy's Lake Como, Australia's outback and Hawaii's volcanos. She has cruised Alaska and the Caribbean. She also does sports-related travel which most recently included cheering on the U.S. Women's Soccer Team as they won the World Cup in Vancouver. Her favorite city in the United States is New Orleans. Her favorite city in the world is Shanghai. The destination she most wants to go to is Istanbul.
Pipi's professional photography focuses on pets and wildlife. You can see some of her work at www.SoulfulPetPhotography.com or on Instagram at @SoulfulPetPhotographer.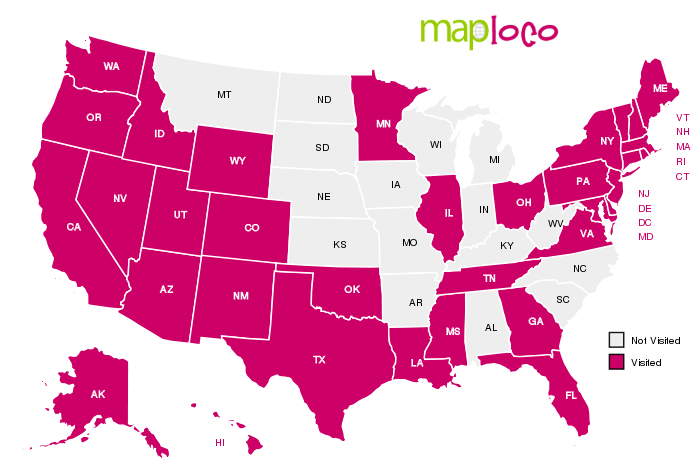 Create Your Own Visited States Map