Author, Playwright, and Activist Jewelle Gomez Co-Curates And Presents A New Play At The LezWrites! 2016 At The 3Girls Theatre Company's New Works Festival
by Heather Cassell
Author, Playwright, and Activist Jewelle Gomez is thrilled to be co-curating the LezWrites! 2016 reading at this year's fifth anniversary 3Girls Theatre Company's New Works Festival Friday night.
Jewelle along with resident playwright Margery Kreitman will present 13 pieces – some solo and others with small casts – each piece being up to 10 minutes long to audience members August 26 at 7:30 p.m. at the Thick House (1695 18th Street, 415-746-9238, thickhouse.org) in San Francisco, California.
"The diversity of the writers is so wonderful that the audience will have some experiences that they might not have ever had or thought about having when experiencing some of the plays here," says Jewelle, who believes that "there is nothing like theater to build a community that supports each other recognizes each other."
"There is nothing like theater to get people to see each other eye to eye and connect," she adds. "I think that this company is doing that in a wonderful way."
AJ Baker, co-founder, producer and artistic director, and resident playwright of 3Girls Theatre Company and executive producer of the New Works Festival, is thrilled to have Jewelle and the LezWrites! evening, she says.
"There are always funny pieces," says AJ.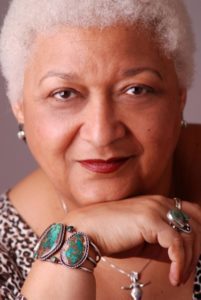 Exploring A New Side
Jewelle will also present her latest work in progress, "Characters," at the event.
"I was really thrilled that they picked it," says Jewelle, who was also a part of the selection committee, but left for another engagement when the committee discussed her play. She found out the next day that it was selected to be among the plays to be read at the festival.
"Characters" isn't Jewelle's usual work for audiences who are familiar with her lesbian vampire books or her plays that focus on historical figures in African American history. This piece will be a much lighter experience aiming for the tradition of a Noel Coward comedy, says Jewelle, who created it pulling "lesbian characters from other people's plays and novels," she says.
This will be the first time Jewelle and audience members will be hearing the play with actors reading the parts.
"I can't wait to hear it out loud. I can't wait to hear what the audience response is because then you know you've done your work or not," says Jewelle. "I'm hoping that it will be funny."
The Importance Of A Stage Of One's Own
Jewelle couldn't express enough how important it is that 3Girls Theatre creates a dedicated space for queer women playwrights to develop and present their work to audiences.
Recalling history, she talked about a time before "Fun Home," based on lesbian cartoonist Alison Bechdel's memoir, became a Broadway hit in 2015. Nearly a century ago a lesbian's story wouldn't have come near the lights of a stage let alone the Broadway stage.
"There was a time when it was forbidden to have plays about lesbians on Broadway," says Jewelle. "We are still recovering from that, I mean that was the 1920s, but we are still recovering from that and the feeling that, 'What is a lesbian play?' and 'Whose going to care about it if they are not a lesbian?' So, I think that it's very important."
"It's really crucial for there to be a venue for lesbians to hear their work out loud," she adds. "The fact that the writers get to hear the work out loud with actors is an amazing experience for any writer. You get to see the work that you've accomplished, but it also helps you to see where you need to go. That's a big thing."
The New Works Festival is August 22 – 28 at the Thick House, 1695 18th Street in San Francisco. Open free to the public. Seats go fast, reserve your seat today. For more information, call 415-746-9238 or visit, 3girlstheatre.org or thickhouse.org.
Book your next trip to San Francisco with Girls That Roam Travel. Contact Heather Cassell at Girls That Roam Travel in association with Travel Advisors of Los Gatos at 415-517-7239 or at .
To contract an original article, purchase reprints or become a media partner, contact .
Comments
comments