3Girls Theatre Gives Women Playwrights A Place To Show What They Are Made Of
by Heather Cassell
When you open up your Playbill how many plays are actually by women? The sad fact is that there is a dearth of women playwrights' works being produced by mainstream American Theater Companies.
The curtain has been down on women playwrights for 100 years. Nothing has changed for a century for women in the theater when it comes to producing plays written by women in major theater companies. Only 12-18% of new plays written by women are produced annually by the American mainstream theater, AJ Baker, co-founder, producer and artistic director, and resident playwright of 3Girls Theatre Company, points out.
Playwright Robin Bradford, whose play "Low Hanging Fruit," which explores the issue of rising homelessness among veteran women, that closed last month, is also boggled by the statistic, especially, "if you look around at audiences they are primarily women."
"It's really shocking," agrees AJ. "That's not to say that there aren't lots of women writing it's just that there are not lots of women being produced."
"You can debate the politics of it until you go blind, but we basically felt like enough of the debate we just want to fix it," she continues.
AJ, along with fellow San Francisco women playwrights Suze Allen and Lee Brady, were so incensed by this one fact they decided to stop complaining about the dearth of women's plays being produced into full theatrical productions in the mainstream theater.
"It's not that there aren't plenty of topics or that men don't write great plays. It's just that the way our culture looks at things and this is across the board, not just in theater," continues AJ. "The way our culture looks at things [is that] the women's voice is an exception to the normal voice. The normal voice is the male voice. That's what needs to be changed."
Her response to people who don't feel it's fair that 3Girls Theatre Company only produces plays written by women is, "It's not fair that it's so hard for all of these women to get their work produced."
"We have no objection to men plays getting produced. We are just not going to produce them. We are one very small theater company and our purpose is to make sure that women like ourselves get their works produced," says AJ.
AJ, Suze, and Lee set out to "change the whole cultural conversation" beyond the gender parody to make it not an "exceptional thing to hear a woman's voice telling a story on stage," she says.
Six years ago they raised the curtain and created a stage of their own – for themselves and for other women playwrights – with 3Girls Theatre Company.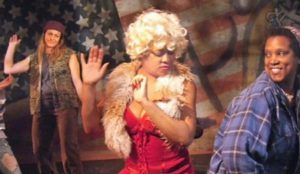 The theater has been a great success producing two plays annually. This year, for the first time ever, the theater is producing three plays: "Taken" in October, "Entanglement" in November, and the recently closed "Low Hanging Fruit," which ran in July.
"Entanglement," a play within a play, is one of two plays by AJ that have been brought to full production by 3Girls Theatre Company. It was also the finalist of the New Works Festival 2015. Having the play produced is the "highlight" of her year, she says.
"I'm very excited," says AJ.
The theater's other success is the company's New Works Festival, which is celebrating its fifth anniversary this week (August 22 – 28). The festival's theme this year is "Women and the Body Politic."
AJ is also executive producer of the New Works Festival.
The plays in the festival and taken to full stage productions are taken from the Salon Series where they are introduced and worked on throughout the year until they are presented to a panel of independent judges, AJ explains.
Playground
The women's goal was to nurture women playwrights through three core programs: the annual New Works Festival, the intimate Salon Reading Series, and full productions of new plays.
The theatre has taken off with five resident playwrights: AJ, Lee, Margery Kreitman, Robin Bradford, and Suze along with six staff, 34 people who help put to the productions and festival together all operating without a permanent home and with a budget under $200,000 a year, says AJ.
The theatre also sponsors outreach programs that develop new playwrights, empower girls, and nurture lesbian, bisexual and transgender women playwrights and performers, according to the release.
"We are unashamedly focused on the issues that are important to women. There's a lot of stuff that is not being illuminated," says AJ. "We just want the people to write about it to be women. If one of our playwrights that wants to write a play that is all about a man that's fine with us as long as she's the one telling the story."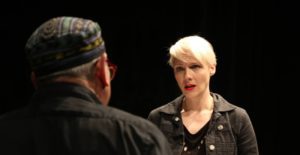 Raising Women's Voices
These values are embodied by the theatre's resident playwrights, company members, and this year's featured community and artistic collaborators.
All of the participants in this year's New Works Festival believe 3Girls Theatre is "very important" to being "vital."
"I don't consider feminism the f-word. Everyone should be a feminist," says AJ. "Hillary Clinton says, 'Women's rights are human rights,' and everyone should be invested in making sure that women's voices are heard."
Debi Durst, 63-year old comedian who is emceeing tonight's Women Are the Body Politic! at 7:30 p.m., agrees.
"Women have great views and insights on life that need to be shared with everyone," she says.
"It's important because, though we've made large strides toward parity in theater, we are still grossly underrepresented as women playwrights, theater artists, actors, and directors," says Jennifer Roberts, co-founder and producer of ReproRights! Theater, which will take the stage this Thursday, August 25 at 7:30 p.m. The performance will also be livestreamed on Howlround TV 2. "Ideally, women wouldn't need a separate space—and it galls me that we do, because we run the risk of perpetuating the 'otherness' of women by giving them separate spaces."
"However, statistics show there's a long way to go before women are represented in theater to the degree male artists are," she continues. "So if you aren't invited to the party, you host it."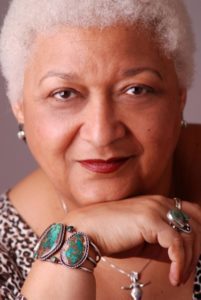 For queer women playwrights having a theater like 3Girls Theatre Company, "It's really crucial for there to be a venue for lesbians to hear their work out loud," says author, playwright, and activist Jewelle Gomez, who is excited to be co-curating the Best of LezWrites! 2016 on Friday, August 26 at 7:30 p.m.
"The fact that the writers get to hear the work out loud with actors is an amazing experience for any writer," says Jewelle. "You get to see the work that you've accomplished, but it also helps you to see where you need to go. That's a big thing."
However, for queer women playwrights there's the added significance of being able to portray their stories on stage to an audience. The Broadway hit "Fun Home," based on lesbian cartoonist Alison Bechdel's memoir, has taken home Tony Awards in 2015, but a lesbian's story wouldn't have come near the lights let alone the Broadway stage 96 years ago, of  Jewelle points out.
"There was a time when it was forbidden to have plays about lesbians on Broadway," says Jewelle. "We are still recovering from that, I mean that was the 1920s, but we are still recovering from that and the feeling that, 'What is a lesbian play?' and 'Whose going to care about it if they are not a lesbian?' So, I think that it's very important."
"It's very important to bring a female perspective to this very old art form," says Robin. "Once you get produced it gets a bit easier to have other theater companies take your work seriously. Organizations like 3Girls [Theatre Company] do help in furthering careers of women playwrights."
Come One, Come All To The Show
The second goal of the theatre is to encourage new audience members to experience live theater by introducing them to the "magic of theater," says AJ.
The New Works Festival is August 22 – 28 at the Thick House, 1695 18th Street in San Francisco. Open free to the public. Seats go fast, reserve your seat today. For more information, call 415-746-9238 or visit, 3girlstheatre.org or thickhouse.org.
Book your next trip to San Francisco with Girls That Roam Travel. Contact Heather Cassell at Girls That Roam Travel in association with Travel Advisors of Los Gatos at 415-517-7239 or at .
To contract an original article, purchase reprints or become a media partner, contact .
Comments
comments