Japan Is Fifth On Our List Of Countries To Visit In 2016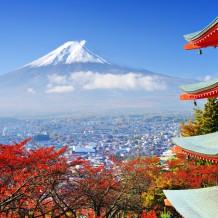 by Super G
Who doesn't love sushi? We know Japanese cuisine is more than just sushi and the culture is more than anime and manga, geishas, and origami, which is only the tipping point of why curiosity is peeked about this Asian island nation. Japan is jumping back after the earthquake and tsunami devastated the country in 2011. It doesn't hurt that the International Olympic Committee gave Japan a boost when it announced the country as the host of the 2020 Summer Olympics. Gay and lesbian travelers are also eyeing the country. Next year it will host the International Gay and Lesbian Travel Association's annual conference in 2017. Japan is responding in kind to the queer travelers' interest. Recently, Japan has turned over a cherry blossom petal becoming more accepting of its queer community. Officials have introduced an anti-discrimination bill to protect lesbian, gay, bisexual and transgender individuals to several of its cities implementing civil partnerships by the end of last year. This followed Japan's First Lady Akie Abe participating in Tokyo's Pride Parade float in 2014. Clearly, Japan is undergoing significant changes and is in a forgiving mood as officials also apologized to South Korea for wartime comfort women December 28, 2015.
For us girls, Japan meets quite a few requirements. It's clean and safe with great public transportation that is fast and efficient. It has fantastic architecture, temples and gardens. It has some of the most interesting techie gadgets and interesting innovations, hey, where do you think cat cafes came from? Just suck us in right now with the purring cuteness and a cup of coffee or tea. The Japanese love baseball and fashion is simply wacky and off the hook, just look at Hello Kitty and Sailor Moon.
Where To Go: It goes without saying Tokyo is a must see city when visiting Japan. It's the futuristic city after all, but it offers a lot of history for history buffs, making it one of the most interesting cities in the world.
If seeing the traditional Japanese way of life head to Kyoto. The city boasts a whopping 17 UNESCO World Heritage sites, nearly all temples with amazing gardens as well as a great culinary scene. Kyoto also isn't nearly as flashy and hustle and bustle as Tokyo, it's much, much more relaxed. That doesn't mean the city is a sleeper. Kyoto continues to promote festivals that are centuries old, such as the Aio Festival, May 15; Gion Festival, July 1 – 31; Gozan Fire Festival, August 16; and the Jidai Festival, October 22.
Who to Travel With: Our friends at G Adventures offer a variety of trips to Japan. Contact Girls That Roam Travel at Travel Advisors of Los Gatos at 408-354-6531 or 415-517-7239 or to book your Japanese adventure.
Book your next adventure with Girls That Roam Travel. Call Heather Cassell at Girls That Roam Travel at Travel Advisors of Los Gatos at 408-354-6531 or directly at 415-517-7239 or email at .
To contract an original article, purchase reprints or become a media partner, contact .
Comments
comments