Girl Roamer Nicole Found Santo Domingo a Bustling and Rich Destination
By Nicole Clausing
Can you name the largest city in the Caribbean? It's not San Juan, Havana, or Kingston. It's an often-overlooked municipality in an often-overlooked country: Santo Domingo, the capital of the Dominican Republic.
Many visitors skip right over this city of 1.5 million and fly into Punta Cana, which is the gateway to the country's eastern resorts. This is a shame, because while the city can be a little challenging (starched and pressed Nassau, it is not), Santo Domingo offers some of the best dining, nightlife, and sightseeing in the West Indies.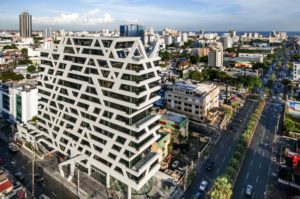 Ciudad Colonial
There's no way to sugarcoat it—Santo Domingo can be chaotic. How chaotic? One day, an elderly person helps me across the road. He can see me trying to cross four honking, speeding, swerving, and completely unregulated lanes of traffic, and can tell I am never going to make it. So he spryly darts across the road to fetch me and escorts me back across with him like a Boy Scout. I will want him back a few hours later when I needed to head home, but by then I've learned his trick: Take it one lane at a time, because in Santo Domingo, you will never see stillness in two directions at once.
One way to escape this nuttiness is to stay in your hotel all day. This is not recommended, although if you were going to hermit, the hotel I stayed at, the Renaissance Santo Domingo Jaragua Hotel & Casino (George Washington Avenue 367; 809-221-2222; marriott.com/hotels/travel/sdqgw-renaissance-santo-domingo-jaragua-hotel-and-casino) is a good one, with great food, helpful, English-speaking staff, and large, comfortable rooms.
Better to take a break by stepping back in time in the city's Ciudad Colonial, also called the Zona Colonial, or Colonial Zone. The well-preserved neighborhood looks much as it would have in Christopher Columbus' day—if you can ignore all the well-heeled Dominicans chatting on cellphones and eating pizza alfresco. Many of the low stucco buildings date back to the colonial era, and the Zona boasts many of the most ancient European buildings in the New World. Notable "oldests" include the first university in the region, established in 1538, Convento de los Dominicos (Calle Padre Billini, 809-682-3780, http://conventodominico.org/en); and the oldest Cathedral in the Americas, Cathedral of Santa María la Menor (built starting in 1512 between Calle Arzobispo Merino and Calle Isabel la Católica, next to Columbus Park). On the corner of Calles Arzobispo Meriño and Padre Billini, you can find a house, called Casa De Tostado, that was built in 1503, making it only seven years younger than the city itself.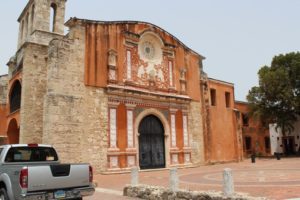 One way to see a lot of colonial history in a short amount of time is by taking the popular Chu Chu Colonial, a narrated tram tour that whisks you through the neighborhood in less than an hour (Calle El Conde #60, 809-686-2303, grayline.com/tours/santo-domingo/chu-chu-colonial-tour-500-years-of-history-6034_79). It's not a terrible way to get to know the area, especially if you're short on time, but it's not ideal, either. Trams tend to get bogged down in traffic, the audio is not always audible, and awkward stranger-to-stranger knee touches are almost inevitable on the cramped cars. If you've got the time and the stamina, better to set off on your own, at your own pace. Take time to read the plaques and imagine men in feathered hats swashbuckling down the street and going about the business, for better or for worse, of creating the New World. Must-sees include the Alcázar de Colón (on the Plaza de España), which was built for Christopher Columbus' son Diego starting in 1510, and the pedestrian-only Calle el Conde, lined with smart shops and restaurants.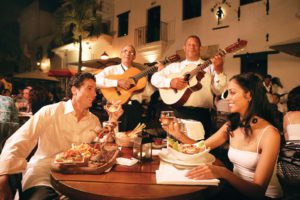 Nightlife
If you should find yourself in the Ciudad Colonial after dark, well, so much the better. It's a great neighborhood for dining and nightlife. During my visit, I have drinks one night at the cozy, subdued K de Café (Calle Arzobispo Meriño 409, 809-682-0763, www.facebook.com/pages/k-de-Cafe/894049040645922), which serves great beer and coffee. The outdoor patio is an excellent place to hear live music and to fuel up before hitting the town in earnest.
For dinner, one great option is Lulú Tasting Bar (Plazoleta Padre Billini, 809-687-8360, lulu.do/en), in the Colonial Zone. This establishment serves tapas and cocktails in an elegant setting. For larger plates, try Pat'e Palo (Atarazana 25, 809-687-8089, patepalo.com), a brasserie that fuses cuisines from all over the world.
I don't have the chance to try either, but I trust the recommendations because they come from my favorite Santo Domingo chef. That would be Marco Sanchez, the Venezuelan-born maestro at the Renaissance Santo Domingo Jaragua Hotel & Casino. The hotel's Luna Tapas Bar & Restaurant is a revelation with its small plates that fuse Spanish and Caribbean influences. I'm lucky enough to be staying at the Jaragua Hotel & Casino, but I would gladly take a taxi across town to eat there if I were staying somewhere else.
For bars and clubs, Avenida Venezuela, on the east side of Ozama River, is a hotspot. Just walk up and down the strip until you see (or hear) one that is to your liking. Although you may encounter thumping bass signaling the kind of disco you may recognize from home, in this neighborhood you're more likely to hear traditional Latin music such as salsa, son, or merengue. This is where residents go to have fun, and though it may seem intimidating to try to crash the party as a foreigner, here's where you'll have the most authentic Dominican night out possible.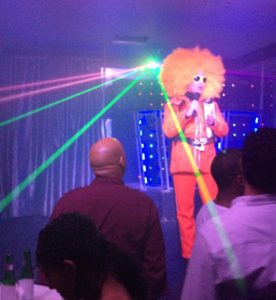 Interestingly, for such a heavily Catholic country, Santo Domingo has a thriving gay scene. There are quite a few gay bars and nightclubs, and they aren't the clandestine holes in the wall that I expect. I visit two gay bars while I'm in town, both in the Colonial Zone, which is where most Santo Domingo gay and lesbian nightlife is found. The ambitiously named Fogoo Discotec (Calle Arzobispo Nouel #307, 829-418-0033, https://twitter.com/fogoord) is really more of a bar than a dance club, although I do see a spirited drag show on the venue's tiny stage. Esedeku (Calle Las Mercedes #341, 809-763-8292, www.facebook.com/esedeku.barlounge?fref=ts) (the name comes from the city's airport code, SDQ) is a comfortable, low-key kind of hangout, at least while I'm there. I'm told that if I had had the fortitude to stay up late like a Dominican, I'd have seen the place get packed after 1 a.m.
For middle-of-the night nightlife, look to the city's casinos. These establishments don't have to adhere to the same last-call rules that bars and clubs do, and some stay open until 6 a.m. There are lots of casinos in town, but why not go big? The Renaissance Jaragua Casino  (George Washington Avenue 367, 809-221-2222, www.marriott.com/hotels/travel/sdqgw-renaissance-santo-domingo-jaragua-hotel-and-casino/) is Santa Domingo's largest. It offers 32 tables and well over 300 gaming machines.
Beaches
Most people associate the Dominican Republic with beaches, and the country doesn't disappoint on that count. It's just that the best ones are well east and north of Santo Domingo, near the resorts that the D.R. is famous for. Never fear. This is the Caribbean, and even the country's second-tier beaches are a delight compared to what most of the continental United States has to offer.
During my visit, I spend some time at Juan Dolio beach, about a 40-minute drive east of the city center. Maybe it's not quite screen-saver pretty (my perfect beach would offer a little more shade), but it's lovely and surprisingly empty on a hot Saturday. There are hotels and vacation rentals lining the beach, so we didn't exactly feel that we'd gotten away from civilization, but the crowds I expect on such a nice stretch of sand never materialize and my companions and I have the refreshing water and warm sand to ourselves.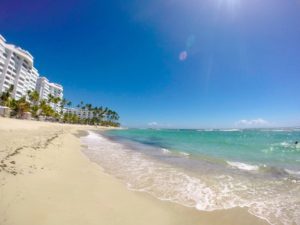 If you're short on time or pesos, there are beach options closer to the city center. Here you definitely will find crowds, but you'll also find more services like towel and beach-chair rental facilities, and nearby food options as well. You'll also stand a better chance of mingling with actual Dominicans, as opposed to fellow tourists. Boca Chica is a popular local hangout roughly 25 minutes by cab from the city center. It gets crowded, but the crowds are there for good reason. The beach is golden, and the water is shallow and remarkably tranquil. There are plenty of restaurants nearby. None are remarkable, but who goes to the beach for a gourmet experience? At least you won't have to find a taxi or pay resort prices for lunch.
Another relatively local option is to head west from the city. About 15 miles from the outskirts of town are the beaches of Najayo and Palenque. Both are authentic Dominican experiences in ways both good and trying. On the one hand, you'll be surrounded by locals and have the chance to eat good, cheap, fresh food while splashing around in the Caribbean Sea. On the other hand, little English is spoken in the area and neither beach is easy to get to.
Your best bet for getting to any of these beaches is to take a taxi. This could cost as much as $50 (2,318.53DOP) depending on how far out of town you're going, but you'll probably find the reliability to be worth the price. Another option is taking a local guagua bus, which shouldn't cost more than $10 (463.706DOP). If you're up for it – they're crowded and you really need to speak decent Spanish—find them lined up at Parque Enriquillo, just north of the Colonial Zone.
Closer to the city center is Guibia Public Beach, located along the seaside Malacón pathway within the Santo Domingo city limits. The location couldn't be more convenient, but be aware that it's more of a surfing beach than a swimming and wading beach.
Finally, if you just want to see the water, but don't need to go in, great ocean views are accessible in Santo Domingo by walking along the Malacón. Waves pound right up against the sea wall here. The surf is rough and the beach is rocky, so swimming is out, but the salt air and sea birds are, like so much that is good to see in Santo Domingo, right there within walking distance of the Colonial Zone.
Book your next beach and sun Caribbean escape with Girls That Roam Travel. Contact Girls That Roam Travel at 415-517-7239 or at .

To contract an original article, purchase reprints or become a media partner, contact .
Comments
comments