Hello. Adele Is Back On The Road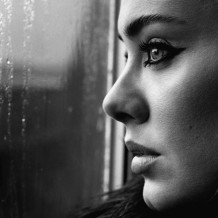 British Crooner Adele Announced Nearly 60 Stops Around North America And More than 50 Sold Out Stops In The UK And Europe In 2016
by Heather Cassell
British crooner Adele announced she is heading out on a tour of North America and Mexico City, Mexico as well as the United Kingdom and Europe in 2016 much to fans delight December 14. It is her first tour in five years.
Most of her UK and European shows are already sold out. Tickets for her North American tour, where she's performing multiple nights in one city, such as Los Angeles, California, go on sale December 17 at 10 a.m. local time via live.adele.com/north-america.
Her first full concert in more than four years a special 'one night only' performance at New York's famed Radio City Music Hall, which was broadcast on NBC "Adele Live in New York City," garnered 11.2 million viewers, reports Entertainment Weekly.
She's breaking records left and right ever since the first utterance of her contralto "Hello," that set the world ablaze. She followed the bombshell introduction of her lead hit single "Hello," with her third album "25
" that flew up the charts to #1 in more than 100 countries since its release November 20.
Not bad for a North London girl raised by her working-class mom, Penny, and grandparents. Born Adele Laurie Blue Adkins, the 27-year old is now a mother to 3-year old Angelo with his father Simon Konecki, whom she endearingly referred to as "her man" during her televised concert from New York. In addition to all of her awards, including "Best Mom," she also holds an MBE, reports i-D, which published her first interview in three years.
During her interview, she talked about how her mom snuck her into Brixton Academy when she was three-years-old to watch the Beautiful South and the Cure and that she's a HUGE fan of Amy Winehouse. It was Amy, whom she never knew in spite of spending a hot minute in the same school, who inspired her to being singing as a teenager, she tells the magazine.
She's quite refreshingly down-to-earth, grateful for where she is in life, but still very low-key and loyal to her roots, which is what 25 is about. It's about reconnecting to her youth, healing herself and people she hurt in her past, and growing up.
While many might interpret her song "Hello" as yet another breakup song for the famed unknown ex-boyfriend, she says it's completely not.
"Hello is about wanting to be at home and wanting to reach out to everyone I've ever hurt – including myself – and apologize for it," she tells the magazine.
And that is 25, a quarter century, where adolescence is whispering in the winds of time behind you as you are fully stepping into adulthood.
"My last record was a break-up record and if I had to label this one I would call it a make-up record. I'm making up with myself. Making up for lost time. Making up for everything I ever did and never did," Adele writes on her website.
"I haven't got time to hold on to the crumbs of my past like I used to. What's done is done. Turning 25 was a turning point for me, slap bang in the middle of my twenties. Teetering on the edge of being an old adolescent and a fully-fledged adult, I made the decision to go into becoming who I'm going to be forever without a removal van full of my old junk. I miss everything about my past, the good and the bad, but only because it won't come back," she continues.
"The record is about getting older and becoming nostalgic, she says. It's about what was, what is, what might have been. It's about missing things that you had no idea were so precious, like being 18-years-old and drinking two liter bottles of cider in Brockwell Park with your mates," she says. "Life is so much easier when you don't hoard your past."
An old soul for sure, Adele is soulfully refreshing reminding us to sometimes go beyond the surface and take a look inward.
To book your trip to see Adele live, contact Heather Cassell at Girls That Roam Travel at Travel Advisors of Los Gatos at 408-354-6531at or .
To contract an original article, purchase reprints or become a media partner, contact .
Comments
comments