Feminist Electronica Artist And Feminist Activist Takes Her Sound To Palm Springs' The Dinah
by Heather Cassell
Creating the most diverse and empowering lineup of women entertainers to hit the stage that the women's festival has ever seen, The Dinah announced Madame Gandhi will entertain the flocks of women to the springtime event in Palm Springs.
Madame Gandhi is the second performer to be announced by The Dinah Founder and Producer Mariah Hanson for the festival's 28th year, March 28 – April 1.
More than ever, Mariah who has supported emerging women artists who have become superstars, such as Kesha, Katy Perry, Lady Gaga, and others is on a mission to celebrate and support talented women and queer people.
It's noted that the rebel rousing artists so far are women of color.
"The Dinah has always been infused with a subtle but powerful social message. Finally, in the last few years, our very own internal messaging is resonating with the social and cultural landscape in the most exciting of ways, opening the door for The Dinah to stand out even more in its representation and celebration of all voices from all walks of life," said Mariah in a January 22 news release from the festival.
"During this gigantic world-famous festival, we meld our differences into a collective consciousness that for five days defines our world as a diverse and inclusive place where we all can be who we are, as we are. We know our attendees feel that magic and bring that experience home with them," she continued.
"Our goal is for them to also realize they can live that ideology every day of their lives. Madame Gandhi embodies this messaging and we are so proud to present her as one of our headliners," she said.
Mariah is stacking The Dinah's stages with comedians, DJs, and singers and filmmakers and actors who have broken the glass ceiling on their own terms.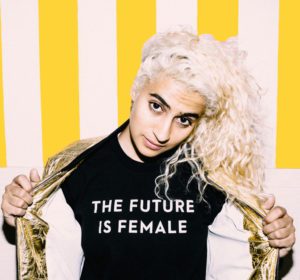 Kiran Gandhi, who's stage name and feminist project is Madame Gandhi, fits the bill.
This is one "badasss" female artist you really don't want to miss, said Mariah.
Kiran hit the scene first with Thievery Corporation and then toured with Grammy-nominated rap artist M.I.A. Since then, she's emerged as an activist and TED Talk speaker, who has fused her passion for music, technology and feminism into a solo music project, which she calls Madame Gandhi.
In the spirit of Virgin founder Sir Richard Branson, she shook up the establishment in 2015 when she ran the London Marathon during her period without a tampon to raise awareness for women who don't have access to or money for pads or tampons. Critics jumped on the act labeling, her as the iconic "free-bleeding runner" and seeing the menstrual blood run down her legs as she was running the 26.2-mile route through London that spring as "disgusting."
The 28-year old hit back at the critics saying her "free-bleed" act proves "we're uncomfortable with natural process," reported the Daily Mail.
In the same daredevil spirit, the Los Angeles-based electronic music artist and activist uses her voice, music and written work to empower her audiences to be their best and most authentic selves.
"I want music to make feminism culturally relevant. I want my music to make gender equality culturally even more relevant," said Madame Gandhi, who writes music that elevates and celebrates the female voice.
Last year, she released her first EP, "Voices," which explores feminist values through spoken word, rap and electronica, she told the New York Times.
The remix of "Voices" is produced by women of color.
"This record is a chance to say, 'Here is a full roster of very talented DJs and producers who are women of color,'" Madame Gandhi told the Times. "'Book them.'"
Madame Gandhi is currently touring and will also appear at the 5th anniversary of Lesbians Who Tech Summit in San Francisco at the beginning of March and she recently opened for Ani DiFranco on her "Rise Up" tour. Her South by Southwest performance was named one of SPIN magazine's favorite of the entire event and she just performed on an episode of Amazon's new series "I Love Dick."
The New York and Mumbai-raised artist has been making a lot of noise most of her life. She's played the drums since she was a child and graduated from Georgetown University with a double major in mathematics and political science and a minor in women's studies in 2011.
During her DC years, she immersed herself in the vibrant music scene, once playing Bonnaroo as the drummer for the famed Thievery Corporation, an electronic music duo, made up of Rob Garza and Eric Hilton, who mix elements of dub, acid jazz, reggae, Indian classical, Middle Eastern, hip-hop, electronica, and Brazilian, including bossa nova styles into their sounds.
She cut her teeth behind the music industry scenes at Interscope Records for two years as the music recording company's first-ever digital analyst, studying patterns in Spotify and YouTube consumption behavior until 2013 when she linked up with M.I.A.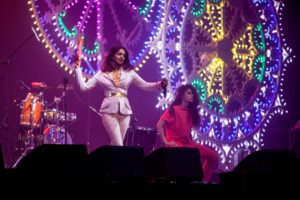 Madame Gandhi began touring internationally with M.I.A. as her drummer that year. At the same time, the savvy artists began attending Harvard Business School's MBA program. She graduated with her MBA in 2015.
Madame Gandhi is showing women how to get it done by already blazing an inspiring trail for us all to follow.
There's no better place and time than The Dinah to support this new wave of women breaking down barriers with their voices and their sound, said organizers.
The Dinah is happening March 28 – April 1 in Palm Springs, California. Tickets are available now.
Book your girl fest vacation with Girls That Roam Travel. Contact Heather Cassell at Girls That Roam Travel at 415-517-7239 or at .
To contract an original article, purchase reprints or become a media partner, contact .
Comments
comments