Google Makes Turning Day Dream About Your Next Vacation Into Reality At Your Fingertips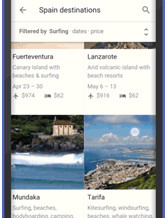 Destinations On Google Is Introduced Right In Time As Spring Break Is Right Around The Corner
by Super G
Google is trying to make it easier for you to go on vacation.
Google launched Destinations on Google for mobile phones a new search feature that utilizes Google Flights and hotel search on Google and crowd sources using geolocation popular destinations to help you plan and book your next vacation.
Why not? Travel-related inquiries on smartphones jumped 50 percent last year, according to Google's internal data.
Google provides the option to explore or book a trip to your dream destination by simply typing where you want to go plus "destination" or "vacation" right on your phone. A travel guide with flights, hotels, suggested itineraries, articles, and YouTube videos is automatically generated for your perusal in an easy swipe carousel.
The guide provides the option to explore a dream destination with the ability to search up to six months ahead and to know when the peak and low travel times are. Google also offers a pencil icon to adjust the information and a "Flexible Dates" filter to help refine your search results by month to find the lowest prices for airfare and hotels or to escape the crowds across multiple destinations, according to Google's blog announcing Destinations on Google March 8.
Want to explore things of interest to you at that destination? Simply type the destination with your desired activity in quotation marks around them, like "Paris shopping" and a guide will appear with a carousel of suggested itineraries of popular options crowd sourced by the millions if not billions of people who have been there.
Ready to pack your bags? You can book your trip right then and there on your phone with real-time prices thanks to Google's partnership with Sabre last July.

It sounds cool, so Girls That Roam took Google out for a global spin this weekend for our forthcoming romp through Europe and some dream destinations.
We decided to check out Paris first by typing in "Paris vacation" into the Google search on our iPhone. The guide didn't pop up right away. We had to scroll down past the Google paid advertising to get to the guide. When we tapped our finger on the image it took us to the normal Google search results and not the guide. To pull up the guide we had to tap the down arrow in the blue circle with the text "Paris travel guide" beneath it. The guide popped up on our screen with the option to "explore" or "plan a trip."
Exploring Paris was easy. First, we got a brief history lesson of France's capital city. Then we scrolled down to see suggested itineraries that provide step-by-step suggestions for 72 hours of touring the most well-known sites in the City of Lights. Tapping on more itineraries it brought us to a one-day itinerary exploring the Left Bank, an art lovers itinerary, and seeing Paris with kids itinerary and that was it. However, beneath the suggested itineraries Google offers a list of 24 popularly rated sites to explore.
If we didn't already have our trip booked we could fantasize when to book going to Paris by scrolling down a little further where Google gave us estimated total trip costs assuming a 7-day week vacation staying at a 3-star hotel. It even provides temperatures, precipitation percentages, and the most popular and least popular travel dates up to six months.
Finally, to continue our excitement about Paris, Google offers up YouTube video guides of Paris to watch on our phones and suggestions of other places in France to visit.
Completely amped up to head to Paris, we switched over to plan our trip. Selecting the dates when we will be in Paris (unfortunately during peak summer travel), but hey, we are going to Paris! The pencil to adjust the flights to our preference, but to select the airport we had to go to Google flights directly from the Destinations on Google trip planner which was easy enough by selecting Google Flights at the bottom of the suggested flights. From there the search automatically chooses the closest airport to you, but once inside Google Flights we could choose one of three San Francisco Bay Area airports to fly out of and it suggests the airport with the lowest airfare to help us save pocket money to spend in Paris. We were also able to change the airport to John F. Kennedy International, say if we are traveling out of a different airport in the future. Another issue we ran into is that Google only offers round-trip and one-way planning on the phone. Multiple destinations are out, currently. We were also able to select how many stopovers we would accept, our preferred airline, preferred class we wanted to be seated in (first class please), and time frames for our preferred departure and return. While we were making our personal adjustments the airline with the lowest airfare and estimated cost of our flight was automatically calculated and updated. Once we were ready to book our flight Google offered to hand us off to Orbitz or any other online booking site of our choice or to book directly with the airline, but not with your preferred local travel counselor or agent.
Next up we had to figure out where to stay. Once again, Google sources it's hotels with its partner Sabre showing us a map and showing premiere hotels based on its star rating to help us decide where to stay. We clicked the first 3-star hotel thinking it would take us to that hotel as well as other 3-star hotels to explore, but it only took us to that one featured hotel. We backtracked to the carousel of ranked hotels and found the "View hotels on Google" arrow and selected that to show more hotels. A list of hotels appeared, but not all of them were the 3-star that we wanted and we couldn't figure out how to filter the hotel search to see only 3-star hotels. That kinda killed our desire to book right then and there, suddenly easy and fun felt like work, which Google claims it wants to "leave the heavy lifting to us," in its announcement.
Another booking killer, Google still hasn't taken over following through on the booking … yet. It's still simply a connector to hospitality and travel booking experts. Furthermore, you can't book popular tours or buy city passes yet on Destinations on Google. You still have to search go directly to the tour operator or the city pass provider to purchase your tours and passes.
And yet, another buzz kill for us on Destinations on Google was that the personalized vacation by interest search simply didn't work. We kept trying, but it only brought up the typical Google search results rather than a nicely laid out travel guide on say, "Paris women's history," or a search for the masses, "Paris restaurants" or "Paris tours." That feature is simply broken and it's disappointing. Say, I want to search sites specifically for Black history in Paris? I'm back to simply Googling in the regular search engine and sifting through the sites that pop up on the first several pages or refining my search to "Josephine Baker," or "Gertrude Stein," if I want to look up art or lesbians in Paris, or "George Sands," for literary French women in Paris. We don't necessarily want to follow the masses, so this was a real disappointment when the feature failed for us. Once again, the hard work is in our search fingers using tools we've used in the past or handing the "heavy lifting" to our travel counselor or tour guides.
Although, today, Google told the New York Times, that the search "vacation" along with the name of a continent search option was broken. Google reassured the Times that it would be fixed within the coming weeks. Utilizing the search term "destination" along with the desired continent still works, so just swap the word in your mobile search. For Girls That Roam, it seemed to be only a problem with "continent" searches as searching Paris once again using "vacation" turned up no issues at all, at least on the iPhone.
This could be the sore spot for Google and the boon for travel counselors and tour guides. First, these travel experts aren't crowd sourcing popular sites and sending you on a path well overly traveled and crowded. They still have the opportunity to shine in Destination on Google and travel booking engine's shadow to help you dream of and craft personalized itineraries and handle booking (flights, hotels, tours, tickets to sites, museums and tours; and restaurant reservations) and any itinerary changes for whatever reason for a minute fee or no fee at all for some travel counselors because they operate only on commission or a fully paid personal concierge, a tour guide. The other bonus, similar to the crowd sourcing on Google, but better, travel experts have been to the destination so they can provide a more personal perspective and advice if not lead you themselves.
Like travel counselors, Google and its new partner, travel booking leader Sabre, are making money on commissions through the hotel bookings, or that's the future goal if they aren't already, and sharing the earnings. Hotels and in the future we assume tour operators and attractions have the option not to participate in Destinations on Google and continue attracting travelers through advertising on Google and keeping up with optimizing their search position on Google.
The bottom line is Google is getting better at helping you daydream about your next vacation, but it still isn't a booking powerhouse providing travel counselor support to handle personalized travel questions or help for when things go wrong while traveling.
Day dream about and book your next vacation with Girls That Roam Travel. Contact Heather Cassell at Girls That Roam Travel in association with Travel Advisors of Los Gatos at 415-517-7239 or at .
To contract an original article, purchase reprints or become a media partner, contact .
Comments
comments