Cheese Lovers Delight! There's A New App That Will Help You Find The Best Cheeses The Golden State Has To Offer
by Super G
It's cheesy goodness along California's Cheese Trail.
Now it's easier than ever to find the more than 70 creameries in the Golden State with the California Cheese Trail's new app launched July 19.
"There are so many incredible cheeses made in California … I just want to make it easier for people to enjoy them!" says Vivien Straus, creator of the Cheese Trail project, and long-time family farm advocate, in Tuesday's news release announcing the newly expanded and updated app. "But it's not just about eating the cheeses; it's also fun and important to meet the cheesemakers, to experience their farms, and even to learn how to make cheese yourself."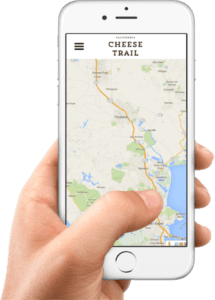 The free app provides a list of artisan and farmstead cheesemakers with details about their creamery and cheeses they make and a map of the cheese trail overall. Many of the creameries handcraft their cheeses from milk captured from cows, goats, sheep and even water buffalo.
However, the best features might prove to be the driving tours for the Central Coast, Central Valley, Marin County, North Coast, and Sonoma County with an integrated Google mapping and its events calendar featuring cheesemaking classes to farm tours to festivals. Touch on the driving area of interest and it opens up to a brief description about the area and the creameries.
In addition to the revised app, the California Cheese Trail's website and printable map have received a makeover. Since the launch of the project five years ago the map has been distributed to more than 300,000 people and is currently in its 6th printing.
In 2011, Vivian saw an opportunity when she was the marketing coordinator at the famed Cowgirl Creamery, where she also gave tours of the Petaluma facility. She saw more and more people booking the weekly $5 one-hour tour that is only on Fridays. A local girl who grew up on her family's farm, the Straus Family Creamery, she also wanted to support small farms like her family's that were sprouting up at the time, many which were started by women. Vivian's brother now runs the family farm and she's since returned to the farm too giving guided tours.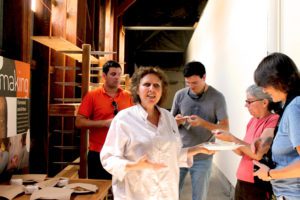 She tapped into the emerging interest in creameries and launched the California Cheese Trail project starting with creameries in Marin and Sonoma Counties. Since then the project recently expanded to encompass all of California.
"The map is amazing. About 30 percent of my visitors come in because of it," says Lisa Gottreich of Bohemian Creamery in Sebastopol. "And those are just the ones who mention it."
The California Cheese Trail app was built by Gamut, a San Francisco-based designer, and it is available for Android and iPhones.
The California Cheese Trail project is supported by the Marin Economic Forum, the project's fiscal sponsor, and by Whole Foods Markets, the California Milk Advisory Board, Marin Convention & Visitor's Bureau, and the California Artisan Cheese Guild.
Book your next trip to California with Girls That Roam Travel. Contact Heather Cassell at Girls That Roam Travel in association with Travel Advisors of Los Gatos at 415-517-7239 or at .
To contract an original article, purchase reprints or become a media partner, contact .
Comments
comments