Sarah Jackson's Inspirational First Journey Across The Great Trail And The Simple Lesson She Learned
by Heather Cassell
Stopping at the edge of The Great Trail at the Atlantic Ocean in Cape Spear on the Avalon Peninsula near St. John's Newfoundland, the easternmost point of Canada and North America, it was the end of a journey for Sarah Jackson.
On May 30, the 25-year old became the first woman to ever complete the 15,000 miles (24,000 kilometers) trek solo.
Ending the journey, two years and seven pairs of shoes later, was emotional for Sarah.
"Walking the last bit, I could kind of see the water coming up on the horizon and I got really emotional. I put on some music that carried me through parts of the trail and was crying a bit, tears streaming down my face. I think I was starting to miss being there on the trail, even when I was there, you know?" Sarah told Canadian Geography nearly a month after finishing her trek across the world's longest network of recreational trails that started at the Mile Zero marker in Victoria, British Columbia, Canada June 2015.
The end was bittersweet for her. The entire goal of her journey was a meditation to discover herself and figure out what she wanted to do for the rest of her life after graduating from the University of Alberta with a degree in Sociology. She also wanted to discover her country: Canada.
Canada marked its sesquicentennial, 150th anniversary of declaring its independence this summer.
The Great Trail offered her a chance to "see Canada in a different way," she told the media. "The country I call home, but barely know."
"I think what makes [The Great Trail] so special is the fact that it ties not only us to the land, but the history," Sarah told CBC during one point during her journey. "I've walked through places that I had read about in class, but didn't connect with."
Additionally, she wanted to bring awareness of The Great Trail, the world's longest trail which is celebrating its 25th anniversary this year. The Atlantic to Pacific stretch of the trail was mostly completed April 2017. Currently, the trail is approximately 93 percent complete with 240 gaps totaling 3,900 miles (6,200 kilometers), according to the Great Trail Foundation. Once the trail is fully connected from the Atlantic to the Pacific and the Arctic oceans it will span nearly 15,000 miles (24,000 kilometers).
"It's kind of devastating," she said when she was within the final day of her journey at the end of May. "It's been incredible. It's surpassed any kind of expectation I could have even set."
"The trails raised me in a way I never anticipated," she told Geographical Canada. "It wasn't the finishing that meant something to me, it was in the doing of it."
"I can't imagine anything different right now."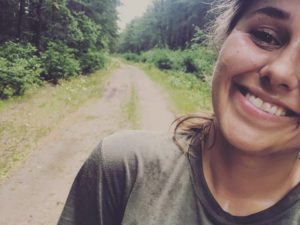 Women Blazing A Trail
Sarah is currently only the second person to have completely cross Canada on foot on The Great Trail, Dana Meise, completed his six-year journey on the trail in 2013. He hit the trail again soon after, reported CBC.
Sarah might be the first-ever woman to complete the hike across The Great Trail, but she's not the only woman charting the terrain. Fellow Canadian 25-years her senior, adventure documentarian Dianne Whelan has also been on a two-year long journey biking, hiking, kayak, and snowshoeing her way across The Great Trail for her next documentary, "500 Days in the Wild."
She's long passed the 500-day mark and is still making her way along the trail, according to media reports.
The women both started their solo journey's at the beginning of summer 2015 at opposite ends of the trail, but they never met.
"I think we both hoped we'd connect as we crossed paths, but we missed each other," Sarah told CBC while she was traveling through Ontario. "I'm farther east and she's farther west now, so no high five unfortunately! Hopefully at some point we'll get to meet each other, and that would be really cool."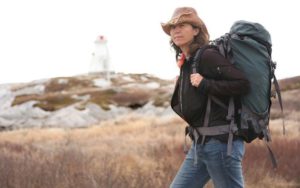 An admirer of Sarah, Dianne praised her.
"She was smart because the wind will always be at her back," Dianne told CBC about Sarah's eastbound journey. "I thought it was very romantic to go from east to west because I'd be following the sun. But I've been cheering Sarah on since she started and now that it's two women doing this, quite frankly I just love it."
Taking On The Challenge
Sarah was inspired to hike the trail after hearing her uncle's stories about his hike of Spain's Camino de Santiago pilgrims' trail.
"I think it was the self-sufficiency that immediately appealed to me," Sarah told The Great Trail's blog.
At the time, she was working with local community groups through the Student International Health Association in Mlandizi, Tanzania in 2013, the native told the Edmonton Journal.
"I climbed nearby Mount Kilimanjaro and knew then I would enjoy the trek across Canada," she said of her experience climbing Africa's highest peak at 19,341 feet (5,895 meters).
The athlete, she plays soccer and is an avid downhill, cross-country, and water skier, figured she could handle a long hike.
She also plays the cello when she isn't outdoors.
She returned home to start planning and preparing for her adventure working for 18 months at a local bookstore.
After careful consideration of several trails, including the Appalachian Trail through the Eastern United States and the Pacific Crest Trail through the Western U.S., she selected, The Great Trail, formerly known as the Trans Canada Trail.
The Trail occasionally took her through towns allowing her respite in civilization from the wilderness and a break from her diet of trail mix and granola bars.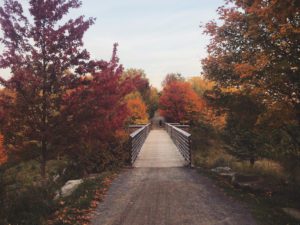 "The cool thing about the TCT is that it does go through a lot of towns, so we do have access to restock supplies and treat ourselves sometimes to Subway (sandwiches), things like that," Sarah told the Journal.
"You go through sections that are like paved bicycle paths, really easy travelling, and sections that are like dirt trails, up through mountain ranges. I've had a couple days for sure that I'm bushwhacking like mad and I don't know for sure if I'm going the right way, but it makes for a bit more of an adventure," she added.
No matter how difficult a day she had she remained in awe of her surroundings.
"It doesn't matter where I land, I go to bed thinking I live in the most beautiful place," Sarah told CBC.
While its popular to go on an adventure like this to raise awareness and money for an organization, Sarah decided against it choosing to focus on herself.
"I wanted to spend time reflecting on who I was, my future and enjoy the experiences I would encounter on the trail," she told the Journal. "I also wasn't sure I wanted to do the entire trail."
After completing her first leg of the trail that brought her back home to Edmonton for the holidays with her family in 2015, she decided to take on the whole trail.
Tools For The Trail
Despite traveling alone on the trail, Sarah wasn't alone and rarely experienced loneliness. When she wasn't joined by family, friends, and strangers along her hike she was surrounded by nature and connected by technology.
Tools Sarah packed for her solo journey were a global positioning system tracker, a cell phone armed with apps to help her communicate and post to her blog, Sarah Rose Walks, and social media.
Her pack weighed 50 pounds with her entire life's comforts on the trail, including a sleeping bag, tent, stove, fuel, water and clothing.
"I have a locator beacon that sort of tracks my moves so my parents don't worry too much," she said.
Experiences & Lessons 
Additionally, she shared her experiences – challenges and wonders – of life on the trail on her blog and Instagram.
During her trek across Canada, Sarah experienced the hospitable warmth of her fellow Canadians. People generously offered her places to rest, gave her hot cups of tea and soup and she even temporarily gave up her vegetarian diet when hosts offered her moose, elk, and deer; and encouragement.
She's very much aware that as a white woman trekking solo along the trail her experience might be completely different from a woman of color or indigenous woman. She told the newspaper that she heard about incidents of racism happening to others trekking along the Trail.
"I'm not naive enough to believe that's the same for everyone," she told CBC.
She, herself, experienced sexism and harassment by men she came across through her journey, but it wasn't something that she experienced as a woman daily off the Trail.
"It's a reflection of how I feel normally," she said. "I'm a white woman walking across Canada. Maybe my experience would be different if I wasn't."
She expressed gratitude to have had a positive experience with few disruptions and challenges along her journey.
Depending on the weather she averaged 16 – 25 miles (25 to 40 kilometers) or six and 11 hours a day.
Occasionally, she had to reroute her hike due to the Trail not being completed and a forest fire that she had to wait out and return to her stopping point once the path was clear.
She stayed away from highways by taking side roads, logging roads, and regional trails as often as possible.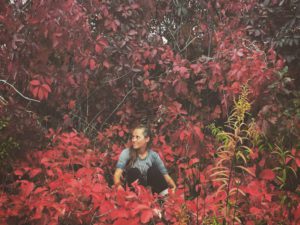 Challenges weren't necessarily her body, wild animals, or the weather – although she did encounter some challenging winter nights camping in the snow with temperatures dropping to -31 Fahrenheit (-35 C) – bugs ended up being her biggest challenge. She's not their biggest fan, especially after encountering ticks in Manitoba, which was about halfway through her journey.
"Bugs are interesting. I'm not a fan," she told the CBC. "We don't have ticks really around Edmonton, so I didn't enjoy that going through the Whiteshell (in Manitoba) really."
Two great lessons she learned on the trail was listening to her body when it was telling her to stop and when she felt she could "push through" and asking for help when she needed to and accepting peoples' hospitality.
"The kindness that's been offered me, and how welcoming and generous everyone has been, is incredible," Sarah said.
She will miss many things about the trail, but she hopes the feelings and memories will remain with her and help her in her life.
"I'll always carry that feeling with me and hopefully apply it to other parts of my life," Sarah told Geographical Canada about missing everything from going to sleep and waking up in the outdoors, the routine of walking itself, and even the struggle when she had a bad day. "Knowing that feeling that even if you're having a crappy day in your head I was always into a new place, further along the trail, by the end of the day."
"I went to bed every night in the most beautiful place in the world. I loved the everydayness of it," she continued. "The fact that you're experiencing new beauty and people no matter where you are. I walked under the stars in Saskatchewan where it has this big open sky, and loved my time in Quebec and the culture. I didn't know what to expect in northern Canada but it was so wild. I would go back to all of it in a heartbeat."
"As cliché as it sounds, that idea one step at a time is really applicable," she said about the simple lesson the Trail taught her.
Book your next outdoor adventure with Girls That Roam Travel. Contact Heather Cassell at Girls That Roam Travel at 415-517-7239 or at .
To contract an original article, purchase reprints or become a media partner, contact .
Comments
comments