Adventure Filmmaker's Four-Year Trek Across The Great Trail Will Be Deepest Exploration Of Herself And Her Homeland When Its Completed in 2019
by Heather Cassell
When award-winning adventure author and documentary filmmaker Dianne Whelan took her first steps on The Great Trail to begin filming her newest documentary, "500 Days in the Wild," in July 2015, she never imagined that she would still be on the journey today.
Dianne planned to complete her trek from East to West on the trail by Canada's 150th birthday and the trail's completion this year, but instead she's taking her time as the journey unfolds beneath her feet, wheels of her bike, and canoeing across waterways along the trail.
She projects it might take her another two years before she completes her journey and return home to her house in Garden Bay, outside of Vancouver, British Columbia, Canada, she tells CBC News.
Very different from her counterpart, Sarah Jackson, who is half her age and started her journey in Victoria, British Columbia, Canada around the same time. Sarah completed her two-year trek from West to East in May.
"I am the turtle," Dianne tells the newspaper laughing. "I retired my jackrabbit the day I started this journey."
Dianne and Sarah never met, although they attempted to cross paths on the trail, but missed each other, however, they cheer each other on, according to media reports.
"She was smart because the wind will always be at her back," says Dianne of Sarah's eastbound journey. "I thought it was very romantic to go from East to West because I'd be following the sun. I've been cheering Sarah on since she started. Now that it's two women doing this, quite frankly I just love it."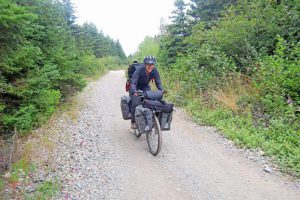 The Great Trail, the world's longest recreational trail with 432 individual sections, is celebrating its 25th anniversary this year. Currently, the trail is approximately 93 percent complete with 240 gaps totaling 3,900 miles (6,200 kilometers), according to the Great Trail Foundation. The Atlantic to Pacific stretch of the trail was mostly completed April 2017. Once the trail is fully connected from the Atlantic to the Pacific and the Arctic oceans it will span nearly 15,000 miles (24,000 kilometers).
The trail goes through urban areas to remote parts of Canada and features parts where people can bike, hike, ride horses, and snow ski. About one-quarter of the trail is on water, reports CBC News.
"The trail is this beautiful symbol," says Dianne, who dreamed of making the trek in the 1990s when the Great Trail Foundation announced its plans to connect the trail coast-to-coast. "It's an umbilical cord that connects us all."
"It has the story of this land wrapped into it," Dianne, whose mother donated to the trail in each of the family member's names telling them that she wanted to hike the traverse the trail one day, tells the New York Times. "Not only is it the story of the people of this land; it's the story of this land as well."
The 50-something adventurer is best-known for her documentary "40 Days At Base Camp
" and its accompanying book "Base Camp: 40 Days on Everest
" that explores a different side of people's quest to scale Mount Everest.
She also authored "This Vanishing Land: A Woman's Journey to the Canadian Arctic
" about her 2007 journey to the High Arctic with the Canadian Forces and the Canadian Rangers charged with protecting isolated regions of Canada. The book that accompanied the documentary, "This Land," tells her story venturing on sea ice and hostile terrain along the patrolled route of the northwestern coast of Ellesmere Island to the team's destination: a feat not accomplished since American explorer Robert E. Peary's famous voyage in 1906.
"Expeditions are explorations of the landscape, but of my life, too. Growth takes pain. We live in a culture where we don't like to feel uncomfortable," Dianne tells the New York Times, about her journey into the great outdoors is not only a physical one but a mental and spiritual one too. "Where can I go to make my spirit and mind stronger? Where can I go to become emotionally stronger? Nature is a great place to do that."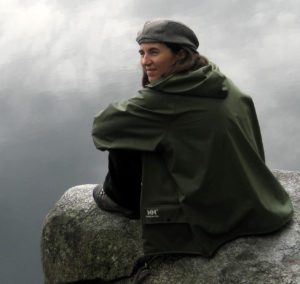 Oh, Canada
This trip has been cathartic for her.
"It feels like I'm seeing Canada for the first time; when you're walking, you're smelling the air, the blooms, you're feeling the wind on your face, you're meeting people in unpredictable ways," she tells Truro Daily News. "Sleeping on the earth gives you a different experience of the place. It's a slower way to travel but it's a richer, deeper experience."
"This journey comes from my heart and my love of this land," continues Dianne. "I believe it's really important to keep a connection with nature."
Her latest film is also an act of reconciliation between Canada and the country's indigenous people for Dianne, whose ancestry includes some Mi'kmaq. Throughout her journey she's been connecting with indigenous communities, such as the Mi'kmaq and the Cree, and recording their stories. She also does a daily ritual for the murdered aboriginal women in Canada, she tells The Western Star.
"I think it is important to remember that the 150 years is but a small chapter in the storybook of this land," Dianne, who is gathering the elders' wisdom that she believes will be important in conversations about the nation's future, tells CBC News. "I thought it would be nice while we are celebrating this that I go out and make a story about the people that came before the settlers came. I thought it was a time to reflect on who we are and where we're from."
Dianne meets regularly every six weeks with her producing partner who downloads her footage onto hard drives and sends it to the team's editor in Toronto where they piece together the documentary while she continues her journey.
"Being out on the land, you reconnect to something that's really old," says Dianne, who carries a 60-pound backpack on her back and is used to being engulfed in complete solitude. "It's actually going back home. It's not as alien as it might seem to a lot of people."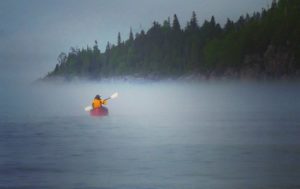 The trail is challenging and at times dangerous. Dianne experienced a terrifying situation paddling against strong winds while crossing the Bras d'Or Lake in Cape Breton in a canoe. The winds pushed her boat out into the open water when she was a half mile from the shore. She was convinced her boat would tip over. She eventually made it to her destination, but it was a humbling experience for her.
"It's a good, gentle reminder that at the end of the day…there are a lot of forces around us that are a lot more powerful than we are," she tells Global News. Even more dangerous than her encounters with a coyote and a small black bear that only took slight movement to scare the animals away.
The film is anticipated to be released sometime after 2019.
Book your next outdoor adventure with Girls That Roam Travel. Contact Heather Cassell at Girls That Roam Travel at 415-517-7239 or at .
To contract an original article, purchase reprints or become a media partner, contact .
Comments
comments