Rio's Olympics Marks The First Married Teammates Competing On The Same Team and The Most Out Athletes Participating At the Games
by Heather Cassell
Wife team Kate and Helen Richardson-Walsh might have had their eyes on diamonds when they married in 2013, but now they have their eye on the gold at the Olympics in Rio de Janeiro.
This is their fourth Olympics together, but their first as a married couple walking out onto the field to compete for the United Kingdom.
It is a first in Olympic history for wife-wife teammates to compete for the gold on the same team.
"I certainly think winning a gold medal in Rio is possible for Great Britain and yes, hopefully we can do it together," says Kate, who will be playing alongside six of their teammates including Crista Cullen, Alex Danson, and Lily Owsley in Rio. It will be Crista and Alex's third Games. Lily, a striker who won hockey's rising star award last year, is making her debut at the Games, reports the BBC.
The team also includes Giselle Ansley, Sophie Bray, Maddie Hinch, Hannah Macleod, Shona McCallin, Sam Quek, Susannah Townsend, Georgie Twigg, Laura Unsworth, Hollie Webb, and Nicola White. Joanna Leigh, Eleanor Watton, and Kirsty Mackay are reserves.
Their teammates have been very supportive of the couple. Everyone was invited to their wedding.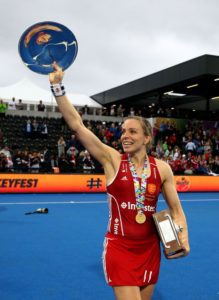 Playing together since they were teens, Kate, 36 and Helen, 34, have hit the hockey field together for 17 years. It is the same field where they found love for the game and discovered the love they have each other eight years ago.
In 2012, they won Great Britain's first Olympic hockey medal – the bronze – in two decades. Then they set their eyes on the 2014 World Cup, but Helen was temporarily crippled with a career-threatening back injury that required multiple serious surgeries that year. Kate, who had retired and then returned to the game, made the cut for the team and played without Helen.
"It was hard playing on the team without her," says Kate, who juggled captain- and wife-duties during that period.
Now they are back together better and ready to compete for the gold as wife and wife and teammates in Rio.
"When somebody is injured, you really see them tested to their absolute max," Kate tells the Telegraph about the difficult affects of the injury and the healing process for Helen. "So to see Helen flourish and play the best hockey that she has ever played makes her such a good role model for the rest of the team."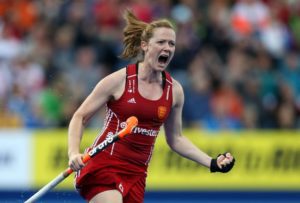 "We've both always wanted to win an Olympic gold medal and that is an individual dream so we wouldn't allow our relationship to affect that," Helen tells the Daily Mail. "We're both massively passionate about making the squad as good as it can be."
It's Rio and only Rio for the gold. The hockey players Helen, a tempo-dictating midfielder, and Kate, a defender and the most capped British hockey player of all time playing 361 times for Great Britain, will hang up their cleats. Helen is exploring a career in sports psychology working toward a degree in psychology at the Open University. Kate is eyeing a career as a coach.
The Gay Olympics
The couple is also a part of another history making moment in the Olympic cannon. This year also marks not only the most women athletes (45%) to compete, reports USA Today, but also a record number of openly gay, lesbian, bisexual and transgender athletes (44%) competing at the Games. That's double the number of openly LGBT athletes competing in the Olympics in London 2012, reports Outsports Magazine.
Some of the other out Olympians are Michelle Heyman, Brittney Griner, Angel McCoughtry, Megan Rapinoe, and Jillion Potter to name a few.
Additionally, this year was the first time that a transgender woman Brazilian model Lea T kicked off the Games at Opening Ceremonies.
"At this time, in which Rio de Janeiro and Brazil will be presented to the world, it's essential that diversity is present," Lea tells BBC. "Brazil is a vast country and all its diversity should be somehow represented in this event."
However, it's a decorative cover of diversity that isn't always accepted once the world's spotlight has faded. Brazil's record on LGBT rights is dismal, especially when it comes to transgender women. In 2014, Brazilian gay rights groups estimate that at least one LGBT person is attacked or killed a day. In nearly half of the cases transgender individuals were the victims and many transgender or gender variant people's life expectancy is not much beyond 30, reports Telesur TV.
The numbers aren't clear, but what is that Brazil has the highest rate of violence against transgender people and it isn't getting any better, reports Feministing.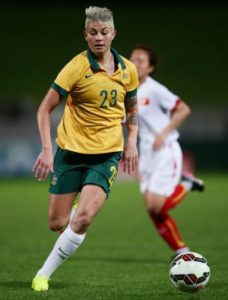 Maybe the Olympics will help change these appalling statistics. In 2015, the International Olympic Committee did remove the barriers for transgender individuals to compete and encouraged countries to allow transgender women athletes to compete, but with mandatory testing. Transgender men athletes can compete without any restrictions, reports Feministing.
Only time will tell if a future Caitlyn Jenner will be able to compete as Caitlyn without any controversy and queer athletes feel comfortable to go for the gold and break records without stigma.
"Visibility is a powerful tool in the LGBTQ sports movement," says Chris Mosier, executive director of GO! Athletes. Chis is the first transgender man to make the U.S. National Team as a duathlete who competed in the world duathlon championship in the spring, he tells Think Progress. "The more people see examples of LGBTQ athletes competing and succeeding at a high level, the more others will be inspired to do the same."
Anna Aagenes, the vice president of program development and community relations of the You Can Play Project, agrees.
"It's incredibly important that these LGBTQI athletes are visible and that they are visibly supported while competing at the highest level of sports," says Anna pointing out that the Olympics is the largest global platform to discuss sports and social change. "Rio 2016 is no exception."
Charley Walters, a broadcast journalist for Bravo, E! News, and The New York Times' TimesTalk, adds that if British diver Tom Daley, who is one of the most sponsored athletes at the Olympics, wins gold it will be a big deal. It will be a sign of how far the queer athletes and the community have come since the days when Olympic Gold Medalist Greg Louganis came out in 1994.
Book your next trip to Brazil with Girls That Roam Travel. Contact Heather Cassell at Girls That Roam Travel in association with Travel Advisors of Los Gatos at 415-517-7239 or at .
To contract an original article, purchase reprints or become a media partner, contact .
Comments
comments