Erin Wilk Is Ahead Of The Curb As Facebook's New Global Travel Safety Manager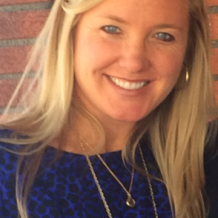 Erin Wilk Is Leading The Way In The Future Of Corporate Travel
by Heather Cassell
When the job requires you to travel the first thought is, "Score!," but as glamorous as the fantasy of traveling for work is, there's a lot more to it. In today's world safety and security has a lot to do with it.
In a world where natural disasters, accidents while traveling, political upheaval, and terrorism seem to be happening more often, corporations are starting to take notice when their employees are on the road and on the clock.
That's where Erin Wilk comes in. She's one of the few and rare individuals who have become an expert in travel management and safety and is highly coveted by corporations. Facebook recently snatched her up from Bank of America.
Erin stepped into her new role as the social media giant's global travel safety manager at the end of January.
"I haven't run into anyone with a role like mine," she told The Company Dime. "Facebook has lots of brilliant young people willing to take risks, and that's fantastic. But on the managed, corporate side, they needed someone to provide outlines."
Erin knows from personal experience. She's built a career on corporate accountability and care and safety for its traveling employees.
Erin built the travel safety program at Bank of America in 2009 after more than 20 of her company's traveling employees were aboard US Airways Flight 1549, which made an emergency water landing on the Hudson River, in New York. At the time, the financial institution didn't have any policy, procedure, or even technology in place to allow the company to ensure the employees on the airplane were safe or for the employees to alert the company that they were safe, reported Europ Assistance.
At the time Erin was new to the Global Corporate Security division of the bank. She had just moved from the Global Human Resources Staffing team, where she supported the team and executive recruiting. However, the crisis of Flight 1549 opened an opportunity for her.
She urged the bank to put proactive measures in place learning from other institutions that had experienced similar crisis. At the same time, she figured out how to balance employee privacy with corporate needs to demonstrate care and commitment to employees' safety.
During her seven year tenure she developed the Global Travel Safety Program where she became senior vice president of global corporate security, global travel safety program manager at Bank of America. In her position she was responsible for an estimated 60,000 business travelers and more than 130 country destinations.
In the process she became chair of the Global Business Travel Association risk committee, became a member of the GBTA Travel Risk Management Maturity Model Task Force and serves on the Advisory Board for the Global Congress on Travel Risk Management, according to her biography on Global Congress On Travel.
Facebook expects her to create a program for its growing corporation.
Untapped Need?
There are less than a handful of people who even come close to Erin's experience as a dedicated travel safety manager in the corporate world making her a rare gem.
However, companies are starting to seek out experts to manage traveling employees beyond simply booking their flights, hotels and car rentals, which equals opportunity for corporate travel professionals to develop their capabilities on the security side and add value to their role, according to experts.
North American travelers are looking for safety and security when they are flying. A survey conducted by GBTA/Sabre in 2015 found that out of 281 travel buyers who responded, four in five says traveler safety and security would take on a higher priority in the following three to five years, reported The Company Dime.
"It has never been more important and relevant," says Lori O'Connell, who is senior director for travel and meetings at PricewaterhouseCoopers and treasurer of the Association of Corporate Travel Executives at an ACTE event in New York last week, reported The Company Dime. "This is a great opportunity for every travel manager to prove their relevance and value to their organization."
"For most companies, the No. 1 asset is their people," says Lori. "The ability to know where they are, to be able to offer them services and support in the event of a crisis — you just can't place a value on it."
Robert Mintz, who is division manager for corporate relations and global travel at Rotary International and a member of the GBTA risk committee, agrees.
"To be a global travel professional, risk is clearly one of the disciplines you need to have," he says. "There's a lot you can do with it."
Catherine Rigby agrees, unfortunately many companies haven't caught on yet, but she believes, "Risk is everywhere. You need something in place."
She sees the future and is making moves to create a more proactive travel risk management program a "bigger part of her job," reported The Company Dime.
"Travel management is my forte," says Catherine, CFA Institute global travel program manager and GBTA risk committee member. "Travel risk is kind of new for our organization. We have had more of a reactive program than a proactive program."
She's recently hired a new compliance officer who will be the risk officer.
From her perspective company's needs for travel risk management is an opportunity for someone with an "extensive corporate travel background," she says. But also the role can be molded for a company's needs. It can be a full-time position within a risk department or it can be "subject-matter expert on travel risk."
Stephen Barth of HospitalityLawyer.com agrees.
"I do think there's an opportunity here" for travel professionals, says Stephen, which is why he considers Erin's role as atypical. "Oftentimes this will fall under health safety and environment. But a lot of those folks are not in tune with what goes on with mobile employees."
Book you're next vacation contact Heather Cassell at Girls That Roam Travel in association with Travel Advisors of Los Gatos at 408-354-6531 or 415-517-7239 or at .
To contract an original article, purchase reprints or become a media partner, contact .
Comments
comments