Visionary DOT General Counsel Steps Down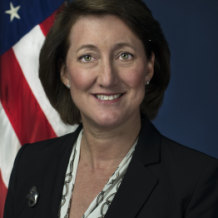 Katie Thompson, One Of The Original President Barack Obama Appointees To The Department Of Transportation Is Stepping Down As General Counsel
by Heather Cassell
Katie Thompson, general counsel of the Department of Transportation, is set to step down from her position at the end of May.
During her tenure as one of President Barack Obama's original appointees to the DOT she negotiated key deals winning her praise from her colleagues.
Some of Katie's high-profile wins include managing the development of the historic joint fuel economy/greenhouse gas emission standards for light, medium and heavy duty vehicles; providing legal advice about the ongoing integration of unmanned aircraft systems into the National Airspace System; and helping to guide the negotiations and expansion of international transportation agreements with Cuba and Japan's Haneda Airport, among others, according to the March 15 news release.
"As general counsel, Katie Thomson has played a critical role in virtually every major policy decision over the past three years," says Secretary of Transportation Anthony Foxx. "Whether it was integrating drones into the airspace, improving the safety of crude oil transportation or advancing US aviation priorities overseas, Katie bridged diverse interests to achieve policy victories that will benefit the industry and consumers."
"In her management of 500 legal professionals, she redirected the department's enforcement strategy to focus on more direct and lasting safety benefits," he continues. "I will miss her considerable legal skills, but I will most miss her tenacity, unflappable nature and sound judgment."
Former Secretary of Transportation Ray LaHood agrees, adding.
"One of my most trusted advisers, Katie Thomson spearheaded the landmark reform of fuel economy standards that is a cornerstone of the Obama administration's legacy on climate change.  She then brought her hard-nosed yet pragmatic leadership style to the role of chief counsel of the Federal Aviation Administration, where she helped bring our nation's aviation system into the 21st century," says Ray. "I am grateful to Katie for her friendship, good humor and top-notch legal counsel."
Thomson began her tenure at DOT as counselor under Ray's directorship, handling energy, climate and environmental matters. She then served as chief counsel at the Federal Aviation Administration before returning to DOT as general counsel. She is a native of Illinois and is married to Chris Lu, the Deputy Secretary of the Department of Labor.
Book your next adventure, contact Heather Cassell at Girls That Roam Travel in association with Travel Advisors of Los Gatos at 408-354-6531 or 415-517-7239 or at .
To contract an original article, purchase reprints or become a media partner, contact .
Comments
comments