Brain Freeze! Museum Of Ice Cream Comes To San Francisco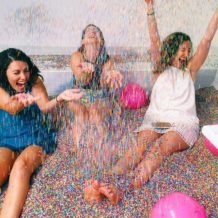 Get Ready To Dive In, The Museum Of Ice Cream Announced It's Coming To San Francisco Sprinkle Pool And All
by Heather Cassell
San Francisco is the next stop on the ice cream trail for the immensely popular pop-up Museum of Ice Cream organizers announced Tuesday.
The museum will set up its famed sprinkle pool, banana room, at 1 Grant Avenue in the former Emporio Armani boutique in Union Square, according to media reports.
The museum comes to the foggy city during its "summer" in September. Tickets will go on sale in August, reports Eater San Francisco.
The Museum of Ice Cream Founder and Creative Director Maryellis Bunn promises the experience will be completely different from its sold out shows in New York (where it premiered) and Los Angeles.
She plans to make use of the historical space and that the museum will feature "immersive installations, smells and flavors never seen before," she says in a news release August 1.
The sprinkle pool will be "completely reimagined," she adds.
Of course, there will be plenty of ice cream for attendees to enjoy.
Book your getaway to San Francisco with Girls That Roam Travel. Contact Heather Cassell at Girls That Roam Travel at 415-517-7239 or at .
To contract an original article, purchase reprints or become a media partner, contact .
Comments
comments