Botswana Is Sixth On Our List Of Countries To Explore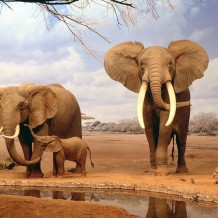 by Heather Cassell
Africa can't boast of too many countries that are economically stable and have preserved its natural resources, but Botswana has accomplished both of these feats in its first five decades of independence. This year the southern African nation smack dab in the middle of South Africa, Namibia, and Zimbabwe turns 50. It is one of the last places to see the Big Five of the traditional African safari: elephant, lion, buffalo, leopard, and rhinoceros not to mention it's the site of the Okavango Delta and the Kalahari Desert, which is why UNESCO designated it a World Heritage site in 2014. For outdoor enthusiasts Botswana should be another bucket list destination.
Botswana is an English speaking nation and bonus Americans and Canadians don't need a visa to travel to this African nation.
Who to Travel With: Our friends at Wild Rainbow African Safaris of course. Jody Cole is on her way to being Africa's only American woman to earn the top safari guide certification and she's a former debutant. We guarantee you will have an extraordinary time with Jody.
Book your next adventure with Girls That Roam Travel. Call Heather Cassell at Girls That Roam Travel at Travel Advisors of Los Gatos at 408-354-6531 or directly at 415-517-7239 or email at .
To contract an original article, purchase reprints or become a media partner, contact .
Comments
comments