Be Beach Glamourous With Beach Glam's Ama Addae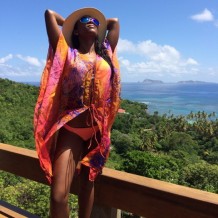 Ama Addae, Founder of Beach Glam, Chats With Girls That Roam About Her Inspiration, must-have beach and travel gear, and what a beach glamorous traveler Looks Like
by Liyana Jamil, GlamourousTraveler.com
I was quite taken by the bright colors and cool groupings for the different product bundles and how Beach Glam can also be individualized for each traveler. Beach Glam is an online boutique that sells beachwear bundles comprising of beach bags, hats, kaftans, sarongs, and accessories, including jewelry. The kits are pretty much a one size fits all bundle.
In getting ready for beach season, Girls That Roam wanted to find out how to look fabulous on the beach but what a beach glamorous traveler is, so we chatted with Ama Addae, who founded Beach Glam, about her inspiration, must-have beach gear, and what a beach glamorous traveler looks like.
Ama is no stranger to traveling. She's been hitting the road with her family from Trinidad, where she was raised, to spending summers with family in London, Montreal, and New Jersey since she was 10 years old. She started checking off her dream destinations traveling to distant and exotic locations when she was 19 years old. She's been to Macau, Monaco, Portugal, Spain, St. Vincent and the Grenadines, Thailand, Zanzibar to count a few of the exotic locations she's ventured to.
In between all of her travels, she earned her masters of business administration from New York University Stern School of Business, Ama decided to merge her two passions: fashion and travel, which birthed Beach Glam in 2013.
Girls That Roam: How did you come up with the idea to start Beach Glam?
Beach Glam: I developed Beach Glam after noticing while on vacation with friends that many of them didn't wear beachwear since the beautiful, quality beachwear usually is quite expensive. Also, the time it takes to put together an outfit can become discouraging. Hence, the Beach Glam bundling idea solved both of these issues. It makes it easy to purchase an entire beach outfit from one store which saves time. Additionally, buying multiple items makes it more inexpensive relative to purchasing individual items from multiple stores.
GTR: Your pre-selected and custom bundle beach wear and accessories spans quite a few destinations (Bali, Beverly Hills, Bodrum, Bora Bora, Marrakech, Playa del Carmen, Santorini, etc.), how did you draw inspirations from each of these destinations to incorporate into your bundles?
BG: I love to travel and [I] love to read about exotic destinations. Watching travel shows and reading travel magazines, I get a sense about a place: its style, architecture, cultural influences. If I haven't been to a specific place, I usually choose one photo from the destination and study it carefully to draw my inspiration when curating the pre-selected bundles. For example, I have never been to Marrakech, but I looked at photos of hotels, cities, famous buildings there and decided on the black, grey, and silver color palette. However, since Beach Glam is beachwear I didn't want the look to become dull; hence I added mint colored crystal earrings to add a pop of color to the look.
GTR: Out of all of these destinations and others you have traveled to which has been your favorite stylish location?
BG: My favourite stylish destination has to be Beverly Hills. It is one of the most opulent places I have ever been to. It has aspects of elegance coupled with excessive glamour that I must admit resonates with my personal style.
GTR: What is your image of a Beach Glamourous Traveler?
BG: A beach glamorous traveler is not necessarily just what someone wears on the beach, but also their behaviour. I imagine this person dressed impeccably with head-turning clothing and accessories. However, I also imagine them being confident and regal.
GTR: What would you suggest is a glamorous look for non-beach goers?
BG: Glamour is about confidence, whether it is a statement necklace for women with a plain colored, simple dress or nice dress shoes for men that pull together their entire outfit.
GTR: What would you suggest is a fail-safe travel outfit?
BG: A fail-safe travel outfit has to be comfortable chic, meaning that it has to be comfy clothing with chic accessories: nice shoes, watch, bracelet, ring, etc…
GTR: You recommend a few accessories as staples in your Beach Glam bundles, for example, a bag, headwear, sarong, etc., what other things would you suggest are must-haves to look glamorous on the beach?
BG: Other must-haves are sunglasses, beautiful sandals, and those asymmetric cut monokinis. They are stunning!
GTR: The Beach Glam bundles come in a variety of color tiers, such as Bronze, Gold, and Silver, in each tier a caftan is included, how would you suggest dressing the caftan up or down to be used off the beach?
BG: To dress the caftan up, I would suggest wearing it with a slip and wearing it as a dress. I would pair it with bold jewellery pieces, high heels, and a rhinestone clutch. It is perfect to wear for dinner or date night with your husband, boyfriend, or girlfriend. To dress the caftan down, I would suggest wearing it with jeans and ballet slippers. I would tuck the bottom of the caftan into the top of your jeans. I wouldn't suggest wearing any flashy jewellery since the beading on the caftan is enough. This is perfect to wear for brunch, or walking around with friends.
GTR: What type of advice would you give to someone who wants to travel stylishly?

BG: My must-have for travelling stylishly isn't clothing, it's the suitcase. I would suggest they invest in a quality duffle bag or carry-on luggage set. Nothing says stylish traveler than someone whose luggage is stylish.
GTR: What is next for Beach Glam? Are there any expansions in your future, such as a swimwear line or non-beachwear?
BG: We are exploring the possibility of a swimsuit line, but with basic items that would complement our Beach Glam offerings. Head scarves are also on our radar. Lastly, we also are looking into creating a Beach Essentials toiletry kit with cool items such as sunscreen, which also is a bug-repellent. How many times has someone brought bug repellent but not sunscreen and vice versa? Beach Glam is all about solving beach travel problems from fashion to function.
To get more beach glamorous tips, follow Beach Glam on Facebook at www.facebook.com/BeachGlam or at Instagram @beachglam1.
Originally published by GlamourousTraveler.com.
Book your next beach vacation with Heather Cassell at Girls That Roam Travel in association with Travel Advisors of Los Gatos at 408-354-6531 or 415-517-7239 or at .
To contract an original article, purchase reprints or become a media partner, contact .
Comments
comments