The Lure Of Paris, A Bohemian Artists' Life, And A Love Story Is A Backdrop To The Art, Dance, And Music
by Heather Cassell
It was a magical evening from the moment the curtain rose revealing the art deco, cubism, modernism, postmodern images paired with jazzy rifts that took me to a place and time in history, post-World War II France.
A time of artistic experimentation, a time of hope in a war-ravaged and hungry city searching to have its light to shine once again.
Then the ballerinas swept me away into classic scenic sketches of Paris in the 1950s as the story of a former American G.I. and aspiring painter Jerry Mulligan (played by Robert Fairchild on Broadway) falls in love with a French shop girl and aspiring ballerina Lise Dassin (played by Leanne Cope). Unbeknownst to him, Lise is his best friend Henri Baurel's (played by Max von Essen) fiancé. Lise also has another admirer, the narrator of the Jerry's and her love story and the story of struggling artists in Paris, composer Adam Hochberg (played by Brandon Uranowitz), in the Tony-Award winning Broadway show, "An American in Paris."
Girls That Roam saw "An American in Paris" on Broadway in New York. The must-not-miss show is currently in San Francisco until October 8 for its United States tour.
The musical's next stops include Salt Lake City (October 10 – 15), Nashville (October 31 – November 5), Washington, DC (December 12 – January 7, 2018), New Orleans (January 30 – February 4, 2018) among other destinations and dates into 2018.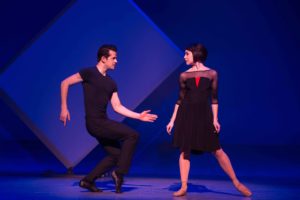 "An American in Paris" is visually and audibly rich to the point that you feel like you have taken a time machine to post-World War II Paris and are a part of the lives of the lovers and artists.
The musical that incorporates ballet and a stunning set design based on Vincente Minnelli's 1951 Oscar-Award winning movie starring Gene Kelly, who played Jerry, and Leslie Caron, who played Lise.
Some artistic licenses were taken in the musical. The movie was solidly set in the 1950s, where the musical sets the story right after the World War II ends with sketches of the city's streets depicting Paris crippled by the brutality of bombs and guns and filled with food lines filling in the grey backdrop. In the movie, Lise is a perfume shop girl and in the musical, she is an aspiring ballerina. The production is as much a musical as it is a celebration of dance with ballet the centerpiece. Jerry's friend Adam plays a more central role narrating the story.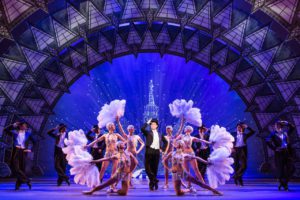 The cast of professional ballet dancers set to George and Ira Gershwin's score pirouetting across the stage under choreographer and first-time director Christopher Wheeldon's direction with seven-time Tony-Award winning costume and set designer Bob Crowley's costume and set designs makes "An American in Paris," a spellbinding magical experience where art, dance and music flow and weave around each other with silky smooth perfection.
It's a gorgeous production that leaves the audience applauding for more. It's no wonder why it was nominated for 12 Tony Awards and won four of theater's most coveted statues.
The show is so sensually stunning that Girls That Roam nearly forgot there was a story.
Book your next romantic getaway to the Caribbean with Girls That Roam Travel. Contact Heather Cassell at Girls That Roam Travel at 415-517-7239 or at .
To contract an original article, purchase reprints or become a media partner, contact .
Comments
comments