Girl Roamer Nicole Takes A Step Off Of The Well Trodden Tourist Path To Discover Santo Domingo, Dominican Republic
by Nicole Clausing
As I dig my toes into warm Caribbean sand and take another sip from the straw sticking out of the fresh coconut in my hand, I review my trip so far: In three days in the Dominican Republic, I've sipped rum, eaten gourmet food, splashed in the Caribbean Sea, strolled a World Heritage site, frolicked at a rainforest waterfall, and had the chance to gamble at a casino. I take another sweet swig, lie back, and let a smug thought momentarily take over:
Good thing I'm not acting like a typical tourist.
The DR is a delightful oddity in many ways. For one thing, it has a roommate, sharing the island of Hispaniola with its French-speaking neighbor, Haiti. It's also home to unexpected geographical extremes, including the Caribbean's largest lake (145-square-mile Lago Enriquillo) and highest mountain (10,164-foot Pico Duarte). Perhaps strangest of all, though, is the fact that the country's tourism scene is so dominated by the all-inclusive resorts that dot the eastern and northern shores that traveling to literally any other part of the country qualifies as straying from the beaten path. That's right; in the Dominican Republic, you can lie on a beach or walk the streets of the Caribbean's largest city and never cross paths with most of the tourists you flew in with.
Santo Domingo
It's hard to believe that a path less traveled could possibly lead to a city of almost a million people, but that's how it is in the Dominican Republic. Most visitors bypass the city entirely, flying into the resort district of Punta Cana. Many that do fly through Santo Domingo's Las Américas International Airport (SDQ) still skip over the capital city and head directly to one of many coastal resorts. This is a shame because while Santo Domingo—a hot, gritty, sometimes unruly city—is hard to love unconditionally, it has a lot to offer and deserves more than the rear-view mirror glance many travelers to the Dominican Republic give it.
Santo Domingo stood in for Havana in the 1974 film The Godfather: Part II, and, politics aside, the two cities do have a lot in common. Both are large Spanish-speaking ciudads with an iconic seaside promenade. Both are colorful, but in need of a good coat of paint. Both are among the oldest cities in the New World, and both have preserved large swathes of Colonial architecture. And finally, both are lively places with lots going on to keep visitors entertained after dark.
I discover a surprisingly good dining scene in Santo Domingo. Indeed, the hotel I stay in, the Renaissance Santo Domingo Jaragua Hotel & Casino (George Washington Avenue 367, Apto. Postal 769-2, Santo Domingo 769-2, Dominican Republic; 1-809-221-2222; Marriott.com/hotels/travel/sdqgw-Renaissance-Santo-Domingo-Jaragua-Hotel-and-Casino), has a fabulous food program. Everything I eat there is good, from a room-service burger I devour on arrival to the fantastic Spanish-Caribbean fusion small plates served at the Luna Tapas Bar & Restaurant. This lobby restaurant is open to the public and well worth the taxi ride if you're staying at another hotel in town.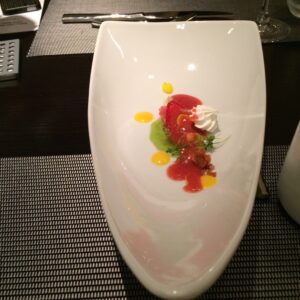 The Renaissance's Venezuelan executive chef Marco Sanchez trained in restaurants all over the world prior to ending up in Santo Domingo, so he seems like just the kind of worldly guy I should ask for further dining recommendations. He tells me that as the chef at a small-plate establishment, he is partial to Lulú Tasting Bar, in the Colonial Zone (Plazoleta Padre Billini, 1-809-687-8360, Lulu.do/en.) Like his own Luna, Lulú serves excellent tapas and cocktails. He also highly recommends Pat'e Palo European Brasserie (Calle La Atarazana 25, 1 809-687-8089, PatePalo.com), a Colonial Zone brasserie serving an eclectic selection of fusion dishes showing influences from just about every continent.
Life of the Night
What to do after dinner? Santo Domingo has plenty of nightlife. Avenida Venezuela is a bar and restaurant corridor that's lively during the week and raucous on weekends.  The Colonial Zone is a happening place, too. Café de Teatro (Arzobispo Meriño 110; 809-688-8173, Facebook.com/Casadeteatro) is a fine place to take in live jazz in the courtyard of the 100-year-old Casa de Teatro. K de Café (Calle Arzobispo Meriño 409, 809-682-0763, Facebook.com/pages/K-de-Cafe/894049040645922) is a similarly calm eye in the Colonial Zone storm. Relax on the outdoor patio or see live music inside during many evenings. If you're looking for something a little louder, well, just let your ears guide you. Bachata Rose (La Atarazana 9, 809-682-7726) is a fun place to start—with three floors of entertainment, including a Caribbean restaurant, it could hardly fail to please.
If you're really determined to stay out late, patronize a bar or club in a hotel that has a casino. These establishments are exempt from standard last-call rules, and often stay open until 6 a.m. Mint, at the Hotel Napolitano (Avenida George Washington #51, 809-687-1131, Napolitano.com.do), is a thumping club with a young clientele. The associated casino, El Napolitano, is fairly bustling place, too, with 40 slot machines and 16 gaming tables. If gambling is your primary reason for staying out late, visit Renaissance Jaragua Casino. It's the biggest casino is the city.
Unusual for the Caribbean, Santo Domingo has a thriving gay nightlife, with numerous bars and clubs catering to an LGBT clientele. I watch a fun drag show at Fogoo Discotec one night (Calle Arzobispo Nouel #307, 829-418-0033, Twitter.com/FogoorD), and drink Presidente beers under a disco ball at Esedeku (Calle Las Mercedes #341; 809-763-8292; Facebook.com/esedeku.barlounge?fref=ts). Both places are far from the furtive speakeasy-with-a-secret-knock kind of hideaway I expect to find, and this relative openness is yet another pleasant surprise dealt by the city.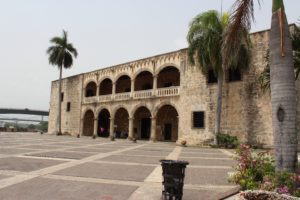 Ciudad Colonial
I'm sure Santo Domingo must have something going on to hold my attention during daylight hours, so I venture to the city's Ciudad Colonial, often called the Zona Colonial, or Colonial Zone. I am immediately struck by the area's resemblance to the historic areas of Havana and San Juan, Puerto Rico, but this place somehow feels even older. My gut feeling turns out to be right: Santo Domingo was founded in 1496 by Christopher Columbus' little brother, Bartholomew, making it the oldest continuously inhabited European settlement in the Americas. (This whole quarter of the city is now a UNESCO World Heritage Site.)
Like many visitors, I familiarize myself with the city by taking the Chu Chu Colonial (Calle El Conde #60 ; 809-686-2303; ChuChuColonial.com), a narrated tram tour that chugs past the main sights over the course of about 45 minutes. I find the experience itself underwhelming—the tram cars are cramped, and there is much knocking of strangers' knees. The narration is hard to hear in back, and the train stops a maddening number of times due to the choked traffic on narrow streets. Still, it's a good way to get an overview of the terrain, and definitely whets my appetite to explore more on my own.
Strolling through the zone, I pass coral-brick buildings, some in ruins, some restored and stuccoed in cheerful tropical colors. It seems like every one has a plaque stating which Viceroy first lived there, or what important treaty was signed within its walls but they're mostly in Spanish and it's very hot and…well, I confess I don't read them all. I'm more in the mood to let the atmosphere of the place wash over me.
I try to imagine men in doublets and feathered hats walking the brick-paved alleyways, and if I ignore the tangles of electrical wires overhead and tune out the throngs of locals chatting on cell phones, I can just about conjure up a glimpse of the New World in its infancy.
The illusion is particularly easy to maintain at the oldest and grandest of the Colonial Zone sites, like the Cathedral of Santa María la Menor, whose construction started in 1512. (It's located between Calles Arzobispo Merino and Isabel la Católica.) And at the Alcázar de Colón (on the Plaza de España) you really can say you're walking in the footsteps of Columbus, dubious though that honor may be. The fortress was built for Christopher's son, Diego Colón beginning in 1510, and it's not even the oldest surviving building in town. That would be the otherwise nondescript Casa De Tostado, built in 1503. (Corner of Calle Arzobispo Meriño and Padre Billini.)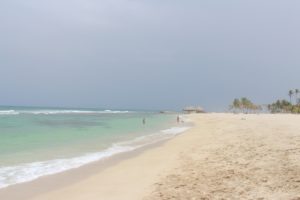 Beach, Please
On my last full day in the country, I indulge myself with an afternoon at Juan Dolio Beach. It's about a 40-minute van ride directly east from downtown Santo Domingo. When we arrive, the beach is strangely deserted. True, it's a slightly overcast day, but it's a hot Saturday morning during the summer travel season, and I expect more beach-goers. Happily, they never materialize, and the group I'm traveling with has the place to itself.
Juan Dolio isn't the prettiest beach in the Caribbean, but most of Northern California would kill for a beach this second-tier. So the sand isn't white; it's just plain old sand colored. Maybe it isn't perfectly fine either, but studded with bits of coral and shell. Who cares? The water is clear and refreshing without being cold. The waves are just big enough to allow for some low-key body surfing without being scary. Best of all, it's ours, and it's an easy trip from our hotel. And at the end of the day, we return to an exciting city, not a secluded resort where we would see the same 200 faces all week long.
There are plenty of other beach options on the coast near Santo Domingo. Boca Chica beach is actually closer to the city than Juan Dolio, which has advantages (more food options, better towel- and beach-chair rentals) and disadvantages (crowds). The water is calm, making this a good option for families with small kids. Playa Guayacanes is generally considered the prettiest of the local playas, and comes with its own charming beach town, also called Guayacanes. It's located right between Juan Dolio and Boca Chica. Just east of Guayacanes, Playa Caribe develops some actual wave action most afternoons. Don't expect to hang 10, but the boogie boarding is decent. Finally, if you're a diver of any kind, make time to get out to Catalina Island, which is a mile off the mainland at a spot about halfway between Santo Domingo and Punta Cana. You'll be rewarded with crystal-clear water, coral reefs, and lots of opportunities for both snorkeling and scuba diving.
To get to any of these beach destinations, the easiest way is to hire a taxi. This could cost as much as $50 (2,292.50 Dominican pesos) from Santo Domingo, but you'll probably find it's worth a lot to leave the driving to the locals. If you're more adventurous (or frugal), take a guagua bus that travels between the city and the beaches of Boca Chica and Juan Dolio. This shouldn't cost more than $10 (458.50 DOP) round-trip, but of course the ride will be a little rough and it helps to speak good Spanish. Buses line up at Parque Enriquillo, just north of the Colonial Zone.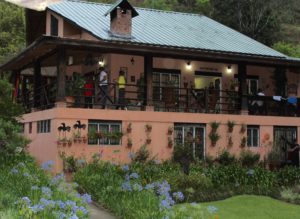 Taking the High Ground
The Dominican Republic has a lot to offer inland, as well, much of it overlooked by visitors. During my trip, I'm lucky enough to get the chance to venture into the hills of the La Vega district.
Getting to this central part of the island from Santo Domingo takes about three hours, part of it on a surprisingly smooth and modern highway, but part on twisty mountain roads. Our destination is in the town of Jarabacoa. This place is about 1,700 feet above sea level, and surrounded by still higher peaks. It's green, rural, and cool, and temperate crops like apples and strawberries grow here. It looks like a different world, and hot, honking Santo Domingo feels even further away than it really is.
We (the group of about 15 that I'm traveling with this day) stop at Rancho Jarabacoa (Sabaneta, Jarabacoa 20092, Dominican Republic, 809-222-3202, RanchoJarabacoa.com), an adventure activity center, for snacks and some hard decisions: Will it be trekking or white-water rafting today? In the heat of Santo Domingo, I'd been leaning toward rafting, but up here in the mountain air, I reconsider and choose hiking, especially since the trip's description has been downgraded from "mountain hiking" to "nature walking."
The walk is guided by a Rancho Jarabacoa staffer and is a little harder than I expected. I still manage to work up quite a sweat trudging uphill along dirt roads. I do spot some great birds along the way, including a peregrine falcon, lots of Hispaniolan woodpeckers, and even a peacock. (I'm pretty sure that last one was someone's pet, but my birding heart is still tickled.) The hike ends at the delightful Salto Jimenoa, a nearly 200-foot waterfall reached via a series of gently swaying rope bridges. Sometimes you can swim here, but I am visiting during a dry year, and it's too shallow to be inviting.
We're met by a driver and given a ride back to the ranch. By now it's late afternoon and we are taken to nearby Villa La Pasarela (829-910-4321, VillaslosTresCorazones.com/en/La-Pasarela) for an early dinner before our long drive back to the city. I compare notes with the white-water rafters, and find that they have gotten a lesson on what adventure activities are like in countries outside of the lawsuit-happy United States.
This expedition was no bob down the river. There were serious rapids, and the rafts overturned several times. One older man spent several tense minutes trapped in an air pocket under a capsized raft before anyone could get back upstream to help him. And one unfortunate swallowed so much river water that he later regurgitates it at an emergency pit stop on the way home. No one actually seems to wish they'd gone birdwatching with me instead, but all wish they'd understood earlier that this was no American-style excursion where all possibility of danger is safety-belted and regulated away.
I'm glad I didn't risk losing my dinner because the meal at Villa La Pasarela is amazing. It's prepared by teenagers and young adults from the area who are part of a program aimed at teaching job skills to area youth. The young staff make some (entirely forgivable) service goofs, but the kitchen staff wildly exceed my expectations. They send out course after course, first pumpkin soup, then a salad with citrus dressing and queso fresco. This is followed by a choice of Creole chicken or goat stew. Dessert is rice pudding with some of those local strawberries. The meal is so ambitious and sophisticated that I realize that once again, I have completely failed to anticipate what this so-called beach destination can deliver.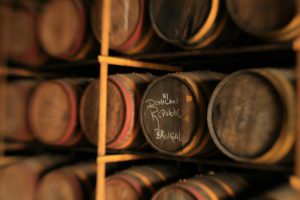 The Three Bs of Rum
If I have one regret about the trip, it is that I do not have the time to make a pilgrimage to any of the three sites that put the Dominican Republic on the map for me, and those are the three major rum distilleries on the island.
Like many Americans, I thought for years that rum was a clear liquid that is toxic unless neutralized by large quantities of Coke. A bottle of aged Dominican rum at a tiki bar in Northern California several years ago changed all that. This was different. It was amber colored, and there was no nail-polish remover scent. It smelled like vanilla and caramel, and went down warm and rich and smooth, not unlike bourbon.
If I had the time, the first place I would go would be the Brugal Distillery (Carretera a Playa Dorada, Puerto Plato; 809 261 1888, Brugal.com.do), on the island's northern coast. The tour itself is not much—a few minutes overlooking the fermentation tanks with a brief explanation of the distillation process followed by a complimentary tasting. But I would find it worthwhile to see where it all began for me, as it was a bottle of Brugal 1888 that opened my eyes.
Second on my itinerary would be Centro Histórico Ron Barcelóv (Carretera Ingenio Quisqueya, Km 6 1/2, San Pedro de Macorís, 809-948-4160, VisitronBarcelo.com/home/en#tour). This is the site of the Barceló distillery. Just 50 or so tantalizing miles east of Santo Domingo, this distillery offers an engaging tour and tasting experience. Reserve ahead of time at the company's English language website to ensure that you are placed on an English-speaking tour.
Given the time (and a designated driver), I would make one final stop at Bermúdez (Calle Domingo O. Bermúdez No. 1, Reparto Bermúdez Santiago, 809-620-1852, RonBermudez.com/home), the last of the Three Bs of Dominican rum. It's located inland from the northern coast, so call before you head for the hills to ensure that tours are offered the day you plan to visit.
I can't waste too much time regretting what I don't get to see. It's good to have a reason to return, and rum, at least, is a bit of the Dominican Republic that I can enjoy at home. And when I get back to California, that's exactly what I'll do: Crack open a bottle of Barceló Gran Añejo purchased at the airport and raise a toast to the sweet, profound, and ever-surprising Dominican Republic.
Book your Caribbean escape today with Girls That Roam Travel. Contact Heather Cassell at Girls That Roam Travel in association with Travel Advisors of Los Gatos at 408-354-6531 or 415-517-7239 or .
To contract an original article, purchase reprints or become a media partner, contact .
Comments
comments