Hartsfield-Jackson Atlanta International Airport Went Dark Sunday Afternoon Diverting And Grounding All Flights Causing Major Headaches For Travelers Around The World
by Heather Cassell
As darkness descended upon Hartsfield-Jackson Atlanta International Airport the world stopped at the busiest airport in the world.
The power outage affected more than 30,000 people. More than 1,000 departing flights were canceled, diverted many domestic and international flights to other airports, 100 planes stranded for hours on the tarmac, reported ABC News, and thousands of travelers were stranded the entire day at the airport and airports around the country.
People's worse travel nightmare started at 1:06 p.m. Eastern Standard Time when a fire that broke out in a Georgia Power underground electrical facility spread affecting the entire airport December 17, reported CNN.
Atlanta Mayor Kasim Reed tweeted in an update on the situation that there was no evidence the fire was deliberately set.
However, the cause of the fire is still under investigation, the power company's spokeswoman Bentina Terry told CNN.
Power was restored to all essential airport facilities at 11:45 p.m. local time, Georgia Power announced via Twitter.
During the outage, Atlanta police attempted to get everyone out of the airport and asked travelers not to come to the airport, reported ABC News.
Flights
The Federal Aviation Administration declared a ground stop at the airport, preventing Atlanta-bound flights at other airports from taking off and diverting inbound flights enroot to Atlanta diverted to other airports, according to media reports.
Delta Air Lines, which operates one of its biggest hubs out of Atlanta; Southwest Airlines, which is the second-biggest carrier out of the airport; and American Airlines canceled outbound and inbound flights Sunday into Monday morning.
The airlines estimated flights will resume normal operation by Monday afternoon local time.
Atlanta's international airport is the busiest in the world. According to Airports Council International, Hartsfield-Jackson Atlanta International Airport served more than 104 million passengers in 2016, reported the New York Times.
Flights to 150 domestic destinations and more than 75 international destinations in 50 countries jet out of Hartsfield-Jackson Atlanta International Airport, reported ABC News.
A day-in-the-life of the airport 275,000 passengers pass through its terminals and manages about 2,500 arriving and departing flights daily.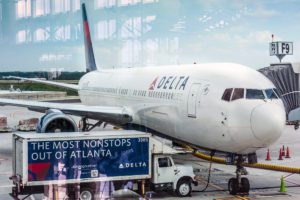 Blackout
Georgia Power started noticing outages in the power system at 12:38 p.m. local time. They traced the fire in the underground tunnels where the airport's electric system lives, reported CNN. The fire damaged two substations, including a backup system that provides power to the airport in emergencies, according to media reports. The fire caused multiple faults that led to the full blackout at 1:06 p.m. The intensity of the fire prevented Georgia Power crews from accessing the tunnels to immediately extinguish the blaze and work to restore power. Crews contained the fire by 3:30 p.m. They then went to work to restore power to the airport, reported the media outlet.
Ann Mason, who was traveling to South Bend, Indiana, evacuated from Terminal D after the black smoke got bad, she told ABC News.
"I decided to leave the building," rather than go to Terminal C, which was her other option.
When the lights flickered out and the darkness descended upon the airport, travelers were left in the dark – literally and figuratively. Communication channels were also affected from overhead speakers being out to spotty internet and cellular service slowing internet and Twitter updates.
"There were a few emergency lights on, but it was really dark — felt totally apocalyptic," said Heather Kerwin, an Atlanta resident bound for New York told CNN. "I decided to get the hell out of there."
While she got out many others were either stuck for up to seven hours on the tarmac or settling in for the long and unexpected layover at the airport. People didn't know what to do and basic amenities powered by electricity stopped working at the airport.
Authorities from various local and federal agencies tweeted out updates to get messages out to travelers, but it was far from perfect.
Furthermore, people told the Times that there weren't any rooms available at hotels in the city and the message didn't get out to people that the city opened the Georgia International Convention Center, which could hold up to 10,000 people, with free shuttles to transport them to alleviate the situation at the airport. Convention center security staff said that only about 50 people arrived, and they weren't expecting many more travelers.
Some temporary relief was delivered to stranded travelers at the airport by Atlanta-based fast food chain Chick-fil-A, which delivered free food, the mayor said, reported the Times.
Out on the tarmac, people patiently sat in their seats even as snacks and water began to be rationed.
Jenny Bloom, who was on a flight from Florida that landed around 2:30 p.m., said that the pilot announced, "he thinks we're better off here on the plane than going into the terminal because the power is out and nobody can get out," she told ABC News around 6:30 p.m. local time.
She said people were "doing fine" and were "staying pretty calm and it's been fairly quiet."
"You know, all things considered, I think they're handling this really well," said Jenny.
Others echoed Jenny's experience.
Order prevailed, despite the circumstances, Jodi Green told CNN. Her flight from the Bahamas landed at 1:15 p.m. local time, minutes following the blackout, Sunday. Like Jenny, seven hours later she was still in her seat aboard the plane.
"People are calm, laughing, joking," she said. "I'm amazed I've been able to sit here and not lose my mind."
Book your next romantic getaway to the Caribbean with Girls That Roam Travel. Contact Heather Cassell at Girls That Roam Travel at 415-517-7239 or at .
To contract an original article, purchase reprints or become a media partner, contact .
Comments
comments