For Two Decades, Women Tours Has Given Women Hitting The Road A Whole New Meaning
by Heather Cassell
Imagine cruising along distant coasts as waves kiss the sandy shores, crossing over bridges, and peddling through rolling hills filled with fragrant fields and vineyards and doing it all with your best gal pals and new friends.
Women Tours has been doing just this for 20 years. Two decades after its first trip, the company continues to grow five to 10% annually offering more than 50 tours around the world and across the United States that sell out every year, says Jackie Marchand, president of Woman Tours.
Jackie's goal at Woman Tours is to take all of the "what ifs" and replaces it with "I cans."
"We make it really easy for people to travel," says Jackie, who often has two guides and a van traveling with each tour. "We've gotten a lot of women who have never traveled anywhere and they start traveling with us."
The women-only cycling travel company takes groups of up to 14 guests – women from their 30s to their 80s, with the median age being 56 – per adventure all over the world.
"I feel like we help get more women get on their bicycles," says Jackie.
On average one woman hops on her bike to commute compared to every three men who do the same thing in the U.S. Across the pond in London that number is dramatically different. In London, men dominate in cycling by 77% compared to 5% of women who consider themselves frequent cyclists, reported Slate.
However, women love biking and love Woman Tours once they take one trip.
"We have so many women who come back year after year," says Jackie, whose biggest group of people booking trips with Woman Tours is returning guests. "They bring a lot of their friends back with them when they come back with us. They tell their family and friends all about their trip and that they had so much a good time with us."
This past summer she honored four women who traversed the United States in four tours with Woman Tours.
"They will have circumvented the entire country on their bicycle with us: the Southern Tier, Atlantic Coast, Pacific Coast and the Northern Tier," says Jackie. "That's quite an accomplishment."
One of her favorite parts of her job is watching women take on those challenges, grow and succeed.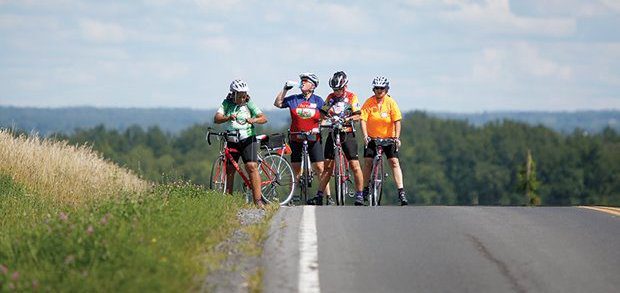 "My favorite part about … our tours is what happens to women on the trips," says Jackie, who enjoys watching the changes in the women's confidence and self-esteem.
The friendship she's seen made between the women is her second favorite part of her job.
"I also love how women make best friends," says Jackie. "They will come back year after year and meet up with women they met on a previous trip. [They] live half way across the country from each other and they just become great friends from doing the trip together."
Word-of-mouth is the next biggest driver for how women find Women Tours. Then finally, women find the cycling travel company online through its website and social media, she says.
Guests keep coming back because Jackie listens to them. She receives requests for new trips all of the time.
"We design new tours every year," says Jackie, who along with her team of 12 attempts to incorporate guests' suggestions into the company's tour offerings. "We have to keep them interested in new trips."
She's added more than 15 tours in 2016 alone. Some of the new destinations women will be cycling through this year are Albania, Croatia, France (new tours), Holland, Morocco, Cape Cod, Route 66, Utah's National Parks, and more. Then there are the tried and true favorites, such as crossing the U.S., riding along the Atlantic and Pacific coasts, Australia, France, Ireland, Italy, and New Zealand to name a few.
"I think that we've been to every continent," says Jackie, even Antarctica. No cycling was involved in that trip, but the group cruised around the chilly continent and got out into the ice hiking and kayaking.
"I just want to do our part in helping expand people's understanding of other people's cultures and religions and the best way to do that is to go meet people in their country," says Jackie, who is very excited about adding Morocco to the tour offerings.
"We've done a tour in Bhutan, which is a Buddhist country, at least five years now," she says about the sold out tour. "It just helps people broaden their understanding and tolerance that there are other kinds of cultures out there, so I hope Morocco does the same thing."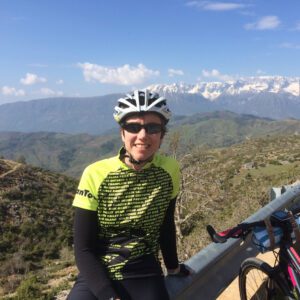 Two Wheeled Addiction
Jackie worked with Gloria Smith, who founded Women Tours in 1995, for a decade when she was the second in charge at Terry Precision Cycling, a women's cycling shop in Burlington, Vermont. The store was sold and relocated from Rochester, New York several years after Jackie took the reins at Woman Tours, reported Bicycle Retailer. Gloria and Jackie worked on joint marketing projects and she was also a Woman Tours guest on several of Gloria's tours.
Being second fiddle was wearing on Jackie. She wanted to be the boss, she says. So, when Gloria mentioned that she was looking to retire from Woman Tours, Jackie, who holds a Master's in Business, jumped at the opportunity and bought the business in 2004.
"It was a good fit," says Jackie, an avid cyclist.
Jackie bought her first road bike in college, and hasn't looked back.
"I would just take the bike and go up onto any road that I could find and up into the hills," she says, attracted to the "freedom of it," and "the exploration and the adventure."
Jackie loved the "beauty of nature and everything that is around you," she says. "I like that its human powered and it makes you feel tired and it makes you feel good afterwards having the exercise and all the outdoor air. That's just by doing it yourself."
She was all alone exploring those open roads and had no clue there were other women who were just as avid about cycling as she is.
"I didn't know other people liked to do that. I just thought it was just me," Jackie says.
It wasn't until she headed to New York for graduate school that she discovered there were other people who were just as enthusiastic about cycling as she was. She joined a cycling club that rode around Central Park.
"There's a lot more people on their bikes in the city and they don't drive cars," says Jackie, who enjoyed meeting other cyclists. "There's the whole camaraderie side of it when you are doing it with other people that's really fun."
She also appreciates the multiple benefits cycling provides from protecting the environment by reducing traffic congestion and pollution to personal health and wellness.
"It has so many benefits in terms of personal health and obesity," says Jackie. "The more women we can get on them the better off everybody is [and] not just women, but the more people we can get on [bikes]."
An additional benefit for women and one of the keys to the success of Woman Tours is that it not only gets women out onto their bikes and seeing the world, but it also stretches them beyond what they believed they can do.
"We can do more than we could physically on a bicycle," says Jackie. "It's gentle on your joints and on your body, so I think that you can accomplish more than you ever though you could."
"I like how bicycling stretches your limits, especially if you have other people because you will tend to ride faster or further if there are other people with you," she continues.
Loving The Open Road
Travel also stretches people. Subconsciously, Jackie believes that just as she discovered her love for cycling in college, she also discovered a desire for travel during the same period as a French major.
Recalling a moment just before her college graduation in Albany, New York, the president of the school asked her, "What do you really want to do?"
"I really wanted to travel," she replied at the time.
Years later that hasn't changed.
"I still feel like I was meant to travel," Jackie says.
To book your Woman Tours adventure, contact Heather Cassell at Girls That Roam Travel at Travel Advisors of Los Gatos at 408-354-6531at .
To contract an original article, purchase reprints or become a media partner, contact .
Comments
comments