A Variety Of Women And Women-Themed Performing To Visual Arts Shows and Exhibits Are On Display Throughout New York This Summer
by Heather Cassell
It's a girl's world in New York this summer, at least on the stage and in the galleries and museums.
Broadway has gone to the girls with nearly 30 female-dominated and themed musicals and plays packed with girl star power: Glenn Close, Janeane Garofalo, Laura Linney, Laurie Metcalf, Elizabeth McGovern, Bette Midler, Cynthia Nixon, Lili Taylor, and Celia Weston.
The visual arts women abound with more than 25 exhibits throughout the city.
While some question if women should be clustered into all-women exhibits or wonder if women-led performances and the arts can be money makers, all we have to do is point to the history-making blockbuster "Wonder Woman" which broke box office records grossing more than $100.5 million in the United States and $223 million globally opening weekend. The move had a bigger opening weekend than any other woman-directed movie ever.
It's nice to see women on top for a change at least in entertainment. Women shine on stage and on the canvas through the end of July in New York. Only time will tell if 2017 goes down in history as the "Summer of Women" or if this momentum builds into real power all the way to the Oval Office.
In the meantime, women in the arts should bask in the spotlight and girls to women should be inspired by seeing themselves reflected on stage, canvas, and photographs.
Raising The Curtain
Bette and Glenn make Broadway shine with their performances in the revivals of "Hello, Dolly!" and "Sunset Boulevard."
Bette plays Dolly Levi in the revival of "Hello, Dolly!," the original half-a-millionaire matchmaker, to much fan-fare and rave reviews. I don't think much more needs to be said, it's Ms. Divine.
Glenn revisits her Tony-award winning turn as Norma Desmond in "Sunset Boulevard." Andrew Lloyd Webber's musical about a faded, silent-screen goddess Norma and broke screen-writer Joe Gillis, played by Michael Xavier. Norma talks Joe into writing her come back performance before the cameras. The scheme doesn't go according to plan making for a dramatic ending.
The musical "War Paint" is the story about early 20th century cosmetics titans Helena Rubinstein, played by Patti LuPone, which her company was bought out by L'Oreal in 1988, and of Elizabeth Arden, played by Christine Ebersole, of the company that maintains Elizabeth's namesake. The women defined beauty standards as they built their international empires, but there were also fierce competitors who never met, despite living and working in the same neighborhood. That competition between them would span half a century and "give birth to an industry that would forever change the face of America," according to the show's description. Reviews have been flat, but it's an informative musical for business-minded women.
"Miss Saigon" and "Chicago" return to Broadway with new casts and rave reviews. Like "War Paint," "Chicago" depicts strong women fighting to get to the top of show business, including killing for it. "Miss Saigon" is the tragic love story between a teenaged Vietnamese girl, Kim, played by Eva Noblezada, and an American G.I., John, played by Nicholas Christopher, that plays out at the end of the Vietnam War in 1975. The one night together changes their lives forever.
Strong female-driven Broadway staples include "Beautiful," is a fun and uplifting story about the singer-songwriter Carol King, played by Abby Mueller; "Wicked," the story about Glinda the good witch of the West and Elphaba, the wicked witch of the East, from Oz; "Sistas," is the story of three African American sisters who learn about the history of being a black woman in America from the 1930s through the 1990s and the woman who helped shape them into who they are today while cleaning out her closet; and "Waitress," the musical based on the 2007 movie about a Southern pregnant waitress married to an abusive husband, but finds the happy ending she wants in creating pies and a newcomer to town.
Disney has taken over Broadway with strong leading female characters Anastasia, about the vanishing Russian princess, and "Aladdin," where princess Jasmine want's something more and finds it with Aladdin.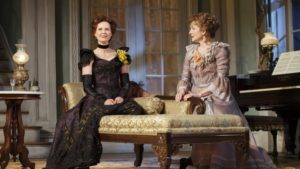 In the way of plays, Laura Linney and Cynthia Nixon in Lillian Hellman's 1900s family drama, "Little Foxes," has been a smash hit since it opened. The play is about an internal family feud of a nouveau riche as the family members clash as they attempt to strike the deal of their lives. Another twist, the stars swap the leading roles Regina and Birdie.
Laurie Metcalf stars as Nora Helmer in "A Doll's House: Part 2," a play about a woman who decides to leave her husband and children to begin a life of her own in 1878. Years pass and part two, Nora returns bringing many questions, such as, "Why?" and "What does it mean to the people she left behind so long ago?"
Janeane Garofalo, Lili Taylor, and Celia Weston star in "Marvin's Room," about estranged sisters, Lee, played by Janeane, and Bessie, played by Lili, who come together after 18-years to attempt to make amends and plan a trip to Disney World.
Amber Tamblyn stars in the comedy, "Can You Forgive Her?," about a girl making poor choices and perhaps finds a way out of her troubles when she meets Graham and Tanya one Halloween night.
Girl talk abounds in the play, "Sweat," which tells the story factory girls who are friends sharing everything – laughs and secrets – over drinks until hard times pit them against each other as they struggle to keep their heads above water.
Three proud and passionate daughters, the Muscolinos, lives diverge as they grow older and secret desires threaten to tear the family apart in the play, "Napoli, Brooklyn." Their world changes with a plane crash and they are all confronted with their conflicting desires.
Coming soon to Broadway are movie favorites old and new, revivals, and new musicals and plays all with women in leading roles.
Theater goers can expect to see revivals of "My Fair Lady" and "Madame Butterfly" while Elizabeth McGovern will star in the revival of "Time and the Conways," about a mother's excitement for her daughter's future at the end of World War I and the twist and turns of life flashing forward nearly 20 years later begging to question the "notion of choice, chance and destiny."
Movie favorites are going to be singing Broadway tunes soon, Disney's "Frozen" from the acclaimed animated movie of the same name about princesses Elsa and Anna is set to open soon along with "Mean Girls," based on Tina Fey's hit 2004 movie that catapulted Lindsay Lohan and Rachel McAdams to fame, and "The Devil Wears Prada," a musical for the fashionista.
A young princess will slips away for a night in Rome to experience life during a whirlwind tour of European capitals and the young American journalist who covers up her escape in "Roman Holiday."
A new true story is coming to Broadway this summer with the "Curvy Widow," which follows the daily exploits of a "feisty 50-something widow through life lessons on starting all over gain midway through life.
The musical adaptation of Bernice Ruben's "Madame Sousatzka," "Sousatzka," tells the story of a young London musical prodigy torn between the two powerful women in his life: his mother and his music teacher. The story is more about the two women who need to come together for the benefit of the young boy, than the boy himself.
New plays explore family dramas and women coming to terms with their lives in: "Amy and the Orphans" about a woman with Down syndrome who inherits her two younger siblings and the road trip to the discovery of the day that changed their lives; "Three Tall Women" is the revival of the award-winning play about a portrait of a woman in life's final act; "A Parallelogram" follows the story of Bee and attempts to make peace with those things we cannot change; "Animal" is a dark comedy about the underside of domesticity as it follows Rachel while she unravels and struggles between sinking and surviving.
Paint and Craft
Off the stage and onto the canvas women are painting their path through New York this summer too.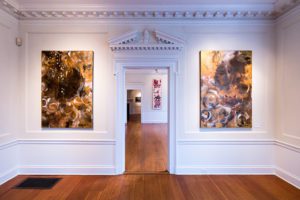 Outcasts: Women in the Wilderness
Now through July 9
"Outcasts: Women in the Wilderness" is inspired by the late artist Nancy Spero, whose scrolls depicted the "outcast" women in her scroll and wall paintings.
A selection of her works on paper will be featured alongside paintings, sculpture, photographs and video by the work of a dozen contemporary artists' work examining the "dynamic relationship between nature, culture and site" at the spring show at Wave Hill.
The works by international artists' Samira Abbassy, Jaishri Abichandani, Huma Bhabha, Chitra Ganesh, Scherezade Garcia, Mariam Ghani, Kris Grey, Fay Ku, Tracey Moffatt, Zanele Muholi, Nancy Spero, Marie Watt, and Yee I-Lann will be displayed at exhibitions in Glyndor Gallery and the Sunroom Project Space, and through the Winter Workspace Program and generated@wavehill, according to the Wave Hill website.
Artists' works of particular interest are Iranian-born and London-raised artist Samira Abbassy, Dominican Republic-born artist Scherezade Garcia and Taiwan-born Fay Ku. These artists are based in Brooklyn and New York.
Samira's work explores cultural identity and myths drawn from Arab-Iranian, Persian, Muslim, Christian, Hindu, Jewish and Buddhist traditions.
Scherezade is an interdisciplinary visual artist whose work engages collective and ancestral memory in her studio-based practice and her public interventions, examining quasi-mythical portraits of migration and cultural colonization.
Fay's works transforms myths to give them contemporary relevance.
The artists' works recreate multiple perspective and historical narratives from ancient mythologies and contemporary events focused on the "female figure as protagonists" that Nancy explored and three themes she identified. The themes that emerged through her work included finding voice and the construction of multiple perspectives on female identity; hybrid alternatives to the status quo through harnessing ancient and modern mythologies to subvert the established social and cultural order; and the healing and empowerment as pathways to resistance, inclusiveness, and recovery from loss and trauma, write the curators.
The exhibit "acknowledges the continued need for activism and cultural production that builds bonds across lines of identity and difference, informing and empowering individual and collective memory," according to The Wave Hill website.
The need for these women's creative images to speak to the current political environment are only "intensified by the current political climate, and marred by economic disparity and geopolitical conflicts, women continue to be marked as outcasts," write the curators Deborah Frizzell, Ph.D. Harry J. Weil, Wave Hill Senior Curator Jennifer McGregor and Curator of Visual Arts Gabriel de Guzman on the Wave Hill website.
Getting There:
Take the Metro Line 1 toward the Bronx to the last station. Debored the train and exit the train station. Walk a block up Broadway to Burger King and wait for the complimentary Wave Hill bus in front of the Burger King. Alternately, take the 747 train towards Croton-Harmon from Grand Central Station. Debored at Riverdale Station and either walk up the hill for about 10 to 15 minutes or wait for the complimentary Wave Hill shuttle which comes on the 10 minutes to the hour starting at 9:50 a.m. and ending at 3:50 p.m.
Know More:
The exhibit is a part of Wave Hill's Visual Arts Program at 649 West 249th Street, Bronx. Entrance fee to the park is $8 per person. For more information, contact 718-549-3200 or , or visit wavehill.org.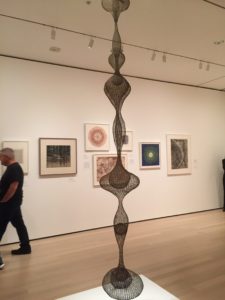 Making Space: Women Artists and Postwar Abstraction
Through August 13
The "Making Space" exhibit spotlights the achievements of women artists in the Post-war Modern Art. The artists' expression that emerged between the end of World War II in 1945 and the start of the Feminist movement in the late 1960s. Artwork of the period launched with Abstract Expressionism in the 1950s followed by Neo-Dada, Pop, Minimalism, and Conceptual Art.
The war liberated women, including artists who could envision a professional life as an artist due to societal shifts, however, their work was often dismissed and support networks were few in the male-dominated world.
Interestingly, the "Robert Rauschenberg: Among Friends" exhibit (now through September 17) is located on the floor above the "Making Space" exhibit.
Among Rauschenberg's many well-known gay and bisexual male friends (John Cage, Merce Cunningham, Jasper Johns, Roy Lichtenstein, Jackson Pollock, and Andy Warhol) included some women artists. However, the men clearly overshadowed the women in his circle. Some of his female friends included artists Susan Weil and Elaine Sturtevant as well as the wives of the artists who were artists themselves, like Jackson's wife Lee Krasner.
"Making Space" places women first taking women artists from the Museum of Modern Art's (11 West 53rd Street, 212-708-9400, moma.org) collection. It features nearly 100 drawings, ceramics, paintings, photographs, prints, sculptures, and textiles by more than 50 artists.
Some of the artists included in the exhibit are Magdalena Abakanowicz, Agnes Martin, Gertrudes Altschul, Ruth Asawa, Jo Baer, Lee Bontecou, Louise Bourgeois, Lygia Clark, Helen Frankenthaler, Gego, Eva Hesse, Sheila Hicks, Lee, Joan Mitchell, Lygia Pape, Carol Rama, Anne Ryan, Lenore Tawney, Anne Truitt, and Alma Woodsey Thomas.
The works include "boldly gestural canvases," "radical geometries," "reductive abstractions," "fiber weavings," and "process-oriented sculptures," along with collages and photographs and new artists acquired by the museum, according to the MoMA's website.
The show is curated by Starr Figura and Sarah Meister, with assistance from Hillary Reder.
"Making Space" is in good company surrounded by a network of women artist exhibits that are also showing at the MoMA this summer:
"Maureen Gallace: Clear Day," who painted scenes of the American landscape and still life traditions depict "rural pastorals and coastlines, typically featuring nondescript barns or cottages amid dunes and foliage in settings that evoke holiday cards and vacation snapshots," according to the MoMa's website The exhibit is now through September 10.
"Projects 105: Cinthia Marcelle" presents "Education by Stone," the artist Cinthia's first New York solo exhibit introduces chalk, a traditional teaching material, into the Duplex gallery of MoMA PS1, a former school building, according to the MoMA's website.
"Projects 106: Martine Syms" presents her first New York solo exhibit, an immersive installation including photographs and staged objects centering around a new feature-length film, "Incense, Sweaters, and Ice," according to the MoMA's website. The film examines "representations of blackness and its relationship to narrative, vernacular, feminist thought and radical traditions." The exhibit is now through July 16. 
"Louis Lawler: Why Pictures Now," the first New York museum survey of American artist Louise Lawler's four decades of her "creative output" and work, which has inspired fellow artists and cultural thinkers alike, according to the MoMA's website.
Her mural-scale work, "adjusted to fit" images "set in dynamic relation to non-linear groupings of photographs." The pictures are of art collector's homes, auction houses, and museum installations and is a display of her "conceptual exercises." This is in one room. The next room presents black-and-white tracings of Louis' photographs printed on vinyl and mounted directly onto the wall in a "deceptively empty space."
In the museum's Abby Aldrich Rockefeller Sculpture Garden, an instillation of Louise's "Birdcalls (1972/81)," a piece where she turns well-known male artists names into bird-like squawks and twitters.
The work highlights the artist's "feminist and performative undercurrents of her art," according to the MoMA's website. Now through July 30.
"Past Skin," women artists Cui Jie, Jordan Kasey, Hannah Levy, Abigail Lucien, Jillian Mayer, MSHR, and Madelon Vriesendrop explore the question, "Why should our body end at the skin?" A question proposed by science historian and cyber-feminist Donna Haraway testing the boundaries between our bodies and the world. Through 20 works (painting, sculpture, drawing, sound, video, and virtual reality) the exhibit pushes Donna's concept that as much as we "exert influence on our bodies and surroundings, technologies that enable this influence also influence us," stating that "we are no longer simply 'users' of technology," we become "players renegotiating the stakes of our world." Now through September 10.
Know More:
The exhibits are showing at the Museum of Modern Art, 11 West 53rd Street. Entrance fee $25. For more information, contact 212-708-9400 or visit, moma.org.
Getting There:
Take the Metro Line 1 or the bus to 53rd Street.
Lygia Pape: A Multitude of Forms
Through July 23
The Metropolitan Museum of Art exhibits the first United States monographic exhibition of the late Brazilian artist Lygia Pape in "Lygia Pape: A Multitude of Forms." The vanguard artist, who died at 77 in 2004, is a critical figure in the development of Brazilian modern art in the late 1950s and early 1960s. The retrospective show examines her development as an artist through her five decade-long career. The collection looks at her use of combined geometric abstraction with notions of body, time, and space radically transformed the nature of the art object across a variety of mediums sculpture, prints, painting, instillation, photography, performance, and film, according to the Met's website.
Also showing at the Met:
"Rei Kawakubo / Comme des Garcons Art of the In-Between" exhibits about 140 pieces of Fashion Designer Rei Kawakubo's womenswear for Comme des Garcons during the early 1980s to her most recent collection. The collection includes heads and wigs created and styled by Julien d'Ys. Rei is known for her avant-garde work challenging conventional notions of beauty, good taste, and fashionability.
Some of her work is also on display with Louise Bourgeois at Barney's Downtown on 7th Avenue and West 16th Street.
The work is from the Costume Institute's spring 2017 show. Now through September 4.
"Sarah Berman's Closet" is an exhibit from mother and son artists Maira and Alex Kalman excavate their Belarusian mother/grandmother Sarah Berman's closet and reconstruct her minimalist and shades of white paraphernalia into an art instillation. The instillation creates a dialogue with The Met's recently installed Worsham-Rockefeller Dressing Room from 1882. The wardrobe features the type of clothing that Arabella Worsham, a wealthy art patroness, might have worn, according to the Met's website. A century separating the fashion reveals similarities between the Arabella and Sarah's lives. The two women came from limited means and reinvented themselves in New York.
Know More:
The Metropolitan Museum of Art, "The Met," Met Breur, 945 Madison Avenue, New York. Tickets are up to $25. For more information, contact 212-731-1675 or visit metmuseum.org.
Getting There:
Take the Metro Line 6 to 77th Street Station and walk about 10 minutes to the museum located on the upper eastside on the edge of Central Park.
Lynnette Yiadom-Boakye: Under-Song for a Cipher
Through September 3
One of the renowned painters of her generation British artist Lynnette Yiadom-Boakye makes her first solo museum show, "Lynnette Yiadom-Boakye: Under-Song for a Cipher," in the United States at the New Museum (235 Bowery, 212-219-1222, newmuseum.org). The show displays Lynnette's portraits of imagined black figures are often "perceived as political," and a new series of paintings completed this year.
More exhibits at the New Museum:
"Carol Rama: Antibodies" is the U.S.'s first survey of Italian artist Carol Rama's work that spanned half a century of contemporary art with more than 100 pieces of her work including paintings, objects, and works on paper focused on representations of the body. Carol's work celebrates the "independence and eccentricity" of this artist who "anticipated debates on sexuality, gender, and representation," according to the New Museum's website. Her work uses "fantastical anatomies" to demonstrate her opposition to the "political ideology of her time" and "continues to speak to ideas of desire, sacrifice, repression, and liberation," the museum describes her work, which has found new life after obtaining cult status influence upon other artists. Now through September 10.
"Kaari Upson: Good Thing You Are Not Alone" is Los Angeles-based artist's latest examination of quotidian living through drawing, painting, sculpture, and video. Her work is centered around a family living in a tract house in Las Vegas and continues her "fantasy, physical and psychological trauma narrative in pursuit of an American ideal," according to the museum, that started with the burned paraphernalia of a man she didn't know after a house fire, titled "The Larry Project (2005-ongoing)," and continued with "MMDP (My Moher Drinks Pepsi) (2014 – ongoing)." Now through September 10.
"Elaine Cameron-Weir: Viscera Has Questions About Itself" is Canadian sculptor Elaine Cameron-Weir's exhibit of her newest works that incorporate "typical laboratory implements like metal barrels, rods, clamps, and fabric heating mantles, which collectively establish a mood of observation and inquiry," according to the museum. The exhibit reflects Elaine's fascination with emerging methodologies within archaeology, which appears to be an evolution from her fascination with the late 19th century in Europe. Her previous works embodied the period's "refined sensitivity to beauty, heightened sensory engagement, transgressive sexual desire, and the pursuit of pleasure through artifice or illusion." Now through September 3.
Know More:
The New Museum, 235 Bowery, Tickets are $18. For more information, contact 212-219-1222 or visit, newmuseum.org.
Getting There:
Take the Metro or bus to the East Village of New York. From the Westside of Manhattan, take the F-Line.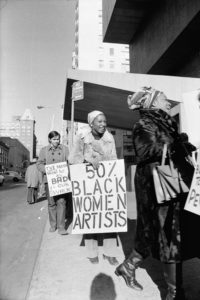 We Wanted A Revolution: Black Radical Women, 1965 – 85
Now through September 17
The first exhibit to highlight the voices and experiences of women of color, "We Wanted A Revolution: Black Radical Women, 1965 – 85," focuses on the works by black women artists examining the political, social, cultural, and aesthetic priorities of women of color during the emergency of the second-wave feminism.
The exhibition features a wide array of work, including conceptual, performance, film, and video art, as well as photography, painting, sculpture, and printmaking by a diverse group of artists and activists. These women lived and worked "at the intersections of avant-garde art worlds, radical political movements, and profound social change," according to the Brooklyn Museum.
The artists represented in the exhibition include Emma Amos, Camille Billops, Kay Brown, Vivian E. Browne, Linda Goode Bryant, Beverly Buchanan, Carole Byard, Elizabeth Catlett, Barbara Chase-Riboud, Ayoka Chenzira, Christine Choy and Susan Robeson, Blondell Cummings, Julie Dash, Pat Davis, Jeff Donaldson, Maren Hassinger, Janet Henry, Virginia Jaramillo, Jae Jarrell, Wadsworth Jarrell, Lisa Jones, Loïs Mailou Jones, Barbara Jones-Hogu, Carolyn Lawrence, Samella Lewis, Dindga McCannon, Barbara McCullough, Ana Mendieta, Senga Nengudi, Lorraine O'Grady, Howardena Pindell, Faith Ringgold, Alva Rogers, Alison Saar, Betye Saar, Coreen Simpson, Lorna Simpson, Ming Smith, and Carrie Mae Weems.
The Elizabeth A. Sackler Center for Feminist Art and Stephanie and Tim Ingrassia Gallery of Contemporary Art, 4th Floor.
Other exhibits at the Brooklyn Museum:
"Georgia O'Keeffe: Living Modern"
A modern look at acclaimed artist Georgia O'Keeffe and the crafting of her self-proclaimed progressive and independent lifestyle through her fashion and the way she posed for the camera, organized by guest curator Wanda M. Corn.
The exhibit expands the public's understanding of Georgia juxtaposing her wardrobe alongside her key paintings and photographs of her taken by her husband, acclaimed photographer Alfred Steiglitz, Ansel Adams, Annie Leibovitz, and others. The images and things confirm Georgia's "determination to be in charge of how the world understood her identity and artistic values."
The exhibit also includes works that were entered into the Brooklyn collection following Georgia's first-ever museum exhibition held at the Brooklyn Museum in 1927.
Wanda, Robert and Ruth Halperin Professor in Art History at Stanford University, worked with coordinator Lisa Small, curator of European Painting and Sculpture at the Brooklyn Museum to bring this modern examination of the 20th century artist to life. Now through July 23 at the Morris A. and Meyer Schapiro Wing, 4th Floor.
Know More:
The Brooklyn Museum, 200 Eastern Parkway, Brooklyn. For more information, contact 718-638-5000 or visit, brooklynmuseum.org.
Getting There:
Take the Metro or bus to Brooklyn. From the Westside of Manhattan, the 2, 3, or F-Lines.
Check out these other women-centric and women-created exhibits:
Now through June 10
"Once Upon a Time, 1981-2011," goes on a journey with Cindy Sherman's portraitures of women in "gendered archetypes" exploring fantastical backdrops to monied older women properly coifed. For more information, contact 212-861-0020 or visit, mnuchingallery.com.
Now through June 11
"Joan Jonas: What Is Found In The Windowless House Is True" opened Gavin Brown's Enterprise new gallery in Harlem earlier this spring. The exhibit marks the U.S. premiere of two large-scale, multi-channel video installations as well as drawings, props and ephemeral culled from Joan's more than 50-year multi-disciplinary practice. The exhibit extends across three floors, the largest exhibition of her work in New York in more than a decade, according to Gavin Brown Enterprise. Now through June 11 at Gavin Brown Enterprise, 439 West 127th Street. For more information, contact 212-627-5258 or visit, gavinbrown.biz. 
Now through June 18
Laura Cottingham's feminist film, "The Anita Pallenberg Story," is a "riff on the sexual politics and economics of both rock stardom and the art world," reports the New Yorker, and a "lesbian paean" to pop artists of the 60s. The 2000 film pay homage to a Rolling Stones groupie, played by artist Cosima von Bonin. Now through June 18 at the Artists Space, 55 Walker Street. For more information, contact 212-226-3970 or visit, artistsspace.org. For more information, contact 212-226-3970 or visit artistsspace.org.
Now through June 24
Swiss artist Sonja Sekula is revived from the annals of forgotten women artists with "A Survey" of her work from her brief yet prolific career and her "active role and unique voice within the seminal art movements of the mid-20th century." The exhibit consists of a select group of paintings and works on paper at Blum, 20 West 57th Street. For more information, contact 212-244-6055 or visit peterblumgallery.com.
Now through June 25
"Barbara Bloom: A Picture, A Thousand Words" the Barbara Bloom's seven works, four of which are derive from photographs of Hollywood icons, and a Bolano short story, "Labyrinth." Each photograph is "framed" by its sculpture and each sculpture includes a mirror, or mirrors, which complicates the dynamics. Now through June 25 at David Lewis, 88 Eldridge Street, 5th Floor. For more information contact 212-966-7990, or visit davidlewisgallery.com.
A taste of Shara Hughes' "invented landscapes" can be seen at the Whitney Biennial, but those who are more intrigued by the young American artist's works of "enchanted vistas" on vintage postcards blown up and abstracted to "assume a fantastical ambiguity," reports the New Yorker, can see more at her exhibit, "Same Space Different Day" at the Rachel Uffner Gallery. Now through June 25 at Uffner, 170 Suffolk Street. For more information, contact (212) 274-0064 or visit, racheluffnergallery.com. 
Now through June 30
"The Woman Question" is Jane Kallir, director of Galerie St. Etienne, curated show of 60 Austrian works from private collections, including Gustav Klimt, from a larger exhibit at the Belvedere Museum in Vienna. Now through June 30 at Galerie St. Etienne, 24 West 57th Street. For more information contact 212-245-6734, or visit gseart.com.
Now through July 5
Winner of the Hugo Boss Prize in 2016, Anicka Yi is back with "Anicka Yi: Life is Cheap" and a 3-D video "The Flavor Genome" at the Whitney Biennial. For "Life is Cheap" Anicka teamed up with molecular biologists and forensic chemists to create a living exhibit that takes audiences through a sci-fi meets reality world by using scientific materials as tools of art. Guggenheim Museum, 5th Avenue. For more information, contact 212-423-3500 or visit guggenheim.org.
Now through July 29
"Hanne Darboven: Kulturegeschichte, 1880 – 1983" is a survey of the late German conceptualist's work displaying 1,590 framed works on paper and 19 sculptural objects. The framed works on paper include photographs of doorways, daily newsmagazine covers, images of cameras and Hollywood celebrities, touristic postcards, the contents of an exhibition catalogue on postwar art, and documentation of prior installations of the work, according to Dia. Dia: Chelsea, 541 West 22nd Street. For more information, contact 212-989-5566 or visit, diaart.org.
Book your next New York Adventure with Girls That Roam Travel. Contact Heather Cassell at Girls That Roam Travel at 415-517-7239 or at .
To contract an original article, purchase reprints or become a media partner, contact .
Comments
comments