Nearly Six Months Adrift In The Pacific, Two American Women Are Saved By The United States Navy
by Heather Cassell
Jennifer Appel and Tasha Fuiava stood with the USS Ashland's commanding officer and others high on the bridgeway when the ship arrived at White Beach Naval Facility in Okinawa Monday, October 30, local time in Japan.
Five days earlier, the U.S. Navy's USS Ashland rescued the two women and their two dogs from their shark and storm-battered sailboat 900 miles southeast of Japan.
Jennifer couldn't have been happier when she saw the United States Navy ship. She blew kisses while the two dogs scurried around the sailboat's deck yelping at the gray ship as it approached October 25, a Navy video shows.
The 48-year old sailor and her friend Tasha along with their dogs, Zeus and Valentine, had been lost at sea thousands of miles off course for their destination in Tahiti for nearly six months.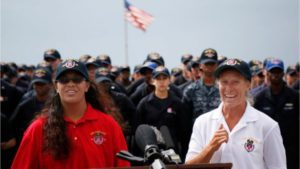 When they were rescued last week, they had eaten through 90 percent of a year's worth of food, which included oatmeal, rice and pasta and their water purifier had broken. The dogs already ran out of food and were being fed out of the women's food supply, according to media reports.
Hitting The High Waters
The Honolulu women set sail on their dream trip aboard a 50-foot sailboat from Hawaii along a well-traveled route to Tahiti May 3. They planned on an 18-day trip to French Polynesia where they would spend the next six months exploring 20,000 islands in the South Pacific.
The women planned to return to Hawaii by October before the November hurricanes.
However, their first night out at sea aboard their boat, the Sea Nymph, they encountered a violent storm with waves reaching upward of 52-feet that lasted three days, reports The Washington Post.
The sailors survived it and decided against returning to Hawaii.
"When we were through with that we were empowered to know we could withstand the forces of nature, the boat could withstand the forces of nature," says Jennifer. "We decided not to return to Hawaii but to continue on in our journey because we believed that everything 'shook out' and we'd be all right."
Jennifer is the president of a company that builds green roofs and lived in Hawaii for a decade, according to the Honolulu Star-Advertiser.
The storm was only the beginning, perhaps an ominous warning sign not heeded.
The women discovered that the bolt holding the spreader to the mast was bent. The women decided to navigate toward Kiribati, a small island more than 1,000-miles south of Hawaii, to repair the mast. Unfortunately, their boat was too big to dock in the lagoon. They continued southward hundreds of miles off their initial planned path.
They were hit by another sudden and violent storm 27-days into that dream trip. This time water flooded the boat's cockpit and ignition turning the dream into a nightmare.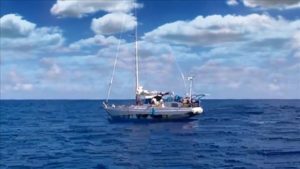 No motor. Communication was cut off.
The women sent out distress calls that went unanswered. They were out of range.
They became targets for tiger sharks that attacked the boat twice, Jennifer tells media outlets during a call from the USS Ashland after their rescue.
"The sharks could hear us breathing. They could smell us," says Jennifer, who huddled with Tasha below deck on the floor as they quieted their two dogs.
"It was lucky our hull was strong enough to withstand the onslaught," Jennifer tells NBC's "Today" show.
Tasha kept watch at night sending out distress calls and flares when other vessels were within sight.
"They would turn or keep going," she says. "It was kind of sad.
"You can't get any help at all because you're in the middle of nowhere," Tasha tells the media.
Jennifer's mother, Joyce Appel, 75, called the Coast Guard a week and a half into the women's trip after not being able to contact her daughter, she tells the New York Times.
"The Coast Guard, in Hawaii, did a search and rescue effort," she tells The Associated Press. "I waited and waited and waited to see when I would hear from her."
Since that call Joyce moved and got a new phone number. She was worried her daughter wouldn't know where to call her.
In another unfortunate turn of events, Jennifer's phone had gone overboard, reports the Times.
The women made the best of their time while they were lost at sea they tell CNN.
"There's different sunrises and sunsets every day," Tasha says. "And you're around for a reason, but you may as well use the time to do something beneficial."
At the last possible moment, a Taiwanese fishing boat found the women. They were 5,000 miles off-course into the Pacific Ocean. The crew attempted to tow the boat, but it was so damaged it wouldn't have lasted another day, Jennifer says.
Jennifer braved the ocean waters and swam to the fishing boat to make the mayday call. Jennifer and the boat's crew contacted the U.S. Coast Guard, which contacted the USS Ashland that currently operates out of Sasebo, Japan. The ship immediately made its way in the direction of the women's boat.
Blowing Kisses
"When we saw you guys, coming over the horizon, it was like, 'Oh God we've been saved.' It was the most amazing feeling because we honestly did not believe we would survive another 24 hours in the current situation," Jennifer tells the Post.
"There is a true humility to wondering if today is your last day, if tonight is your last night," Jennifer tells reporters responding to a question if she thought they might die.
The Navy confirmed the sailboat was unseaworthy. It was now drifting off into the South Pacific.
Tasha tells reporters that it was quite sad to leave the sailboat after Jennifer spent two and a half years preparing the boat for the journey sailing around the Hawaiian Islands.
The women were in good spirits as medical staff checked them and their dogs out aboard the USS Ashland. The navy were hospitable to the women and their pets giving them accommodations and food as the ship made its way to its next call to port.
"It was incredibly emotional, and it was so satisfying to know the men and women that serve our country would come and assist us — it was actually quite mind-blowing and incredibly humbling," Jennifer tells reporters during a conference call from aboard the USS Ashland after their rescue.
"I'm grateful for their service to our country. They saved our lives. The pride and smiles we had when we saw [U.S. Navy] on the horizon was pure relief," Jennifer adds in a U.S. Navy news release October 25.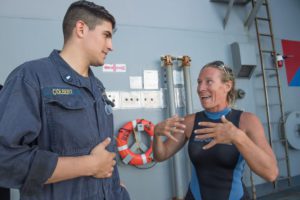 Survivors
Most rescues at sea after a prolonged period are rare, they say, recounting two search and rescue efforts that ended very differently, they tell the Post. A castaway fisherman survived living on a 24-foot boat on a remote Pacific island and dining on raw fish, rainwater, and his own urine for 13-months before he was discovered in 2014. The following year, two Florida teenage boys' boat was found overturned two days after they went missing during a fishing trip. Their bodies were never recovered.
Sailing experts say the women were smart, but not prepared enough, and that's where luck kicked in.
Some things the women might want to consider in the future are an Emergency Position Indicating Radio Beacon and file a sail plan that will alert authorities if they are overdue arriving at their destination.
The waterproof battery-operated radio that is about the size of a cell phone is a satellite and GPS-activated to send transmission signals to wherever its user is located, says Derrick Fries, Ph.D., a boating expert, tells the Post.
Derrick's instructional book, "Start Sailing Right!: The National Standard for Quality Sailing Instruction (US Sailing Small Boat Certification)
," was adopted by the American Red Cross.
One thing they were smart about was packing a years-worth of food and a water purifier, say the experts.
Jennifer credits Honolulu sailors for advising them to pack every inch of the boat with food, she tells the AP.
"They said pack every square inch of your boat with food, and if you think you need a month, pack six months, because you have no idea what could possibly happen out there," she says. "And the sailors in Honolulu really gave us good advice. We're here."
The women were also lucky to be in calm warm waters at the time. However, with winter approaching the waters could have changed creating circular currents that could have brought them further out into the Pacific.
"If they hadn't been found there (off Japan) there's a good chance they'd have gone back out to the Pacific," Curtis Ebbesmeyer, a flotsam expert who co-wrote "Flotsametrics and the Floating World: How One Man&8217;s Obsession with Runaway Sneakers and Rubber Ducks Revolutionized Ocean Science
," tells CNN.
Flotsam and boats usually drift an average of 20 miles a day in the ocean, he says. The distance and direction the women's sailboat covered was "a normal drift pattern," assuming it started drifting north of the equator, he tells the news network.
"The North Pacific is a really rough ocean in the winter. … They're lucky to be alive," he says.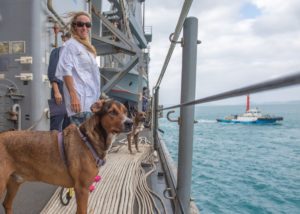 End Of A Long Wait
After more than five months since Joyce made the call to the U.S. Coast Guard notifying them she hadn't heard from her daughter she received the call she was waiting for early Thursday morning.
She answered the phone and heard her daughter's voice on the other end of the line.
"She said, 'Mom?' and I said, 'Jennifer!?' because I hadn't heard from in like five months," she said. "And she said, 'yes mom,' and that was really exciting."
"I was sure that if it was any possibility, she would pull it out, she would make it," Joyce tells the Post.
She says that her daughter was "a very strong-willed person, and very curious, and very creative."
It's that spirit that Joyce knows her daughter won't heed her advice that "four wheels on the solid ground is preferable to sailing."
Jennifer, who grew up in Texas, won't be anchored.
"She loved the water, she loved going to Galveston, she's always enjoyed the water," Joyce says. "So I doubt that she'll stop, I doubt that she'll stop sailing."
It's not. The two women reportedly are already planning their next sailing adventure.
Book your next adventure with Girls That Roam Travel. Contact Heather Cassell at Girls That Roam Travel at 415-517-7239 or at .
To contract an original article, purchase reprints or become a media partner, contact .
Comments
comments