Women Rise Again With Cynthia Tom's Latest Exhibit "Awakening the Feminine"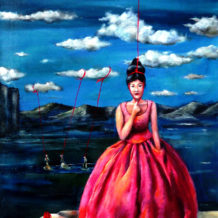 by Heather Cassell
Artist Cynthia Tom celebrates feminine power in her new solo exhibit "Awakening the Feminine" at the Founders Gallery in Marin.
Attendees can meet Cynthia and speak with her about her work that is intuitively inspired by the women's community and the recent Women's March at a reception at tonight, Friday, May 12.
The reception will be hosted at The Founders Gallery at Art Works Downtown, 5 – 8 p.m., 1337 4th Street, in San Rafael.
The exhibit is Cynthia's first foray into displaying her work in Marin during the second weekend of Marin Open Studios at Art Works Downtown, 11 a.m. to 6 p.m., May 13 and 14.
The "Solo Exhibition: Awakening the Feminine" will be on display through June 2.
Cynthia's latest works focus on the inspiration derived from a new movement of women tapping into their "collective female ancestors and women rising," according to her website.
A cultural surrealist, visual artists, cultural and women focused curator, and a community art activist, Cynthia uses visual art as a means to transform peoples' souls, according to her biography.
Cynthia is also the founder of A Place of Her Own (1890 Bryant St. Studios, #302, 415-722-4296, , aplaceofherown.org) in San Francisco. A Place of Her Own is a space for creative women to take culturally-driven art-based healing and transformative workshops presented by women artists. It also serves as an exhibition space for women artist to display their creations to "bring forth a woman's powerful voice and presence into the world," according to the organization's website.
Cynthia is also the past board president of the Asian American Women Artists Association.
A reception is being held tonight, Friday, May 12, 5 – 8 p.m. at The Founders Gallery at Art Works Downtown, 1337 4th Street in San Rafael. For more information, contact 415-451-8119 or visit, artworksdowntown.org.
Book your next getaway with Girls That Roam Travel. Contact Heather Cassell at Girls That Roam Travel at 415-517-7239 or at .
To contract an original article, purchase reprints or become a media partner, contact .
Comments
comments