A Woman's Spin Launches SPiN San Francisco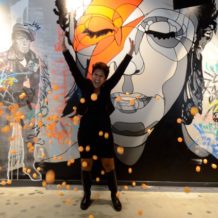 Priya Sen Leads The Way To Opening SPiN San Francisco As The Company's First Woman General Manager
by Heather Cassell
A hip social club that aims to bring San Franciscans of all stripes together has opened in the heart of San Francisco with a woman leading the way.
Priya Sen is SPiN Global's first woman to head up the launch of the new pingpong social club, SPiN San Francisco (690 Folsom Street, 415-636-5995, SanFrancisco.WeAreSPiN.com) across from the Moscone Center and Yerba Buena Gardens.
The tennis table club backed by the iconic Academy Award-winning Susan Sarandon has been a popular enclave in New York since opening in 2009. It has since grown into a global company with some franchises and clubs in Chicago, Los Angeles, Toronto, and soon more to come.
Last week, SPiN San Francisco officially made its grand entry into the City by the Bay's nightclub scene with a celebrity-filled grand opening party serving up the club's quality craft cocktails, bar bites that are healthy and tasty (including its famous New York pizza), DJs spinning the beats, and of course pingpong on its 19 state-of-the-art STIGA table tennis tables.
"With Susan being in the picture, that only reinforced my view about how progressive SPiN is," says Priya, a 35-year old hospitality professional, tells Girls That Roam on the first day the club softly opened its doors to the public May 12. "You know, how welcoming they are to people of all races, class, creed, gender and sexuality."
Susan wasn't available for a comment due to promoting her new film The Meddler.
That afternoon, people were stopping, curious they cupped their hands against the windows to peer in as others were already filtering in and playing a round of pingpong on one of the 19 professional grade pingpong  tables or enjoying a craft cocktail that is made and bottled in-house from the bar.
Priya anticipates guests will love the Salt Lick Susan, a smoky mescal with a bourbon salt rim, in honor of Susan, as well as the variations of the Top SPiN and Back SPiN among other concoctions all named after "different ways of playing pingpong ," she says.
She imagines the club will be hopping with business and convention crowds, after work happy hour, and sports screenings on its big screens during the weekday afternoons and evenings, filled with families during the weekend days, and clubers late into the night throughout the week. The venue also already has plenty of community events and special nights in the works, Priya and Pieter Vanermen, the 40-year old chief executive officer of SPiN Global, say.
GraSPiNg The Golden Ring
Priya was tapped as general manager of SPiN at the beginning of this year. It was a big and exciting step for her to bring the table tennis social club to life in San Francisco.
"It's been the most exciting period of my life," says Priya, "because there's so much that has been invested in me and this cool space where literally East Coast meets West Coast."
Since she took the reins she has been actively seeking out a diverse staff and events to be hosted at the space, including actively recruiting and tapping into San Francisco's queer community, that reflect SPiN's values of community, creativity, and pingpong.
"I worked with a diverse crew and I know how important it is to have different people of different opinions," says Priya, who is a lesbian whose hospitality career brought her from India to San Francisco 16 years ago with a stop in Vail, Colorado. "It's like a really lovely infusion or amalgam of ideas that come into play."
"At SPiN it's all about the people," says Pieter, who is from Belgium. "SPiN is for all of the people."
Priya also represents a part of San Francisco's culture that SPiN wants to ensure is included and feels welcome at the club. It's represented on the walls where local artists have painted murals of late rock legends such as bisexual rocker David Bowie and flamboyant Prince among others through the staff. Like music, SPiN's goal is to bring people together across all boundaries.
"It's about being who you are without boundaries," says Pieter, pointing out that San Francisco's culture is about four years ahead of any other major city in the country.
"The culture [in] San Francisco is so open-minded," he continued. "We think at SPiN we are the same. We want to be more open. We want to be more liberal. We want to embrace innovation and creativity."
As an example, he tells the story about an evening at SPiN in New York where three different tables represented people from three completely different walks of life. At one table was New York Giants wide receiver Victor Cruz with some models, next to him was a group of Wall Street guys, and at another table was a 93-year old woman practicing her hand and eye coordination playing pingpong. What happened next is what exemplifies SPiN for Pieter and Priya.
"The best thing is that Victor Cruz went to the old lady to take a selfie instead of the other way around," says Pieter. "It is so fun and that's what SPiN is all about. It's about the energy between everybody playing."
Priya represents that diversity and positive energy SPiN exemplifies, but also she neatly fits into the social club's celebratory community environment.
"[Priya] has that positive energy that is sometimes hard to find, but she has it and that is the reason why we love Priya," he continues talking about hiring people that have that infectious positive energy that reflects SPiN. "It's about the energy the people have."
"Priya is one of those creative persons that is not afraid of coming out and talking to people and make sure she stands for who she is," adds Pieter. "That's the same exact thing for SPiN."
We Want You
It was with the eye of diversity, community, and excellent hospitality that Priya went out into the various communities that she has been connected with since landing in San Francisco nearly decade ago to search for her staff.
"It was important to have the crew reflect the vision of what SPiN is," says Priya, who currently has about 30 staff, but is aiming to build it closer to 50. "It's about community and connection."
SPiN's new staff agrees excited about the opportunity to expand their worlds too.
"I'm excited to have a power lez to be in charge of me," says Bartender Missy Bohach, who is a 33-year old queer femme.
Melvin Leihr, a 34-year old queer woman who is a server at SPiN, agrees, "I find it to be absolutely wonderful."
She points out that in spite of San Francisco openness and pride in being gay-friendly, "sometimes when working with people who aren't there could be some bias, there could be some discrimination."
Having an out lesbian lead the team helps mitigate those issues.
DJ Olga T., who is a transgender queer, agrees, stating that having that "queer base," made her feel "like I belong here," she says.
In the past she has tended to work only in the lesbian, gay, bisexual and transgender community because it "felt safe," but now she feels comfortable to play music to a mixed queer and straight crowd at SPiN.
SPiN and Priya has helped revive host Walter Canas' vision of San Francisco. The 29-year old gay San Francisco native was losing hope that the city he loves was losing everything its residents' value and that continues to attract newcomers, but his faith has been restored. That even with all of the recent changes the values the city's residents uphold hasn't disappeared.
"It's great to see the city is still maintaining its core values of acceptance and all around free love," says Walter. "It's been changing, but joining SPiN has made me recognize that we are still here. It's still the San Francisco I grew up in and an accepting city."
Hostess Leslie Brody, 42-year old lesbian from Southern California, agrees, adding.
"One of the reasons why I moved to San Francisco … is because of the immense diversity that this city has to offer," she says. "Priya is creating a space that exemplifies that. It just makes you feel really comfortable and makes you feel at home."
"Anyone can come in and have fun," continues Leslie. "It's so interactive with anybody [and] everybody. Again it doesn't matter with what you look like, who you are, it's a place where people can get know somebody else who is a little different from them, but in a super fun environment that is unique and supportive."
Bartender Missy Bohach, a 33-year old queer femme, agrees pointing out that when entering a bar most people have a sense of "what a bar is before you walk in."
"I hope that people from all different walks of life will come here and immediately kind of feel relaxed and energized by the positivity that is going on here," she says.
Bartender Natalie Purcell, a 29-year old lesbian, agrees adding.
"It's great that SPiN has put such an emphasis on community and not just San Francisco as a community, but the LGBT community as well," says Natalie. "I think that it's really overall going to be such a great place, not only for the LGBT community, but San Francisco as a greater community."
Coming One, Come All
SPiN already has big plans to bring community together. Priya envisions drag nights to a Burning Man night to friendly competitions between tech executives to raise money for community causes or simply to mingle together, she says.
"San Francisco is so weird, fun, [and] quirky right?" says Priya. "I think that SPiN fits in really well because that's the vibe it has."
Pieter agrees.
"There is no better match between a city and pingpong than San Francisco," he says. "I think that it's already proven. It's not open yet and we already have a huge pipeline of events. So, we are all excited."
Like in New York, where SPiN was founded, the club hosts 1,000 events – community, corporate, and nonprofit – annually. They see that being replicated in San Francisco, including the club's signature event, the "Dirty Dozen," tournament that pits amateur players against pros for prizes and a night of fun.
Taking care of the local community is also factored into SPiN wherever it is located. It's not only a fun space for families and friends, but it also serves the community fundraising for local organizations and donating professional grade pingpong tables to inner city schools and providing table tennis lessons with professional players to underprivileged kids annually.
"We get so much from the cities where we are in. We get so much positive energy from New York that we give something back and it will be no different in San Francisco," says Pieter, adding that the club has already teamed up with the Glide Foundation.
A couple of pingpong tables have already been donated for kids from low-income families to play on, confirms Denise Lamott of Denise Lamott Public Relations who represents Glide.
Priya stressed that the bar food and beverages created are locally sourced ingredients and suppliers. Pieter added that SPiN is also leading by example by being a carbon neutral, eco-friendly and as sustainable as possible club.
"It's extremely important for us that we take care of the planet," says Pieter. "At least we can leave the planet how we found it when we were born."
SPiN is open from 11 – 12 a.m. on Sunday and Monday, 11 – 1 a.m. on Tuesday and Wednesday and from 11 – 2 a.m. on Thursday, Friday and Saturday. For more information, visit http://sanfrancisco.weareSPiN.com.
Correction: A quote by Missy Bohach was accidentally misattributed to Melvin Leihr. We regret this editorial error. The story has been corrected.
Book your next trip to San Francisco with Girls That Roam Travel. Contact Heather Cassell at Girls That Roam Travel in association with Travel Advisors of Los Gatos at 415-517-7239 or at .
To contract an original article, purchase reprints or become a media partner, contact .
Comments
comments