The Wild Improbable Life of Beth Lisick
by and
A longtime favorite on the spoken word circuit and the Bay Area literary scene, Beth Lisick's career as a literati seems to be ramping up an extra notch as she cruises into her mid-40s.
Beth has been busy adding film and webseries star to her resume with Stepsister, which screened at Cannes earlier this year, and as one half of the sketch comedy collaboration with Tara Jepsen, Groomed for Success, she has a new webseries in the works.
The two funny ladies have been working together since 1999. Together they've produced and starred in two short films and two-woman-shows.
Beth isn't giving her pen a rest, hinting at a novel she would barely speak about that is she is working on, or halting the printing press in favor of the digital screen.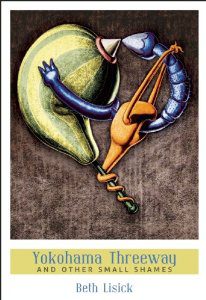 Threeways and Odd Moments
This weekend she will be celebrating the release of her fifth book, Yokohama Threeway: And Other Small Shames (City Lights/Sister Spit)
at one of her old stomping grounds the Edinburgh Castle during Litquake.
Beth is happy to be home again not only appearing at Litquake for her 14th year, but also to be "where she knows everybody," she says. A year ago, the 44-year-old Bay Area native uprooted herself and headed to Brooklyn with her husband, Eli Crews, and son, Gus.
She's excited to see her friends and debut her new book, published on the Sister Spit Books imprint of City Lights Books, at her 14th year hosting at Litquake. She expects to have a good time and wants everyone who comes out to see her to have fun and laugh as she reads about some of her 50 most embarrassing moments, she says.
"[It's] going to be fun … a good time!" says Beth, about the snippets of her most lamest moments of her life, "The kind of moments you wake up [to] in middle of night and remember or your walking down street and remember."
In a strange way writing the book was therapeutic.
"[It] was oddly therapeutic to have all these written out. When it was done I was really glad, because I had to spend time with each and every one of them," says Beth. "[I'm] really glad I did it. [I'm] really happy with it."
Beth is known for her uncanny poking fun at herself and going where few writers dare to go. This book is a hilarious continuation of her quirky observations of her life penned with hilarious x-ray detail and razor sharp wit that has won her accolades and shot her up bestseller charts.
Born to Spew Words
A bestselling author and award-winning spokenword artist, Beth is the author of New York Times bestseller and Entertainment Weekly's Top 10 Nonfiction Books of 2005 Everybody into the Pool: True Tales
. She followed that up with her popular exploration of the self-help world Helping Me Help Myself: One Skeptic, Ten Self-Help Gurus, and a Year on the Brink of the Comfort Zone
. Before she dazzled the literary elite with her tomes she won the hearts of bibliophiles with This Too Can Be Yours
and Monkey Girl: Swingin' Tales
.
Her writing has also appeared in Best American Poetry, Post-It Note Diaries, Outlaw Bible of American Literature, The Speed Chronicles, Yes Is The Answer among many other anthologies and publications.
Beth has been a staple of San Francisco's spokenword and literary world since the early 1990s, writing for the San Francisco Bay Guardian and other local publications, crooning as the frontwoman of The Beth Lisick Ordeal, and performing and touring regularly on the spokenword circuit as part of traveling troupes, such as queer roadshow Sister Spit, founded by fellow spoken word artist and author Michelle Tea.
In 2002, Beth teamed up with fellow SFBG alumna Arline Klatte creating the Porchlight Storytelling Series in San Francisco.
On her own and with other troupes, Beth has toured Europe and the U.S. performing at respected centers of art and universities such as the San Francisco Museum of Modern Art, Shakespeare and Company, The Guggenheim Museum and Stanford University, Brown University, the University of Arizona Poetry Center to name a few that are listed in her bio on her website. Beth has also performed at festivals, such as Lollapalooza, The Lilith Fair, Storymoja Hay Festival in Nairobi and other festivals. She's taken pauses to study her craft holding residencies at CESTA in Tabor, Czech Republic and the RADAR Lab in Akumal, Mexico.
As much as Beth is a literarti and rising webscreen star, she's also interviewed other page turning luminaries such as Dave Eggers, Amy Sedaris, Evan Rachel Wood, Zoe Saldana Elijah Wood to name drop a few literary stars she's shared the stage with at City Arts and Lectures, Litquake, San Francisco International Film Festival and SF Sketch Fest that she touts on her website.
Call of the Road
Beth will reunite with Michelle and Sister Spit, which Beth toured with regularly during the 1990s and early 2000s, hitting the road once again with the crew of spokenword artists in the spring of 2014, Michelle revealed in her interview with Beth in MUTHA.
Fans will be able to catch Beth before she hits the road again to promote her new book at Sometimes It's Hard To Be A Writer: Stories about Doubt, Debt, Drugs, and Determination at Verdi Club on Oct. 14 and other events during Litquake. She will also make stops around the Bay Area, Portland, New York and quite possibly Los Angeles before her big tour with Sister Spit next year, she tells Girls That Roam.
Beth's looking forward to her adventures on the road, but not airport security. It's one of the drawbacks of traveling, but that's not what inspires her to pack her bags to board a plane or hit the road. It's the surprises of traveling and meeting cool people, she says.
"[Meeting] really cool, kind people all over the world," says Beth, who loves taking long walks familiarizing herself with places and people. "It's not hard to find them. I've met amazing people and I didn't have to try very hard to do that."
Beth has been to every state except for Alaska and Maine, but some of the more exciting places she's traveled to are Europe, Iceland, Japan and Kenya, she says.
One of her tiny regrets in life was passing up the opportunity to live in Italy longterm. After graduating with a degree in American Studies from the University of California, Santa Cruz more than 20 years ago she spent two and a half months in the land of pasta, pizza and poetry. She was offered a job, but returned to San Francisco instead and not because she was accosted by an "ancient Italian man" who makes an appearance in Yokohama Threeway and Other Small Shames along with another antidote from Italy.
The man enticed Beth in Italian to get close enough to him. When she got close he grabbed her and shoved his tongue down her throat, she says.
She wonders what would have been if she stayed in Italy a while longer, but those are "what ifs" and she has more places to see and more people to meet.
One of these days she hopes to make it to South America and other faraway destinations, but Turkey has recently captured her imagination.
"I really want to go to Turkey!" says Beth, explaining that her husband visited Turkey last year and enticed her with photos of Istanbul's spice markets and tales of the people he met and places and things he saw.
"Something just strikes you a certain way and you gotta go check it out," says Beth.
Join Beth to celebrate her stranger than life adventures at the Edinburgh Castle (950 Geary Street, San Francisco, 415-885-4074, CastleNews.com) at 4 p.m. on Sun., Oct. 13. The event is free.
To contract an original article, purchase reprints or become a media partner, contact editor [@] girlsthatroam [.] com.
Comments
comments