Go Wild, Free And Solo: How One RVing Women Manifests Carpe Diem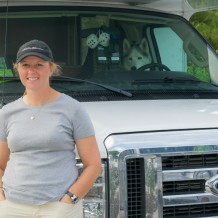 Wildlife Photographer And Travel Writer Dawn Wilson Took The Leap To Go Solo Around North America In An RV
Life is fleeting, that's what Dawn Wilson, a professional wildlife photographer, concluded after life threw her a few personal tragedies, so she bought a recreational vehicle and made a plan to travel the United States photographing wildlife.
"Most people wait until they retire to make such a lifestyle change," says Dawn. "But too many tragedies have happened in my life over the last few years, and those events convinced me that life is precious, fleeting and fragile. It was time to go for the golden ring."
In July, she bought a 24-foot Thor Chateau RV. Never owning an RV, Dawn, 44, began test driving it exploring "familiar locations in Colorado and Wyoming," towing her Jeep Wrangler Unlimited Rubicon, and her sidekicks, two Siberian huskies and two cats, by her side, she says.
The jeep will give her access to areas she seeks for photographing wildlife throughout the lower 48 states and Alaska.
"It was quite overwhelming at first but I am excited to launch the adventure and blog about my travels," says Dawn, who has an MBA.
Dawn is one of a growing number of women traveling solo and RVing it. The number of women owning RVs are increasing, although exact figures aren't available, however, RVing Women, an association dedicated to women RVing, has seen an uptick in its membership during the past few years. The organization, which started in 1990, currently boasts of 2,300 members.
According to the Recreational Vehicle Industry Association, the $14.5 billion RV industry consists of nearly nine million households owning RVs in the U.S. The association estimates about 500,000 to one million of that population lives in RVs full-time.
After more than a decade of corporate life as a marketer she walked away to pursue her passion for wildlife photography and travel writing full-time in 2013. Earlier this year the New Jersey transplant to Colorado made the ultimate step and sold her house in September.
The adventure officially started with a trip from her home state of Colorado to southern California late last month. During her travels through California she plans to photograph Island fox in Channel Islands National Park, Tule elk in Point Reyes National Seashore, Sea otters and sea lions along the coast, wading and shore birds at the Salton Sea, and bobcats in the San Joaquin Valley. She wants to photograph as many mammals as possible during her journey, including Moose in Maine, Elk in the Rocky Mountains, Black bears in Tennessee, and birds, including bald eagles at wintering feeding holes, wading birds in Florida, migrating birds in Texas and New Mexico, and snowy owls in the northwest.
There are close to 500 different species of mammals in North America, with many quickly losing habitat to development. Photographing these animals will help visually present the uniqueness of the wildlife in the U.S. and the lands where they live.
Dawn plans to travel solo in the RV for one to three years, including spending several months in Alaska, she says.
"Traveling in an RV isn't really roughing it like some nature photographers will do to get their shots," says Dawn. "But it provides an excellent opportunity to safely and effectively work from the road while being flexible enough to access a wide variety of locations."
To follow Dawn on her adventures and check out her photographs, visit DawnWilsonPhotography.com.
Originally published by The Seattle Lesbian.
To book your next adventure, contact Heather Cassell at Girls That Roam Travel at Travel Advisors of Los Gatos at 408-354-6531at or .
To contract an original article, purchase reprints or become a media partner, contact .
Comments
comments