The Holidays Were Just Unwrapped And Champagne Popped For The New Year, But You Are Eyeing A New Way And Place To Spend The Holidays
by Heather Cassell
I know, you are still in the Christmas and New Year hangover, but you are already thinking about the next holiday season. You want to do something different. You want to go somewhere.
Don't be left out in the cold next Christmas or New Year's Eve if you plan on spending the holidays anywhere other than at home.
Ever tried to find somewhere to go other than home for the holidays? It was a challenge finding where to stay and grab a flight, right? Were prices out of Santa's orbit? Were every hotel and vacation rental you tried to book already gone, even if you started planning the first week of September or in July? Were flights hard to get?
Did you find yourself wishing you started your search sooner? How much sooner, July? May? Did booking then not quite work either? Did it leave you wondering, "What in the world was going on?" as you stayed home and watched people walking down beaches basking in the sun on a TV show about holiday vacations?
How did these lucky people get to escape the traditional family dinner or chilly New Year's celebrations?
If you are ready to brave the holiday rush standing in long lines in crowded airports to get to paradise for your 2018 holiday getaway, here's a guide on how to do it:
Book Now
Don't wait until tomorrow, it might be gone if it isn't already taken.
Hotels and vacation rentals in certain destinations, particularly warmer destinations, are already booked before the holidays are over.
How does this happen? Many travelers – families, couples, and solo adventurers – who unwrap their presents and ring in the New Year anywhere in the world, but home, tend to already be staying at their favorite destination and resort or vacation rental. As soon as they arrive or check out they book for the next holiday season just as the rooms and vacation rentals are opening their availability.
If they don't have a regular destination, they already have their eyes set on the next destination with their top three hotels in mind and their mouse ready to click or they have their travel agent ready to call and book.
There is hope for the new holiday escape artist. While pickings are slim January 2, some accommodations still have some limited availability.
Prices will be high, but not as high as cancellations begin to roll in closer to the holiday season.
Be Prepared
Booking a holiday escape isn't something to mess around with: Prices are high, there's a longer than usual cancellation period, the penalties for canceling are stiff, and many trip protection plans don't cover cancellations during what travel industry professionals refer to as "festive season."
Planning is also tricky due to flight schedules leaving travelers flying blind after they've booked their accommodation a year in advance. Airlines aren't quite open to booking at the same time. However, luckily, many holiday destinations are heavily traveled making it only a minor calculated risk.
Have all your information ready to book your holiday vacation:
Names of all travelers as they appear on their passports or Real ID compliant government-issued identification.
Every traveler's full birthday: month, day, and year.
What city every traveler is departing from and returning to, including any stop-overs.
Preferred seating arrangements on flights.
Where do the travelers want to stay in the hotel, adult-only section or family section?
Who is rooming with whom?
Bedding preferences (king, queen, crib, rollaway, etc.).
How close does everyone want to be? Rooms connecting, adjacent, or same floor?
Passport numbers if traveling outside of the country.
Any airline or hotel membership numbers.
Any TSA (known traveler number) numbers or Clear accounts.
The more information the better.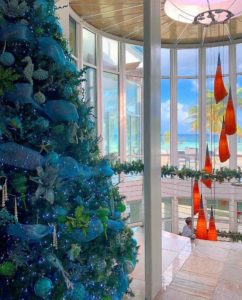 Getting Your Hotel
Be prepared to travel for six up to 14 nights minimum depending on where you plan to stay. It isn't uncommon for hotels, resorts, or vacation rentals to have this requirement for holiday bookings. These stipulations tend to begin around December 20 and end around January 6 at the latest.
Read the fine print for cancellations policies, some are nonrefundable upon booking and not covered by trip protection plans, while others allow cancellations up to September or 45- to 90-days prior to travel.
Be Persistent. Got your heart set on a destination and a resort? Don't despair. Stay on top of it. Check in periodically or request the reservation agent to call you if a room that meets your criteria opens.
The price will be higher. The vacation won't be refundable. But it will be yours if you choose to take it when your phone rings.
Getting There
Once you've snagged that holiday escape it's time to start searching for flights. Unlike accommodations where travelers can book a year in advance, airlines typically only allow travelers to reserve their seats 10-months or 302-days in advance.
Fortunately, inexpensive flights can be grabbed at the beginning of the year thanks to winter.
Deep discounts for flights tend to appear around January 9 and continue to remain low until the year progresses toward Spring Break in March. That's when prices begin to climb upwards.
The window for booking flights for December opens toward the end of January.
There are several things holiday travelers can do to search for their flight, now:
Set a reminder.
Use technology as your travel assistant. There are several apps, websites, and search engines that can help you find the best deal.
Once you are in booking range for your flight, there are a number of resources that can assist you by tracking your selected flights for price changes. Some of Girls That Roam's favorite flight tools are: Google Flights, Skyscanner, Hopper, or Hipmunk.
Work with a travel agent, like Girls That Roam Travel.
Shop. Check the airline directly, what these tools found, what your favorite travel booking site found, check with your travel agent and compare.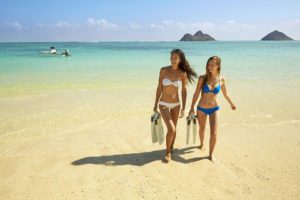 Your travel agent might be able to find a great price for the same route and better terms with the airline through their agency's contracts with travel suppliers. The only caveat is that you will most likely have to also book your lodging and any transfers or rental cars through your agent as many agencies no longer book air-only.
That's not necessarily a bad thing. It's actually, a great thing. By choosing an agent, you, the traveler and your travel companions, have access to upgrades and other perks travelers who booked online with a travel booking engine or directly with the airline or hotel don't have. You also have a team of travel experts on your side. They can advocate for you if anything goes wrong, so you don't spend your precious time leading up to or during your vacation fixing issues. They can also make simple changes to your itinerary at your request or make suggestions to enhance your experience while you are traveling. Usually, this service comes at no cost to you as many travel advisors work on commission-only. It's really a no-brainer, especially when planning your Christmas and New Year's escape.
So, what are you waiting for? Christmas and New Year's Eve 2018 is waiting for you, but not for long.
Book your 2018 holiday with Girls That Roam Travel. Contact Heather Cassell at Girls That Roam Travel at 415-517-7239 or at .
To contract an original article, purchase reprints or become a media partner, contact .
Comments
comments