by Heather Cassell
Many refugees live in the San Francisco Bay Area, but not many people know the journey that refugees, asylum seekers, and people fleeing violence in their home countries take to seek a safe home.
A traveling interactive exhibit, Forced From Home, coming to Oakland's Henry J. Kaiser Convention Center parking lot (east side) October 30 through November 5, will give local residents a simulated guided experience to better understand the journey people escaping horrific conditions in their home countries undertake.
The exhibit is produced by Doctors Without Borders. Its first tour through the Northeast United States last year saw more than 22,600 visitors.
An estimated 65.6 million people are displaced around the world. Many of these refugees and asylum seekers are fleeing from famine, war, or persecution because of their religious beliefs or because they are LGBT. They are further endangered by the denial of protections and the freedom of movement, to which they are entitled, according to a DWB news release announcing the re-launch of the exhibit.
During the 2015 earthquake in Nepal, LGBT people were turned away from refugee camps, the organization says.
"They would come into these refugee camps and they would be denied services, 'No, no, no, no we only have food for families. We don't have food for you,'" says DWB mental health officer Karen Stewart.
Karen has worked in hotspots around the world, at HIV/AIDS clinics and in refugee camps, for more than 10 years. She tells Girls That Roam she hadn't worked with or helped many out LGBT people in all that time.
"I have not. All the countries that I have been in and working, I mean, it is so stigmatized and it's so covered up that of course I've worked with them, but they're not open," says Karen, 57-year old lesbian based in Colorado, who has worked in Bangladesh, Democratic Republic of Congo, India, Indonesia, Papua New Guinea, Sri Lanka, Uzbekistan, and Zimbabwe.
"I've been in refugee camps. I've worked with HIV/AIDS in Zimbabwe and India and all over. I've never had a person approach me and say that they fall into this category, per say," she says. "It's really very sad, actually, because you know they're out there."
The only exception was in 2005 during her first assignment in Nigeria. She sought out the LGBT community and found two openly gay men.
"At that time, they were experiencing death threats and all kinds of problems," because they were gay, she says.
Karen invited them to her clinic and promised them that they would be safe. But when they arrived, her staff refused to provide them service until Karen welcomed them and ordered her staff to prepare them for their medical visit. The staff processed the patients, but giggled nervously during the process, she says.
The men never returned to the clinic, but near the end of her assignment, Karen came out to her staff as a lesbian, she told the Girls That Roam She was received with warmth, but also with curiosity because her staff never knew an openly gay person personally until that moment.
There are 77 countries that criminalize homosexuality. In seven countries, same-sex relationships are punished by death, according to the U.N. Office of the High Commissioner for Human Rights.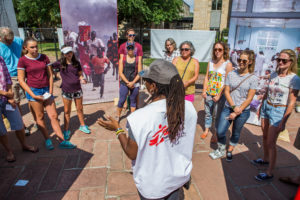 The United Nations refugee agency referred 162,600 refugees for resettlement in 2016. The U.S. accepted 96,900 refugees that same year. However, asylum seekers and people who have been displaced if fleeing violence aren't included in those figures, according to DWB.
Lebanon has taken in more than one million Syrian refugees since 2011, while the U.S. only took in 18,007 refugees from Syria between October 1, 2011 and the end of 2016, according to DWB.
Karen says people misunderstand the difference between an asylum seeker, a refugee, a stateless person, a displaced person, and a migrant. This exhibit not only explains the distinctions, but allows visitors to virtually walk in the shoes of people who are forced to leave their homes.
"It's a powerful exhibit," says Karen.
Attendees will be immersed in the refugee experience as they are guided by DWB aid workers through a 10,000 square foot exhibition space that includes virtual reality and 360-degree videos. Visitors will journey through the routes people from Afghanistan, Burundi, Honduras, South Sudan, and Syria have taken as they escape their homelands to a safer place. They will learn about the lives of displaced people living in Iraq, Lebanon, Mexico, Tanzania, and South Sudan, where most of them currently reside. Throughout the exhibit visitors hear from DWB aid workers and examine the numerous images taken at and materials gathered from refugee camps, rescue missions, and emergency medical projects, according to the release.
Forced From Home is free and open to the public from 9 a.m. to 5 p.m. daily. Group and sign language tours are available. The convention center is located at 10 10th Street; Oakland. For more information, visit http://www.forcedfromhome.com/locations/lake-merritt.
Originally published by the Bay Area Reporter.
Book your next getaway with Girls That Roam Travel. Contact Heather Cassell at Girls That Roam Travel at 415-517-7239 or at .
To contract an original article, purchase reprints or become a media partner, contact .
Comments
comments