Visitors To Olympia Can Now Create Their Own Tasting Tour Of The Region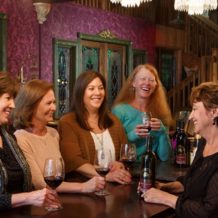 Craft Your Own Tastes Of Olympia With The New Thurston Bountiful Byway Guide That Gives Visitors Access To The Region's Farms And More With A Self-Guided Tour
by Sarah Toce, The Seattle Lesbian
There's more to Washington than Seattle and Walla Walla, there's Olympia. Birthplace of the Riot Grrrls of the 1990s, Washington's capital city poised at the southern end of Puget Sound on Budd Inlet is celebrating its roots that have little to do with indie girl punk rock music.
Surrounded by 68,000 acres of farmland, Olympia is tapping into its natural resources and helping visitors locate the region's best craft beverages, unique farms and ranches, and much more with a self-guided tour: Thurston Bountiful Byway.
"This new program will further the Bountiful Byway's mission to bring visitors hungry for local produce, craft beverages and farm fresh fare straight to the source," says Shauna Stewart, executive director at the Olympia-Lacey-Tumwater Visitor & Convention Bureau. "More than ever, tourists are looking for authentic, homegrown experiences. We are thrilled to help make the connection."
The tour covers craft beverages (beer, wine and spirits), farms and farmers markets, nature and trails, and places to stay along the journey that are all easily obtained by bike (Amtrak at Centennial Station) or car (access the Thurston Bountiful Byway from I-5 via the Nisqually Valley Exit 114, from US-101 via the Mud Bay Exit).
The 60-mile trail offers a rich experience for foodies, families and fine wine connoisseurs. Highlights from the road include:
Travel experts advise that the region is best discovered on a multi-day trip, but portions of the byway can be discovered in a day or two, according to the Olympia-Lacey-Tumwater Visitor & Convention Bureau.
Visitors can access the Thurston Bountiful Byway maps online, by printed map, or at the Olympia Visitor Information Center (103 Sid Snyder Way Southwest, 360-704-7544, , visitolympia.com). 10 a.m. to 5 p.m. daily.
Book your next trip to Olympia with Girls That Roam Travel. Contact Heather Cassell at Girls That Roam Travel in association with Travel Advisors of Los Gatos at 415-517-7239 or at .
Comments
comments